Simple and easy recipe for delicious homemade Elderberry juice. This recipe is a traditional Nordic recipe and have been used for many, many years. Go and enjoy some time in the forest, pick some elderberries and make some delicious juice.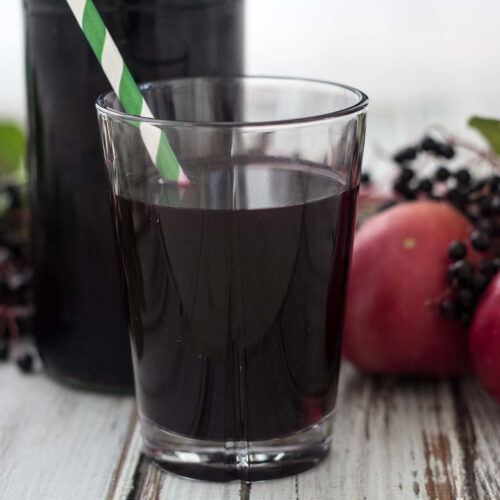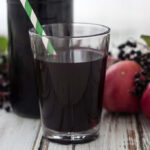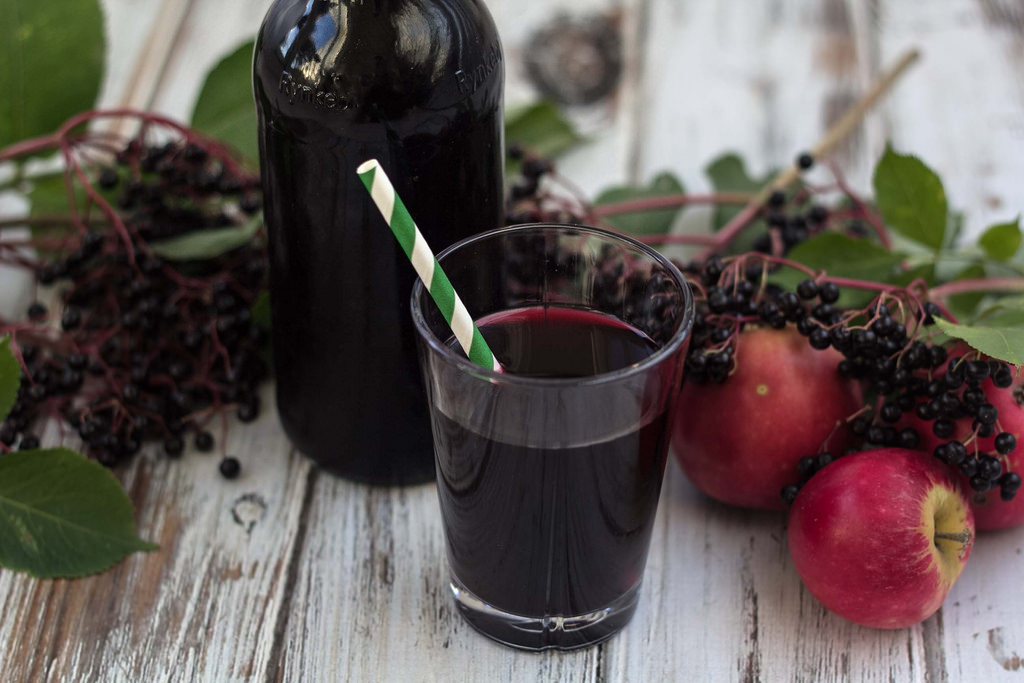 Pick Your Own Elderberries and make juice
In the months of September to October the nature in Denmark is packed with many delicious fruits and berries, like apples, pears, elderberries, blueberries, raspberries and so on. This is not just Denmark, in the most of the world these kinds of fruits are picked at this time a year. We always take advantages of this great opportunity to make some delicious food from all these fresh ingredients.
See also: How to make delicious Elderflower Juice
We personally think it is a lot of fun to pick our own berries, and then we also have the opportunity to get the best quality ones. Picking your own fruit and berries is also something the kids tend to find funny. Therefore, it is a great opportunity for parents to teach kids about the forest, and the nature in general, and then later teach how to cook delicious food by ingredients found in it. That is a nice way to spend your Saturday!
See more: Recipe for homemade Rhubarb Juice
If you don't have the opportunities to pick these fruits in the nature by yourself it is possible to buy already picked berries from your local farmers' market/greengrocers. The great thing about the wild berries is that they are normally not sprayed with any pesticides or other bad stuff. When that said, always pick those berries that aren't close to busy road or other polluting things. Remember to wash and clean the berries thoroughly.
Healthy Elderberry Juice
This recipe for elderberry juice is easy to make and it has a super delicious taste. The concentrated juice can be mixed with cold water in the ratio 1/3 and a couple of ice cubes. However, the juice can also be drink hot maybe with some rum - some people say that should keep the cold away. In general the elderberries are said to be very healthy and that they contain many good vitamins, and that is just a bonus to the great taste. You can serve this cold drink together with a piece of this delicious chocolate cake or some homemade chocolate chip cookies.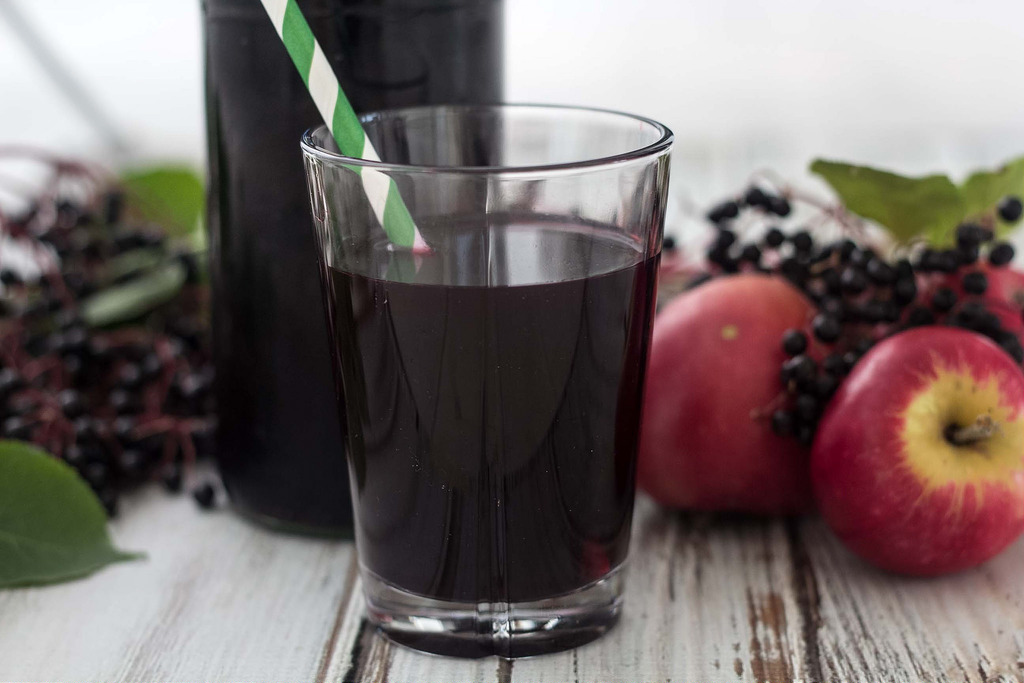 Ingredients
2.5

kg

elderberries

(remove the largest twigs)

12

apples

1

liter

water

800

g

sugar
Instructions
Wash and clean the elderberries thoroughly. Cut off and remove most of the branches and twigs. You can leave on the smallest ones.

Wash the apples and remove the core. Slice them.

Put the elderberries and the apples in a large saucepan and add all the water. Let it boil for about 30 minutes or until all the juice is extracted from the berries.

Put a clean tea towel or similar inside a strainer. Place the strainer on top of another large saucepan or bowl. Pour the elderberry juice in the strainer and use a spoon to press the berries so that you get all the juice out of them. Let it sit until all the juice is passed through the tea towel and strainer.

At medium heat, heat up the concentrated juice in a saucepan and add the sugar. Continue heating and stirring until all the sugar is dissolved.

Clean some bottles in very hot water (preferred boiling water), and let them cool off. Pour the concentrated elderberry juice on to the bottles and close/seal them right after. This step is important if you want to make the juice last longer.

Keep the juice refrigerated. You should be able to store it for quite some time. I believe when you have opened a bottle it will last for a couple of weeks.