Summer time is equal Elderflower time. The elderflowers which can be found in the forest contains so much flavor and can be used to make the most delicious Elderflower juice. Go and pick some elderflowers in the forest and make some of the fantastic elderflower juice.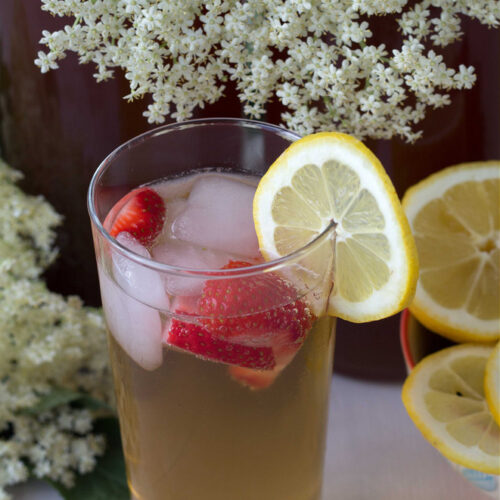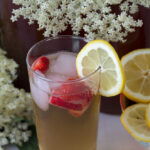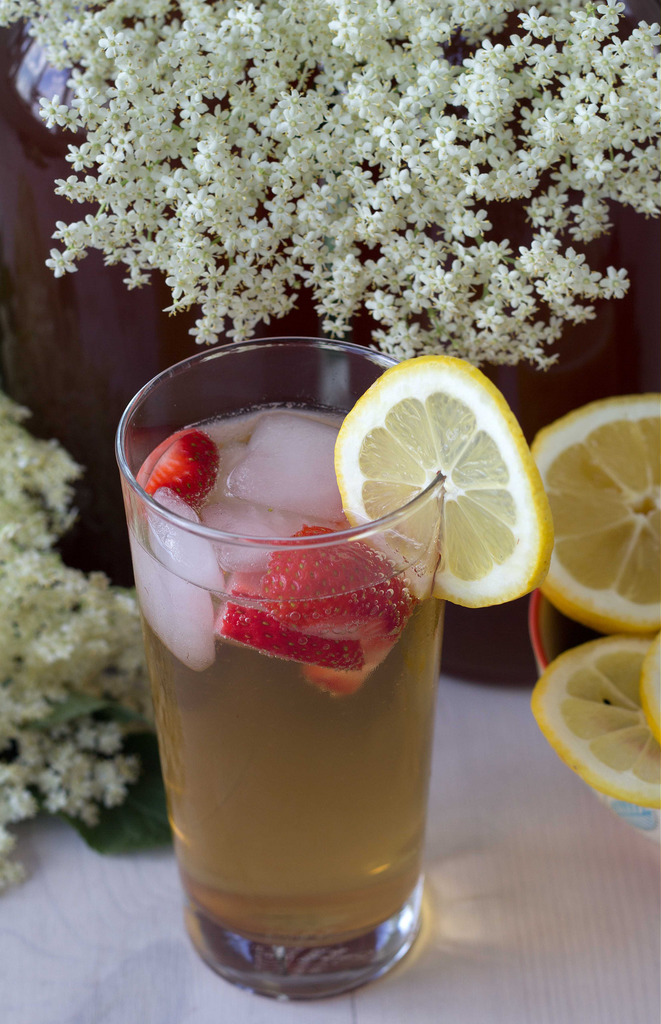 All the beautiful elderflowers are blooming in the end of june. Normally I am to slow – or maybe too lazy to pick them and make wonderful things. But this year I made it! I went down to the local park area where there was lots and lots of elderflowers. I gathered a big bucket of elderflowers – and there was plenty! I came home and rinsed the elderflowers. Then I added sugar, lemon slices and boiling water. Then I just had to wait 3-4 days before my elderflower juice was ready to drink – that is a very long time to wait! But finally my elderflower juice was ready to drink and it tasted wonderful!
See also: The BEST recipe for Elderberry juice
I mixed the concentrated juice with sparkling water, some ice cubes and a bit of strawberries on the top. You can also mix it with tap water, but you need to try the variant with sparkling water too – it is so good! If you would like to serve it as a drink for some guests try adding white wine and sparkling water to the elderflower juice.
Read also: My favorite Nordic juice recipes
My juice was made with caster sugar (fine sugar) and brown sugar (so it gets a little bit dark in the color). The brown sugar gives the juice a bit of a caramel taste, which I find very delicious. If you prefer the light color you can just use cane sugar or caster sugar.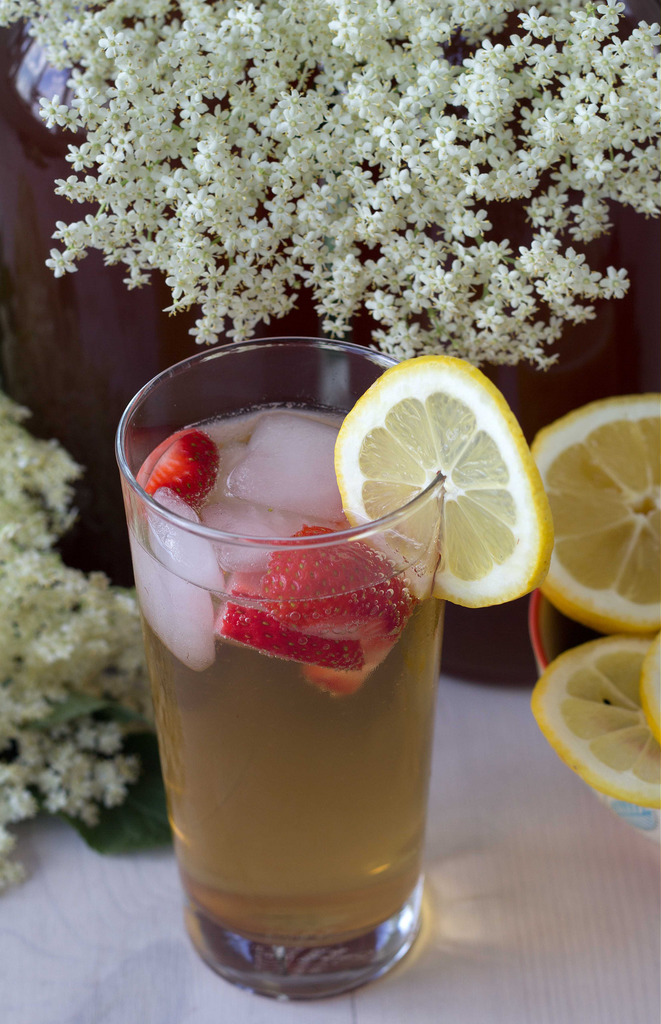 Ingredients
50

elderflowers

3

organic lemons

1

kg

sugar

500

g

brown sugar

1.5

liters

boiling water
Instructions
Pick the elderflowers. Don't pick those that are close to roads or close to the ground. Clean the elderflowers by shaking of little bugs and rinse them carefully in cold water.

Pour the elderflowers into a large pot or bowl.

Rinse the lemons and slice them. Place them on top of the elderflowers.

Pour sugar and brown sugar in the bowl. Add the boiling water.

Let it cool off a bit and place it in the refrigerator for 3-4 days. Stir in the mixture from time to time.

When the juice is ready pour it through a strainer into another bowl. Throw the elderflowers away. Then pour the juice through a clean cloth to filter all of the juice.

Clean some bottles with boiling water and pour the concentrated juice on the bottles and refrigerate.

Mix the concentrated juice with sparkling water and lots of ice cubes.
Notes
It is possible to freeze the juice using plastic bottles. Then you can enjoy the summer taste of elderflower even in the winter time.