Super delicious recipe for homemade pita bread. It is actually quite easy to make homemade pita breads once you have understood the tips and tricks. Please make sure to read the blog post on Nordic Food & Living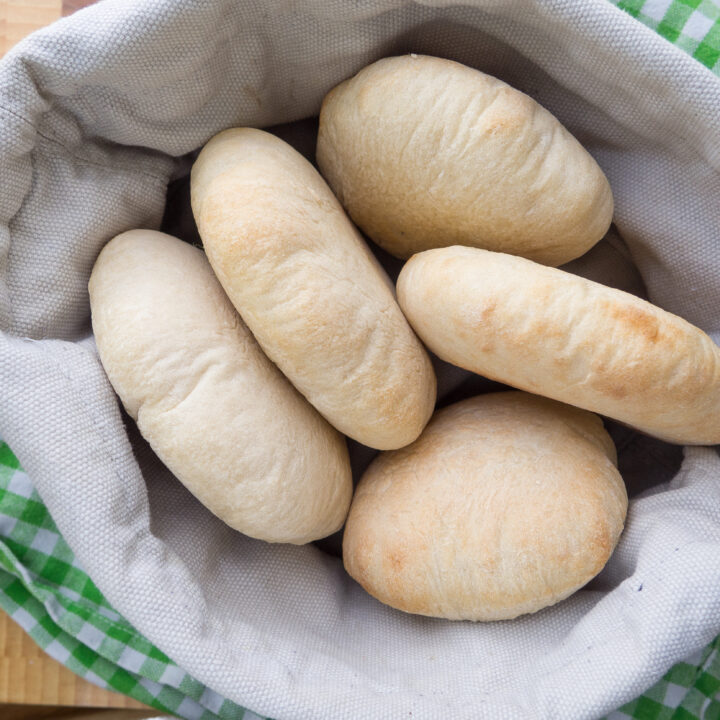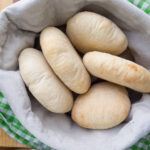 For some time I have been experimenting with making homemade pita bread and I have to say that I have been back and forth several times before I ended up with the best recipe.
What I like the most about pita bread is that you can stuff it with the exact stuffing you prefer.
My personal favorite is some pulled turkey, Avocado, corn, fresh spinach leaves, diced cucumber and of course a delicious homemade dressing. Of course, it is completely up to you what kind of filling you prefer. You might even have a traditional ingredient that you always uses. As always, I would be really happy to hear from you in the comment section below if you can suggest something great.
The best homemade pita bread
The recipe I have listed below is the result of several tries. The actual ingredients list have been mainly untouched, as it is just a standard all-purpose flour bread recipe. However, it is the process of baking the pita bread so that they rise up and become nice and airy that have caused me a little trouble. But now I have cracked the code and I would have to say that it is actually quite easy once you learn a couple of tips and tricks.
See also: Recipe for the BEST homemade Taco bread
Below I have listed the most important things that you have to consider when making your homemade pita bread. Following these tricks, you should be able to make the best and airy homemade pita bread. Always remember that sometimes it takes a couple of tries before you have the feeling. However, once you got it I promise you it is a great feeling watching the pita bread rise in the oven.
Tip 1
It is important that the temperature in the oven is very hot and that the entire oven is heated up before baking the pita. Heat up the oven to 250 C (480 F) and let it stay at this temperature for minimum 5-10 minutes before baking the pita breads. This will make the entire oven heat up.
Tip 2
When baking the bread I always uses my circular pizza stone. The great thing about a pizza stone is that once it is heated up it contains a great amount of thermal energy. This way it will not cool down just by opening the oven. However, if you do not own a pizza stone you can also use a regular oven plate. In this case just remember to only bake two pita breads at the time so that you make sure each bread is baked at a high temperature.
Tip 3
When flattening the bread into 1/2 cm (1/5 inch) thick pita it is important that the bread is evenly flat and that it does not have any larger air pockets trapped inside the bread. If the bread is not evenly flat or has air inside, they will rise unevenly when you are baking them. I typically use the backside of a plate to flatten the bread and then making the final touch using a rolling pin.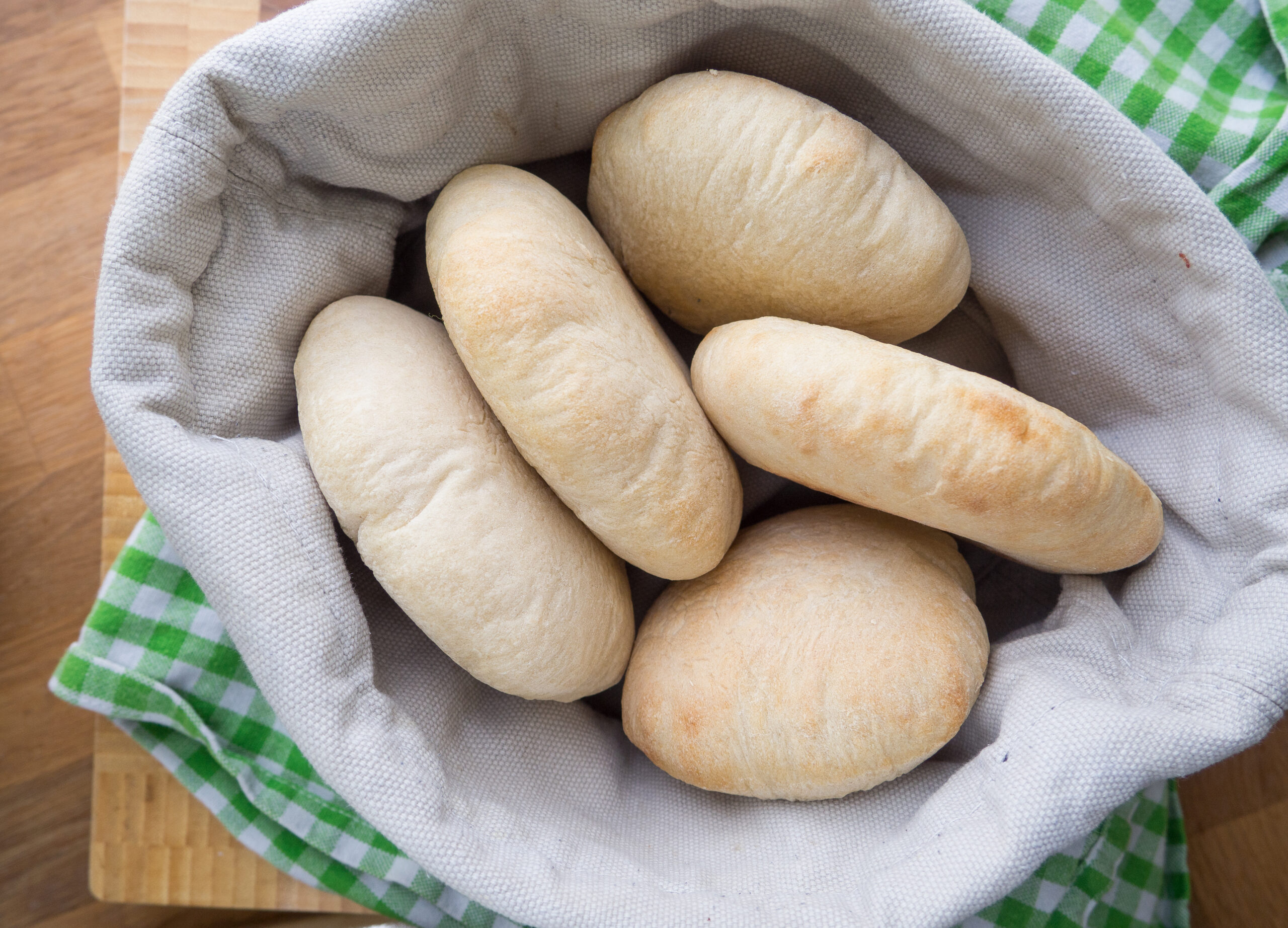 Ingredients
25

g

fresh yeast

(about 1 tbsp instant yeast)

3

dl

lukewarm water

( 1 1/4 cups)

1

tbsp

olive oil

1

tsp

sugar

425

g

all-purpose flour

(15 oz)

1

tsp

salt
Instructions
In a large bowl, dissolve the fresh yeast in the lukewarm water.

Add the sugar and oil. Stir to mix.

Add the flour and the salt. Knead everything into a nice and smooth dough. This kneading time takes about 5-10 minutes. You can with advantage use a stand mixer.

Cover the bowl with a clean dishtowel and set it aside for about 40 minutes.

Divide the dough into 8 pieces and roll them into smooth balls.

Let the balls rise for about 10 minutes while the oven is preheating up to 250 C (480 F). If you have a pizza stone also place this in the oven. Otherwise, a normal oven plate is sufficient.

It is a good idea to bake the pita breads two-by-two. This way it is easier to keep the high temperature in oven. The high temperature is important.

Use the back of a dish to flatten two balls evenly. The thickness should be about 1/2 cm (1/5 inch). It is important that the bread is evenly flat and does not have any obviously large air pocket trapped inside (from the rising of the bread). It is a good idea to finish off by gently rolling the bread using a rolling pin - to let the air out.

Gently, transfer two pita breads onto the hot stone inside the oven. Make sure that the side of the bread, which faced your kitchen table while fattening it, is now facing upwards away from the hot stone. This way the moistest part of the bread is facing way the hot stone. This is a little trick to make sure the bread is puffing up nicely.

If you do not have a baking stone, use a parchment paper covered oven plate. Just make sure it is very hot.

Bake the bread for about 5-6 minutes. The pita bread should rise up, become puffy and create an air pocket inside.

Let the bread cool off a little before serving it.