The traditional danish red cabbage also known as Rødkål. This cabbage is traditionally eaten at Christmas time and especially together with Danish Roast Pork with Crackling (Flæskesteg). It is easy to make.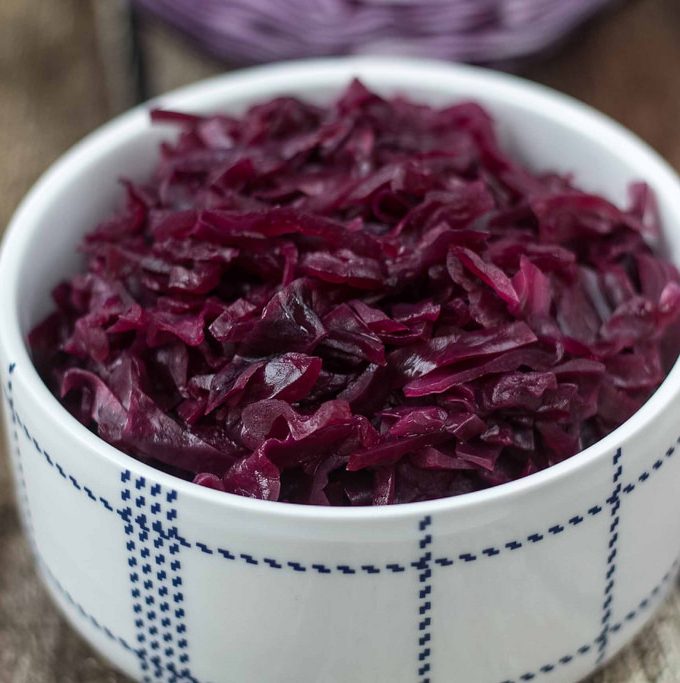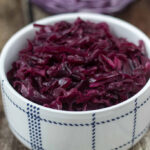 This recipe for Danish Red cabbage is a traditional and very popular side dish for many different dishes. Red cabbage is served all year around, however, it's very popular at Christmas where it's served together with the traditional Christmas eve dinner the 24th of December. In Danish we call this side dish Rødkål which translated simple means Red cabbage. We have used this recipe several times and its way better than the red cabbage you can buy at the super market. It's really simple to make and you only need five different ingredients, red cabbage, vinegar, currant juice, sugar and salt. You can easily change this recipe into a more personal dish by adding different spices according to your taste.
Normally we would use currant juice in this red cabbage, however, we have sometimes used elderberry juice instead which is just as good. Besides currant and elderberry juice I have also hear from one of my readers that you can use cranberry juice with good results. However, I have not had the time to try this myself yet. You can make this Danish red cabbage in due time you just have to store it in jars which have been cleaned using boiling water. This will kill all the different bacteria and extend the shelf life. If you have some extra fat from the traditional roasted Christmas duck you can add some of it to the red cabbage, this gives a delicious taste and makes the cabbage shine.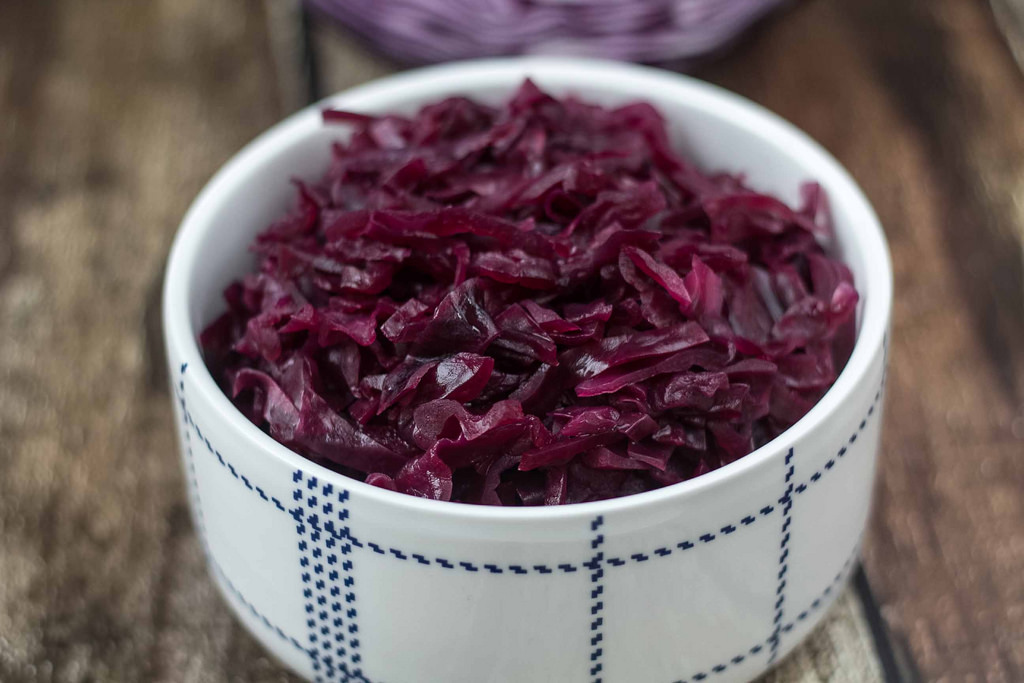 Ingredients
1

kg

red cabbage

(2.2 lb)

2

dl

vinegar

(3/4 cup)

1.5

dl

currant juice or elderberry juice

(2/3 cup)

150

g

sugar

(5 oz)

1

tsp

salt
Instructions
Step 1: Finely shred the red cabbage and make sure that the pieces are not too long. Put the shredded red cabbage in a large sauce pan.

Step 2: Pour the vinegar in the sauce pan, turn on the heat and let it simmer for about 30 minutes. Stir in the cabbage regularly so that it doesn't burn to the bottom of the sauce pan.

Step 3: Add the juice, sugar and salt to the sauce pan and let it simmer for another 30 minutes or until it has the right consistency. The consistency is basically up to you - the longer you cook it the softer you will get the red cabbage.

Step 4: Clean some glass jars using boiling water. This will kill all bacteria so that the red cabbage will last longer. Pour the red cabbage onto the jars and seal them right away. Keep the jars refrigerated.