If you have read some of the other recipes on our blog, you would know that we normally try to avoid carbs from white bread, pasta, potatoes etc. and replace it with salads. This salad with red cabbage, oranges and pomegranate is another salad that we like to make. The salad is perfect as a side dish for most meat and it has a wonderful taste.
The red cabbage brings a fresh and crisp feeling to the salad - it's just great. In Denmark red cabbage is a popular vegetable and it's especially used to make the famous Danish Red Cabbage which is a very popular side dish for many Danish Christmas dinners. Red cabbage is rich on vitamin A and C, and is very filling - a great and healthy salad.
We would also like to recommend our coleslaw with red cabbage and apples, which is another great salad.
Red Cabbage Salad with Oranges and Pomegranate
4 people
Preparation time: 30 minutes
Danish title: Rødkålssalat med appelsin og granatæble
Cuisine: Danish
Ingredients:
1/4 red cabbage
1 pomegranate
1 apple
1 large orange (or 2 small)
50 g (2 oz) walnuts
1 tbsp honey
2 tbsp balsamic
3 tbsp olive oil
pinch of salt and pepper
Instructions:
Step 1: Cut the red cabbage finely.
Step 2: Remove the seeds from the pomegranate. We have made a simple guide how to do this the easy way. Find the guide on our blog.
Step 3: Peel the orange and cut it in fine slices.
Step 4: Rinse the apple, remove the core and dice it.
Step 5: Mix all the prepared ingredients in a bowl or on a salad plate.
Step 6: Make the dressing; whip honey, balsamic, olive oil, salt and pepper together in a bowl. Pour the dressing over the salad.
Step 7: Gently mix the salad and serve it right away.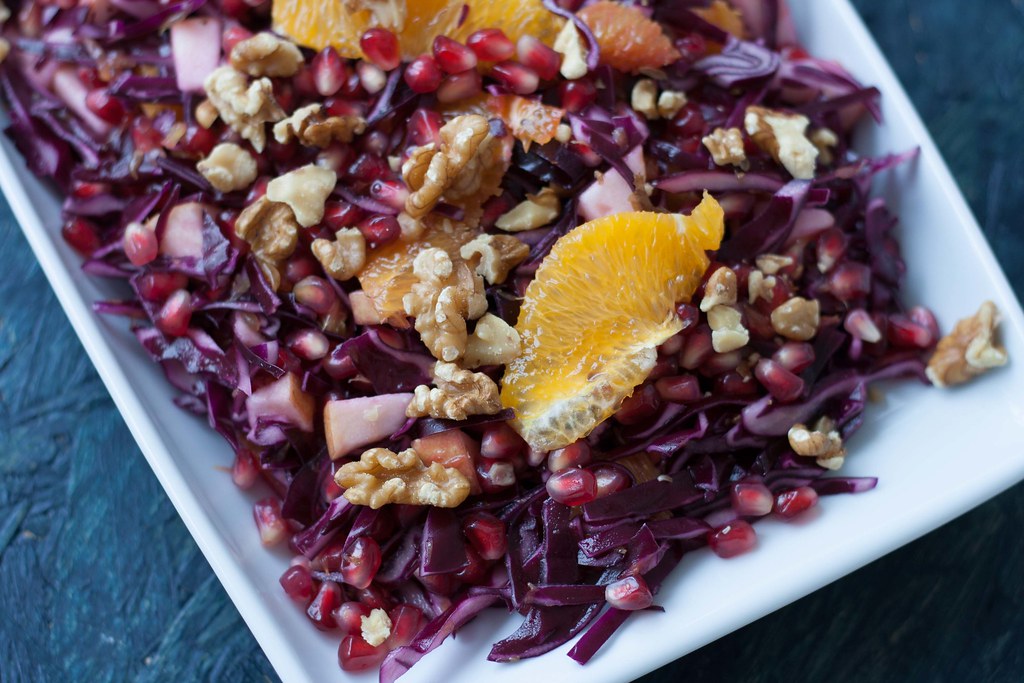 By Kim Nielsen