Super delicious and simple recipe for Vandbakkelser (Danish Choux Pastry). Stuffed with vanilla cream and homemade jam. Watch out, this Nordic dessert is very addictive.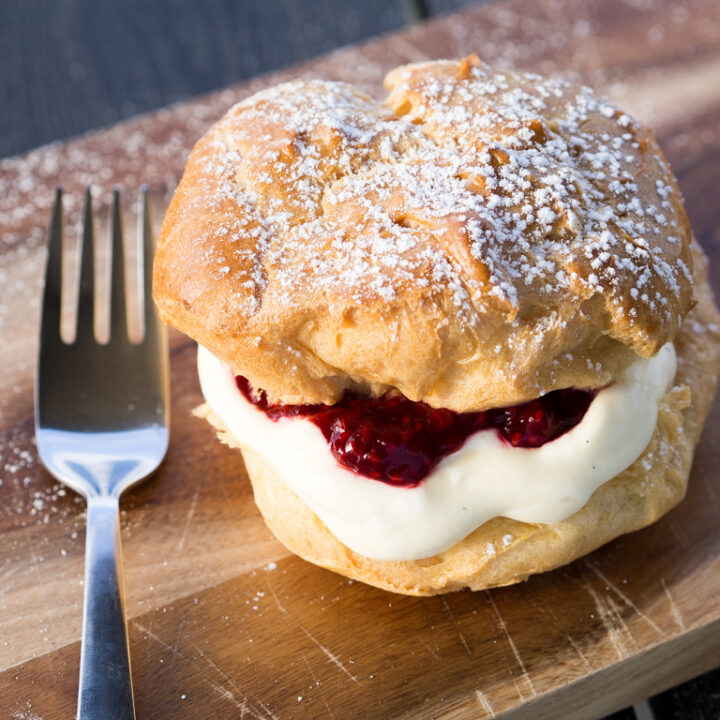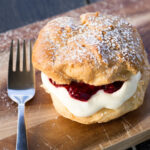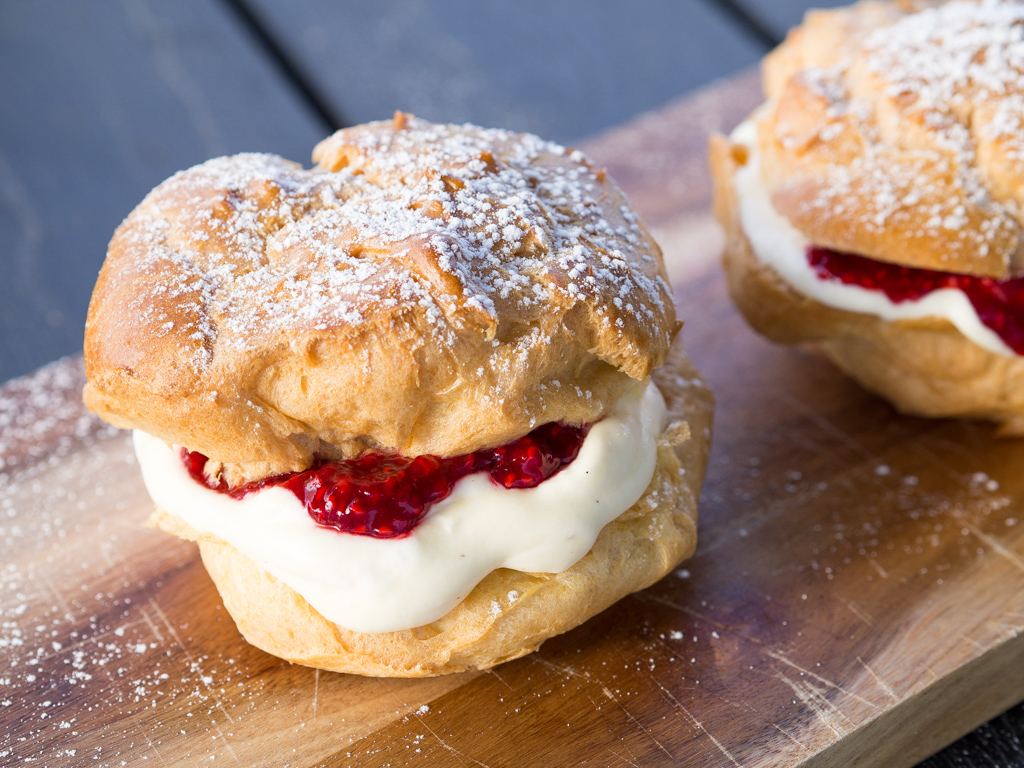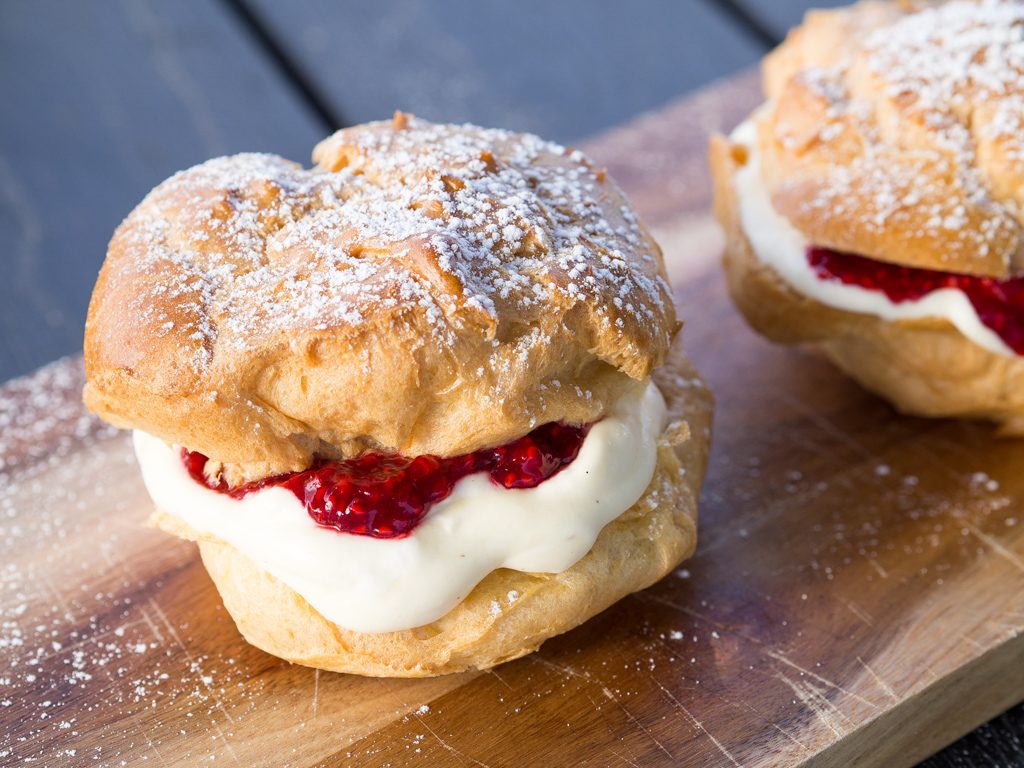 This recipe for Vandbakkelser is a very popular and traditional Danish dessert which is very easy to make if you follow a small set of simple rules.
Just be aware, this homemade Nordic dessert is very addictive. It is simply just super delicious!
Also read: Recipe for delicious Danish hindbærsnitter
Nordic Vandbakkelser is very close related to English Choux pastry if not the same. Anyway, I prefer to call them by the Danish name which is Vandbakkelser.
This recipe for Vandbakkelser is the one which have been in my family for many years. It is actually one of the first desserts that I learned to make myself back in the 90ies when I was just a kid.
Also Check out: The best old fashion Nordic pancakes
What is a Vandbakkelse
If you have never heard about this recipe for Nordic Vandbakkelser a good question might be - what is a Vandbakkelse?
A roughly translation, but maybe also a little bad translation, of the word Vandbakkelse might be something like 'Baked water' or 'baked with water'.
Also read: Danish Butter Cookies (vaniljekranse)
Even though, the word Vandbakkelse is difficult to translate the description 'Baked with water' might actually be quite good.
As mentioned, A traditional Danish Vandbakkelse is in theory very similar to the English Choux pastry dough.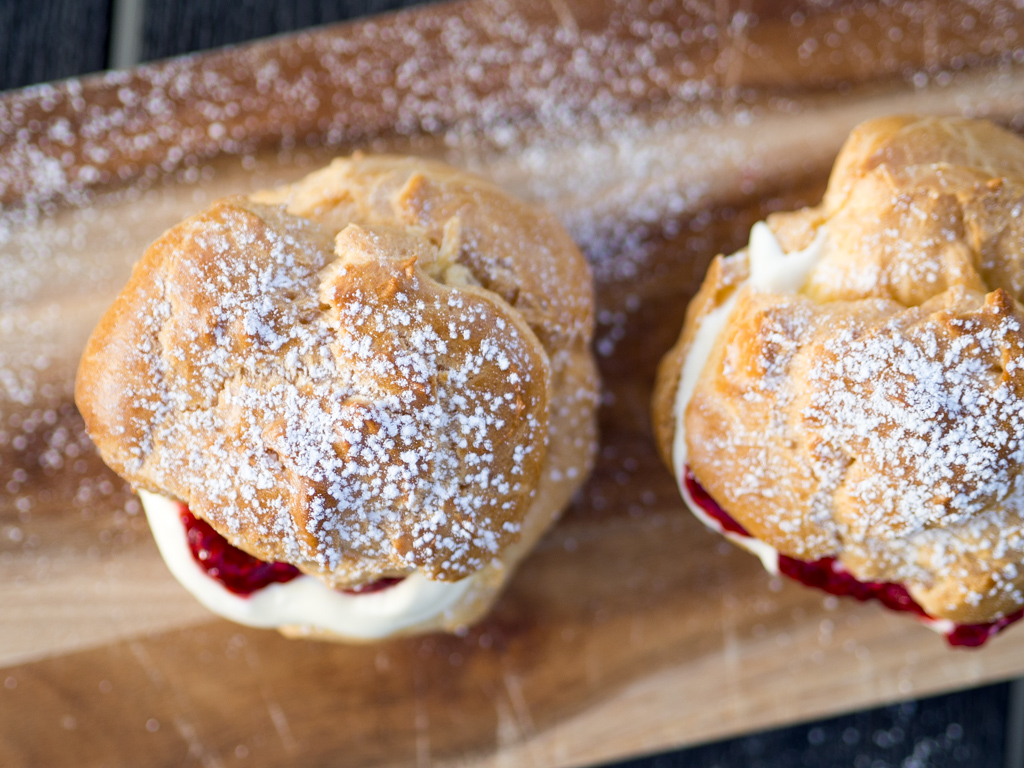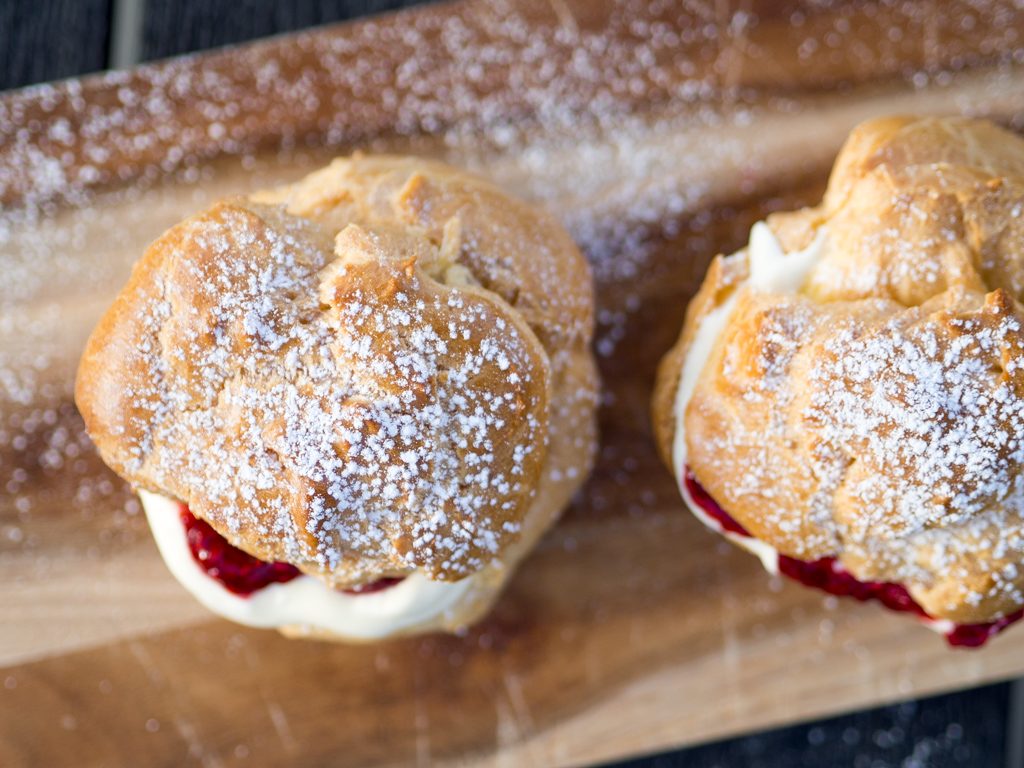 How to serve vandbakkelser
The baked and airy Vandbakkelser is, in Denmark, typically served by dividing them at the middle and stuffing them with vanilla cream and homemade jam.
If you want to make them extra beautiful you sprinkle them with a little icing sugar. Just like I have done in my pictures. Super delicious!
Also read: Recipe for homemade vanilla cream
In this recipe for homemade Vandbakkelser I have included a super simple recipe for homemade raspberry jam. This raspberry jam gives a fantastic sweet but also sour taste to this dessert - super delicious if you ask me.
To make a homemade raspberry jam you only need two ingredients which is raspberries and sugar (preferred jam suger). Mix the two ingredients in a sauce pan and bring it to a boil before letting it simmer at lower heat for about 10 minutes. Let it cool off and it is ready.
This is for sure a real Nordic dessert, if that is what you are looking for. As always, you are more than welcome to make a comment about this recipe - use the comment section at the bottom of this page.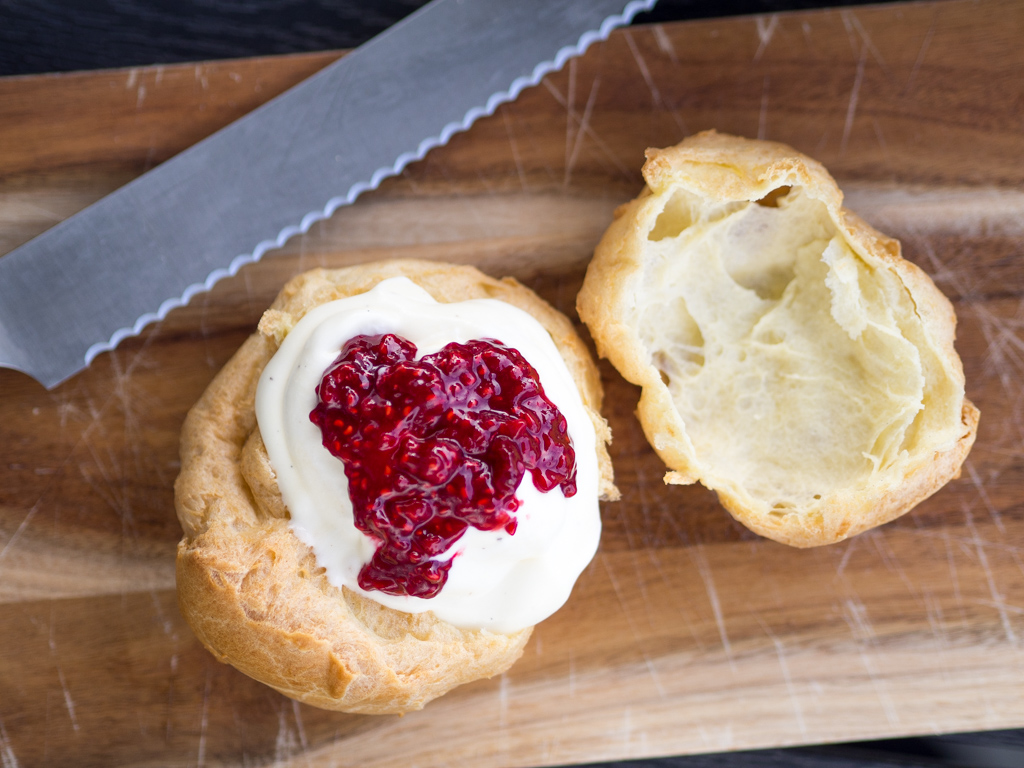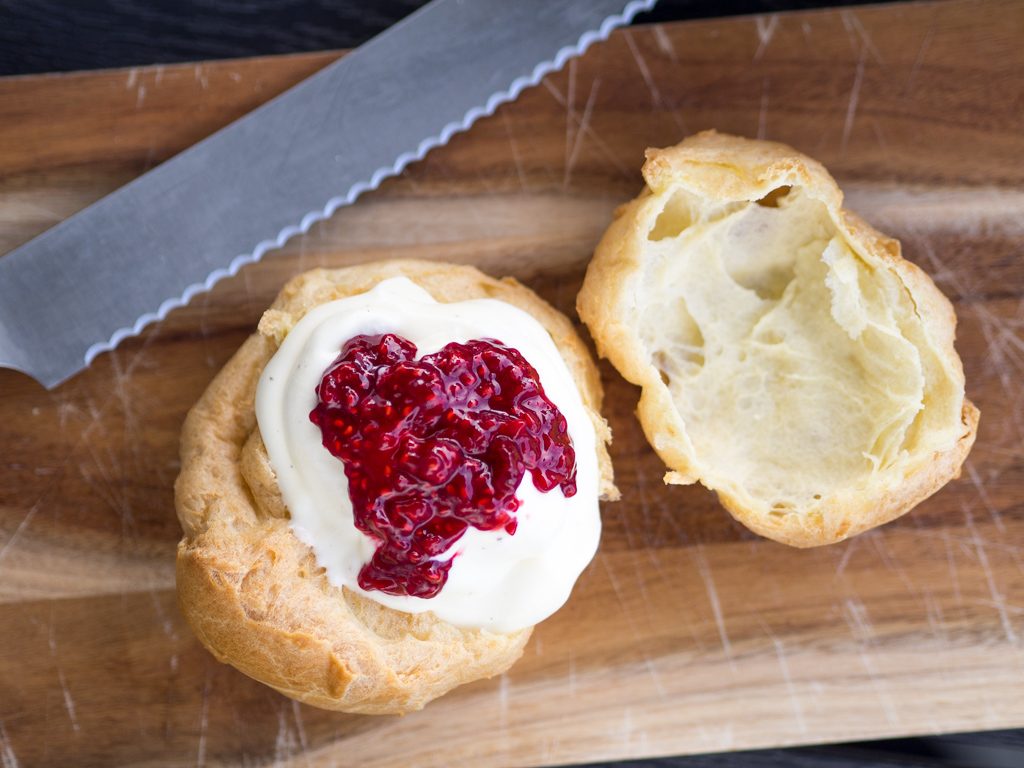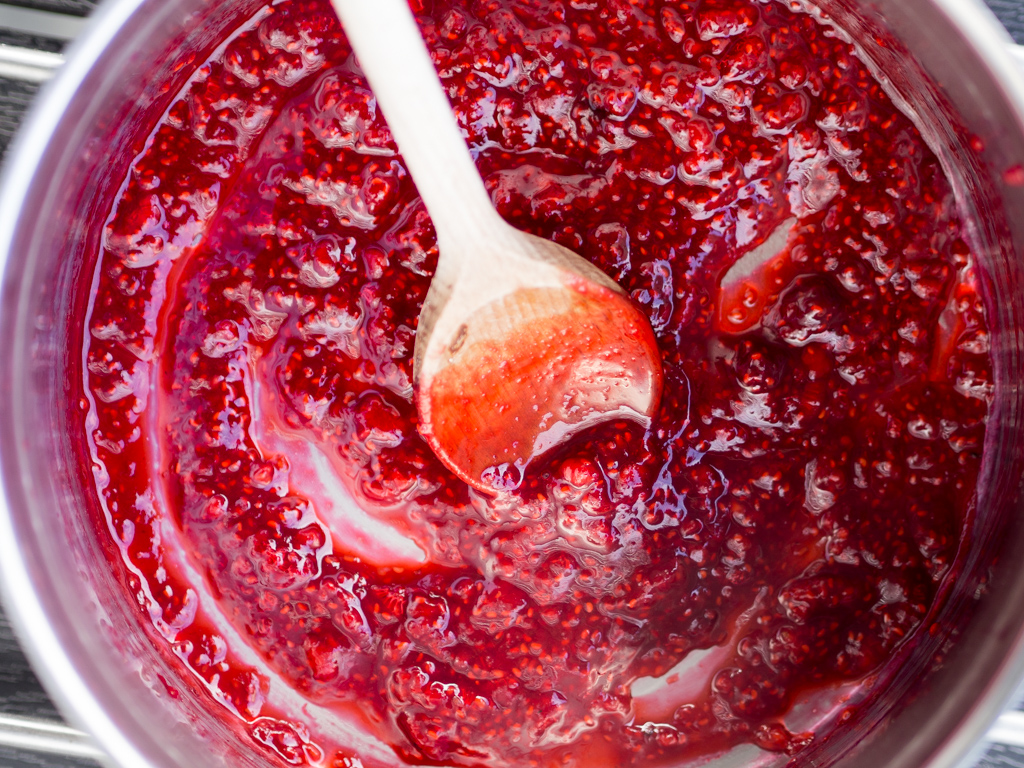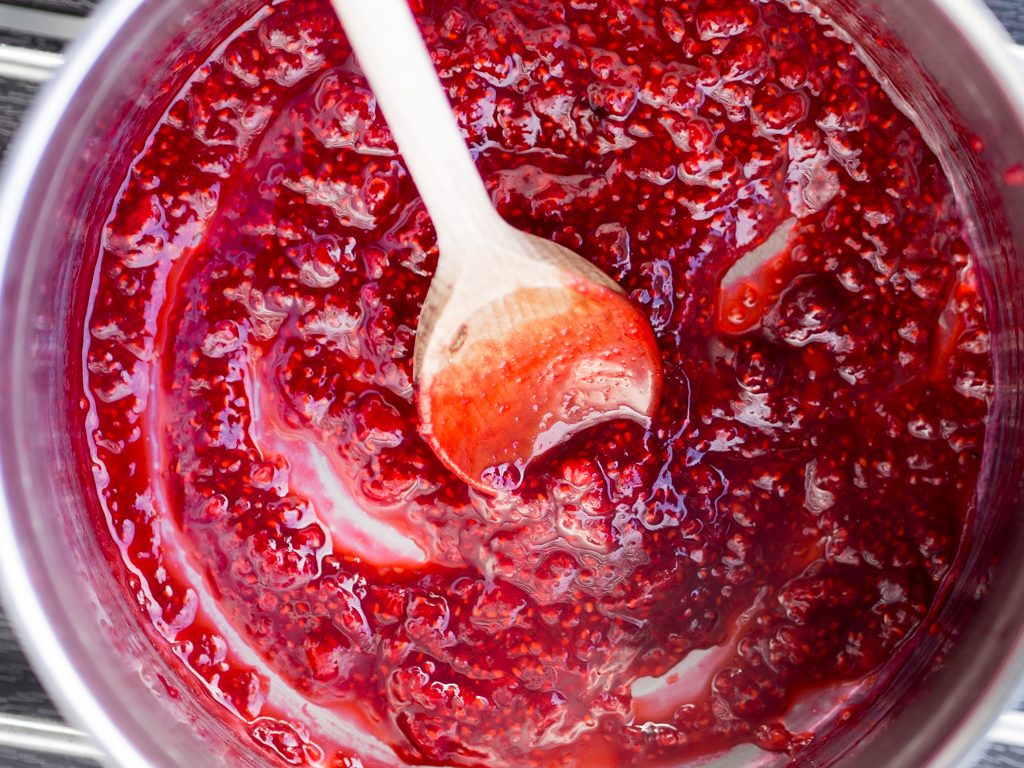 Recipe for homemade Nordic Vandbakkelser
As already mentioned the recipe for Danish Vandbakkelser is actually quite easy to follow. There are just a few important things to consider and remember when you are cooking homemade Danish Choux pastry.
Read also: Recipe for healthy chocolate cake without sugar and flour
The Vandbakkelse dough is based on water, flour, eggs and a little sugar and salt - few and very basic ingredients that are typical found in almost every kitchen.
The dough is made by melting the butter in a sauce pan together with the water. Step by step you add the rest of the ingredients while whisking. This is all done at medium-high temperature. After a couple of minutes remove the sauce pan from the heat and let the dough cool off for minimum 5 minutes while whisk init a few times.
Add the eggs to the cooled dough and mix everything into a smooth and shiny Vandbakkelses-dough.
The dough is now spooned onto an oven plate lined with parchment paper.
Bake the vandbakkelser as described in the two sections below.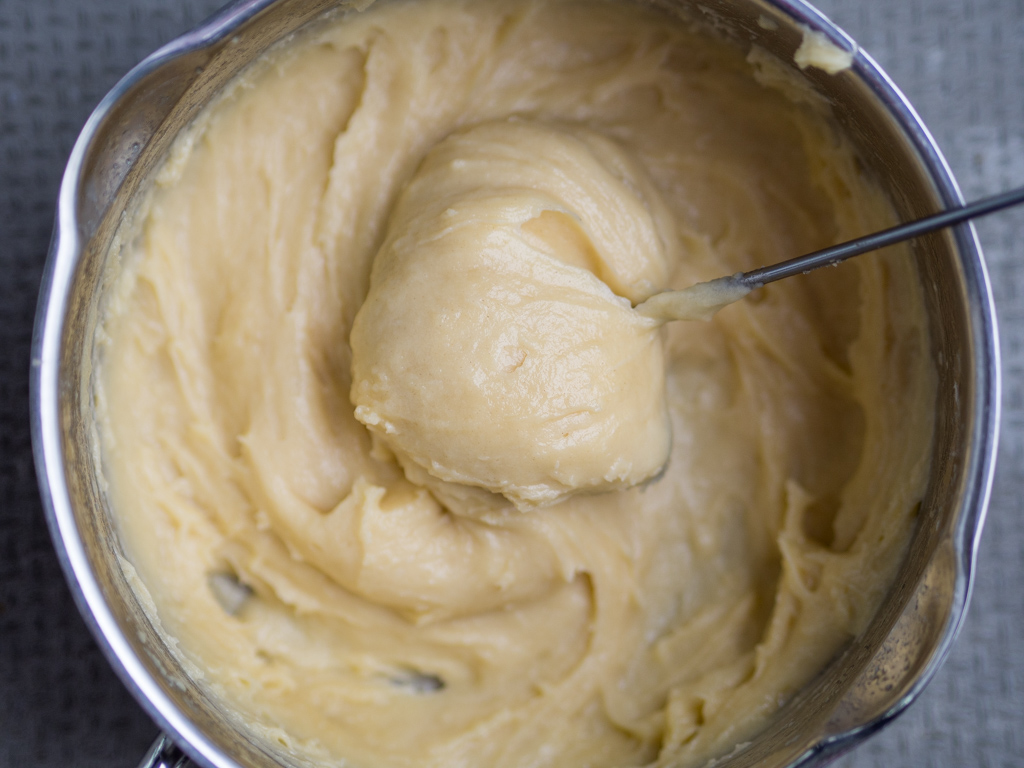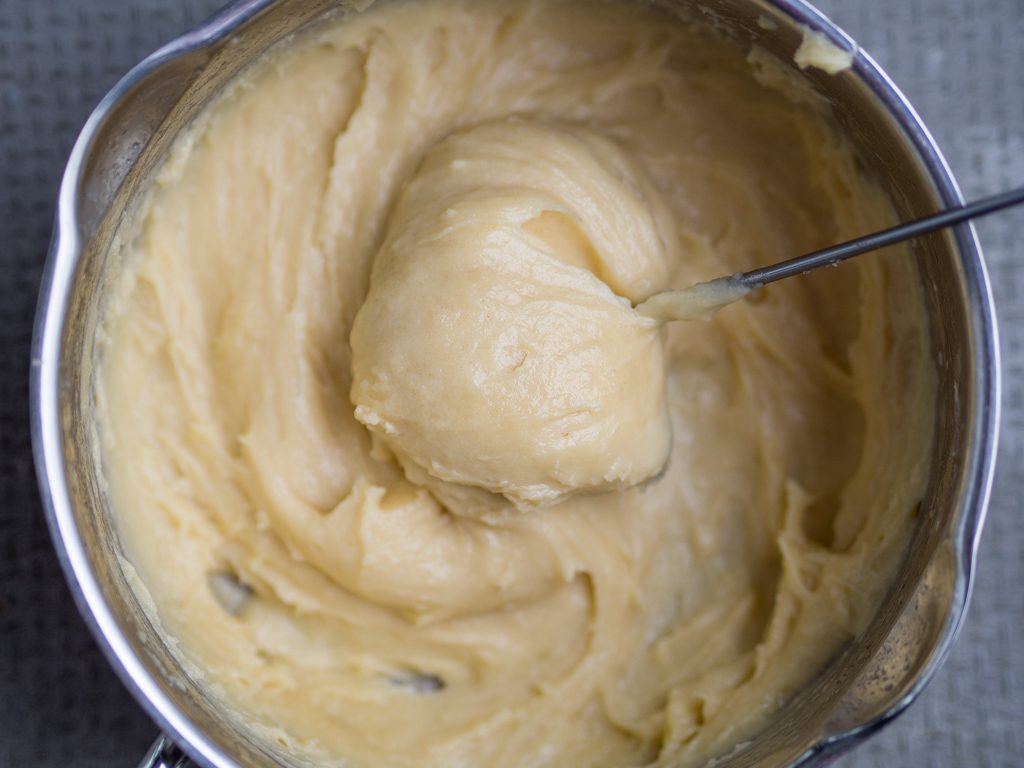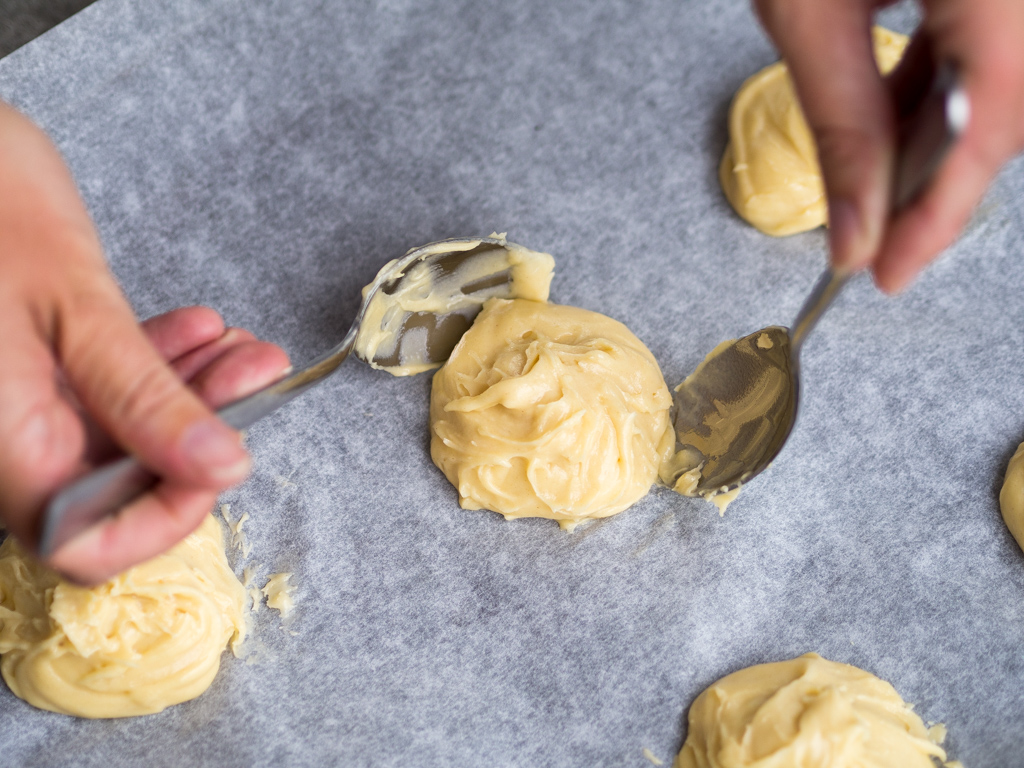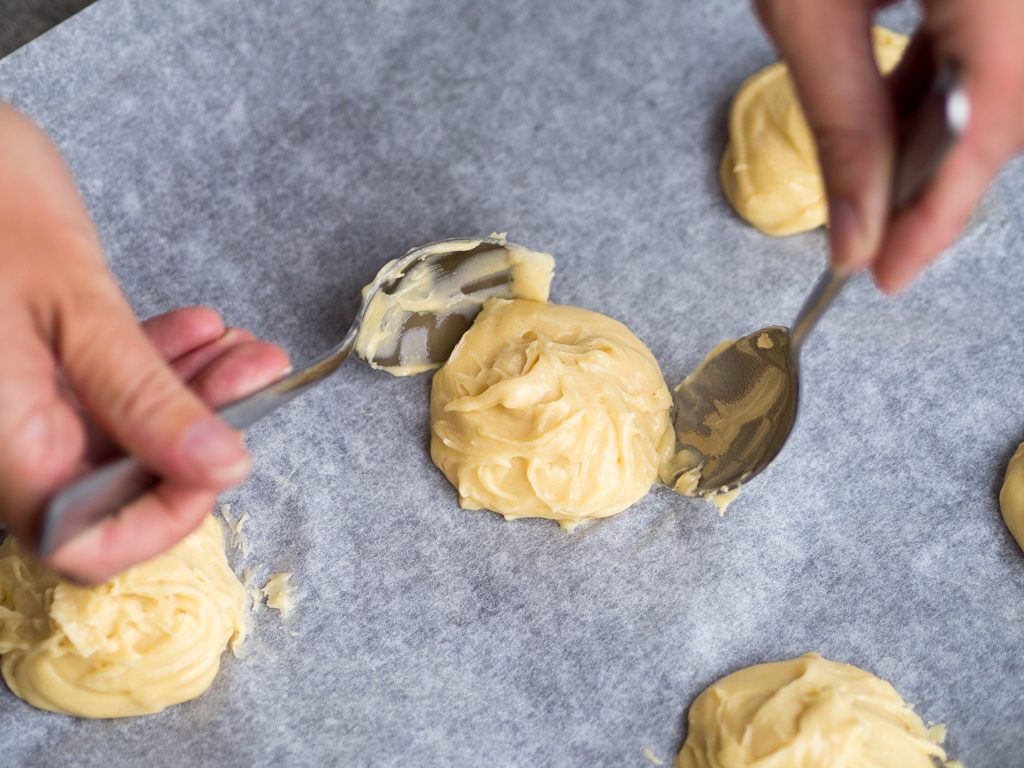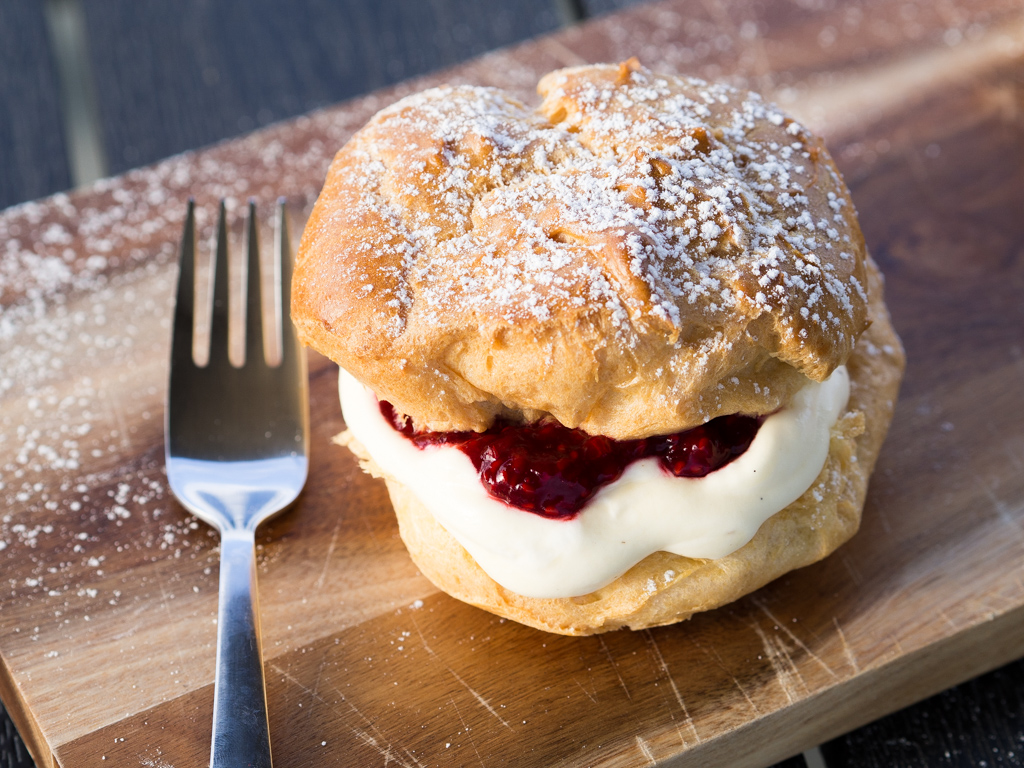 Ingredients
Vandbakkelser
1 1/2

dl

water

75

g

butter

75

g

all-purpose flour

3

small eggs

1

tsp

sugar

Pinch

of salt
Raspberry jam
125

g

raspberries

frozen is fine

50

g

sugar

or jam sugar
Vanilla cream
3

dl

milk

3

eggs

3

tbsp

all-purpose flour

4

tbsp

sugar

1

vanilla bean

the seeds
Instructions
Vandbakkelser
Turn on the oven at 200 C (400 F) and let it heat up thoroughly while preparing the dough. Use the conventional heating.

In a sauce pan, add water and butter. Turn on the heat and let the butter melt.

In steps, add sugar, salt and flour while whisking well using a whisk. Continue whisking the dough for a few minutes under medium to high heat.

Remove the sauce pan from the heat and allow the dough to cool for five minutes. Stir in the dough from time to time.

In a cup, whisk together the three eggs and step-wise add them to the cooled dough while mix everything well together. The dough should be nice, soft and shiny.

Use two tablespoons to spoon six and large cakes on a parchment paper covered oven plate. Place them well distanced to allow them to rise.

Place the cakes in the preheated oven and bake them for 30 minutes. Do NOT open the oven door in this period.

After the 30 minutes, quickly remove one Vandbakkelse from the oven. Watch it for a couple of minutes while it cool off. If it keeps it shape they are all done. If it collapses, bake the rest for another 5 minutes and repeat the test.
Raspberry jam
Pour all the ingredients into a sauce pan and turn on the heat. Bring it to boil before letting it simmer for 10 minutes.

Let it cool off.
Vanilla cream
Pour all the ingredients into a sauce pan and whisk them together. Under constantly whisking, let the cream boil for about two minutes.

Let it cool off.
Vandbakkelser - keep oven door closed
When cooking homemade Vandbakkelser the most important thing to remember is to 'keep the oven door closed'
It is an very known fact that it can be a little difficult to keep the nice and airy shape of the Vandbakkelser when they are in the oven.
However, if you are following a few and simple steps it is actually easy to make nice and beautiful Vandbakkelser.
The first and most important thing to remember is to keep the door to the oven closed during the first 30 minutes they are being baked.
It is important to give them enough time to form a crust so that they are self-supporting and will not collapse. If you open the door too early you risk that they will all collapse. There is a nice method to test if the Vandbakkelser are done. Read below.
Important, make sure that you read the next section just below.
The Vandbakkelse test
As mentioned just above it is important to keep the door to the oven closed the first 30 minutes when you are baking them.
After the 30 minutes we can make a small test to see if the Vandbakkelser are baked sufficient so that they will not collapse.
This test is done by quickly removing one Vandbakkelse from the oven and let it set on your counter top for about one minute.
If this Vandbakkelse stays nice and keep its shape, they are all done.
If it collapse, give the rest 5 minutes more and repeat the test.
The final thing that you can do to ensure perfect Vandbakkelser is to make sure that the entire oven is well preheated before you start baking them.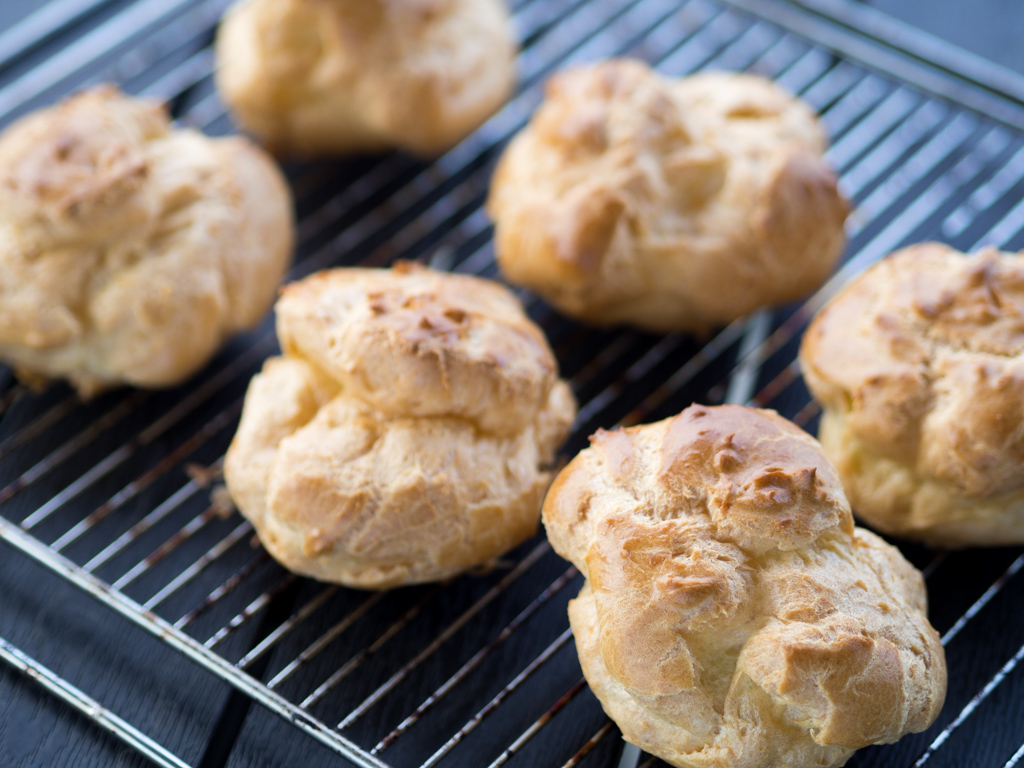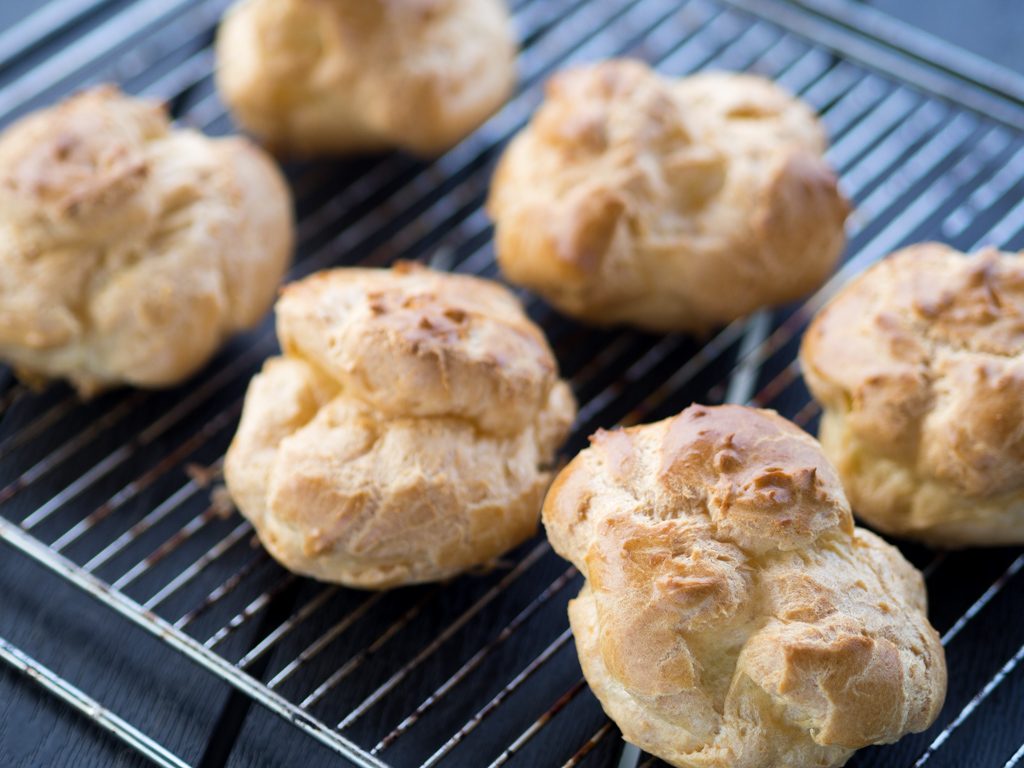 The shape of Vandbakkelse
How should a Vandbakkelse look like, that could be a good question.
Of course, the shape of a Vandbakkelse is up to you. Personally, if prefer my Vandbakkelser the opposite of uniform.
That is way I always just use two spoons to set the sticky dough on the oven plate. This ways you will never get two baked Vandbakkelser which are identical.
If you prefer more uniform Vandbakkelser you can always use a piping bag. This way you can better control the dough and set nice and perfect Vandbakkelser on the oven plate.