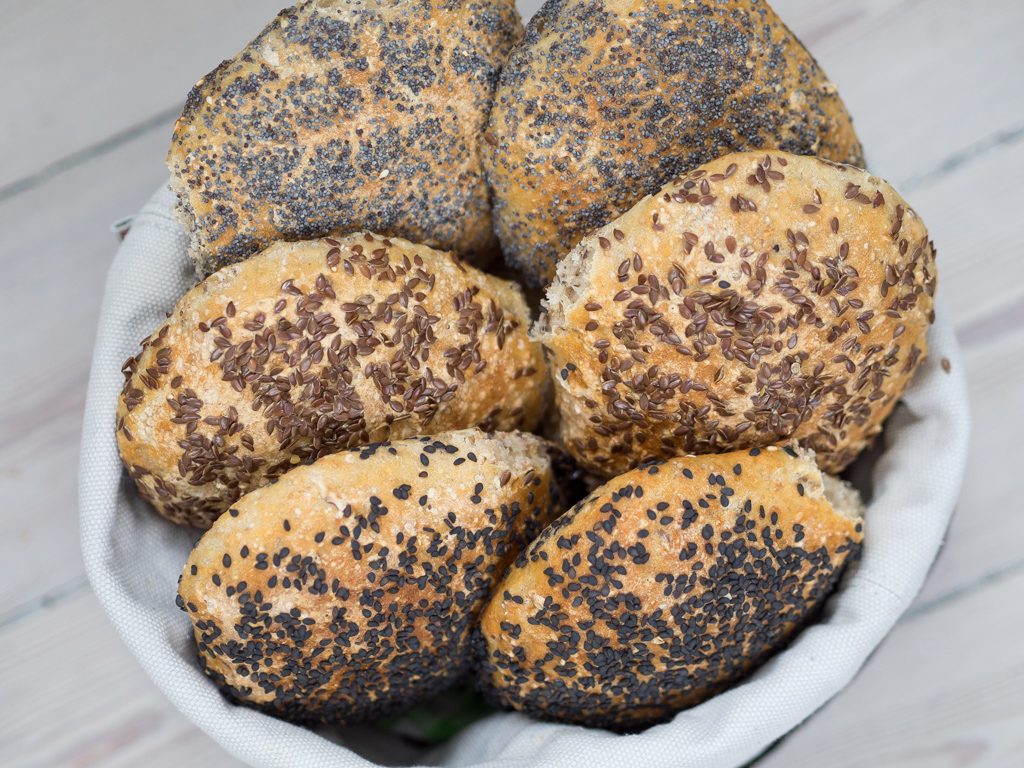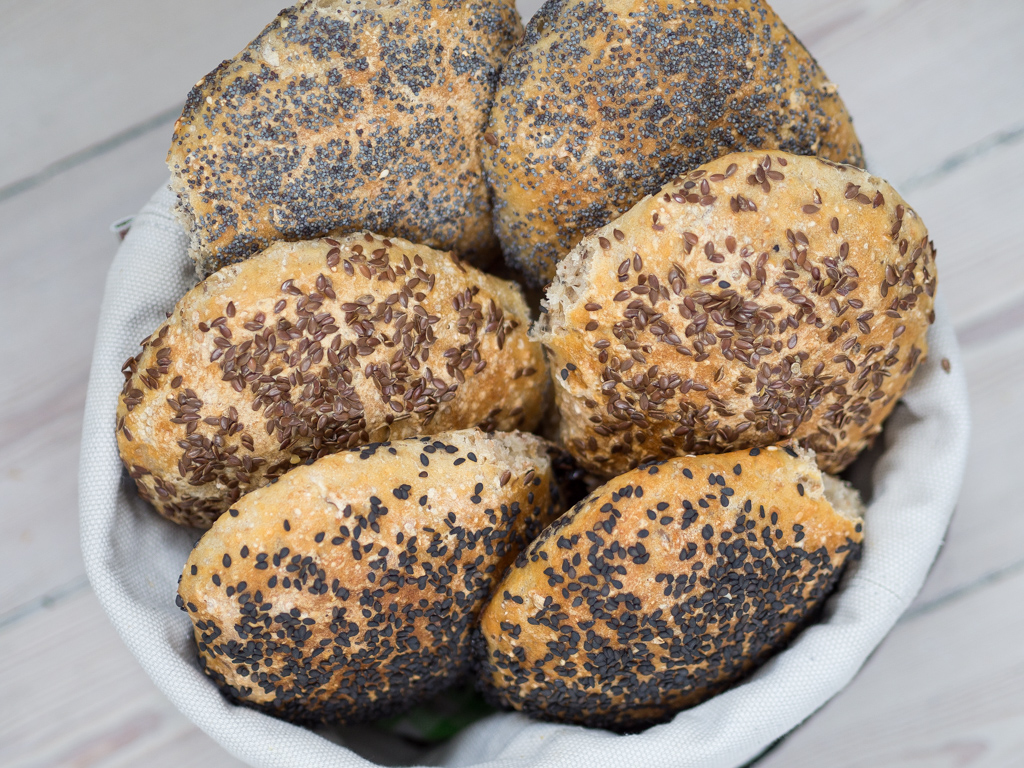 Some good homemade Nordic breakfast buns are just the best.
I do not think there is a better way of starting a Saturday or Sunday morning.
This recipe for overnight raised Nordic buns is simply super good and perfect for the weekend, where you want to make some extra good breakfast.
There is just something special about having a homemade and healthy breakfast on the weekend.
See also: My best Nordic bread recipes
Especially the weekends where there is nothing else on the schedule than relaxing and having a good time – I think that these days the homemade Nordic breakfast buns taste a little better.
On this page here, I would like to share a recipe for overnight raised Nordic breakfast buns. Try these breakfast buns today and get some Nordic feeling into your home.
Crisp crust and plenty of healthy grains
The reason I love this recipe for overnight raised buns is that they have the most delicious crisp crust and a nice moist and soft core.
I think that the combination of whole-wheat flour, oatmeal and the five-grain mixture is perfect. This balance between these ingredients is great for getting the great crush and the soft core.
Read also: My best breakfast recipes
These Nordic breakfast buns are definitely one of my absolute favorite recipes for the weekend breakfast.
Homemade healthy Nordic breakfast buns
If you look through the ingredient list for these Nordic buns, you will notice that they contain several types of different kernels, some whole wheat flour and oatmeal.
It is therefore safe to say that these homemade Nordic breakfast buns are a great alternative to ordinary white bread, which are otherwise very popular breakfast many places around the world.
Also see: Easy recipe for Nordic rye bread
Even though these Nordic breakfast buns are literally packed with lots of healthy dietary fiber and protein it certainly does not affect the quality and the pleasure of eating these buns in a bad way.
In fact, I personally prefer these buns over the traditional wheat buns.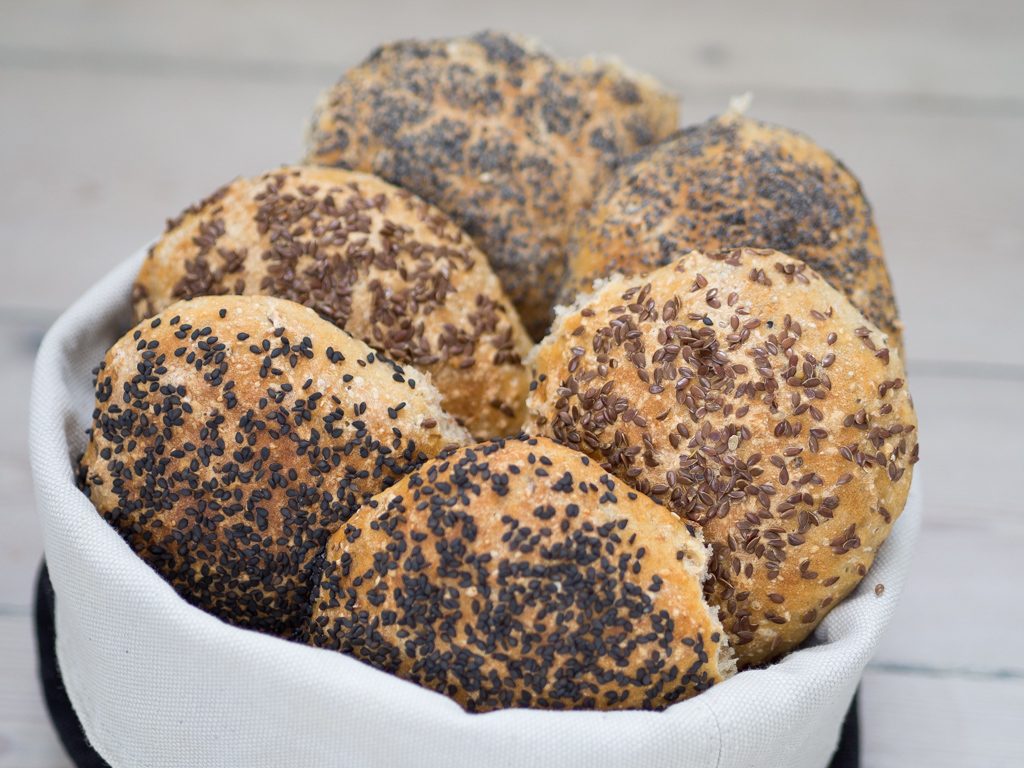 My favorite weekend breakfast
As mentioned in the section above, this Nordic recipe for overnight raised buns is an absolute favorite and certainly one of my top three most used breakfast recipes for the weekends.
Together with these Nordic buns, the other two of my top three dishes are Homemade Egg McMuffin and my cloudy eggs with bacon .
If you are interested in trying something new and different for your weekend breakfast, I would definitely recommend you to take a look at these other two breakfast recipes which are both posted here on my Nordic food blog.
You can find both recipes in the breakfast section in the menu above.
Advantage of cold-raised buns
In this recipe for Nordic breakfast buns the dough, as the name suggest, have raised in the fridge over the night. A typically dough has been raised only a couple of hours on the kitchen counter top.
Instead of raising this dough at room temperature in the kitchen, this dough is rising at least eight hours in the fridge and preferably overnight.
Also see: The best recipe for Danish Carrot Buns
There are several benefits to cold-raised bread, but the smartest thing is definitely that you can prepare the dough the evening before. This means that you can save some time when you want to have freshly baked bread in the morning.
This way you do not have to spend that much time in the kitchen in the morning where you're probably more interested in relaxing in bed. The only thing that you have to do in the morning is to set the buns on a oven plate and then let them raise an hour before baking.
Therefore, there is a minimal amount of work and only little wait time, but it is definitely worth the trouble.
These Nordic breakfast buns are absolutely amazing and the nice scent of freshly baked bread that spreads in your house is fantastic.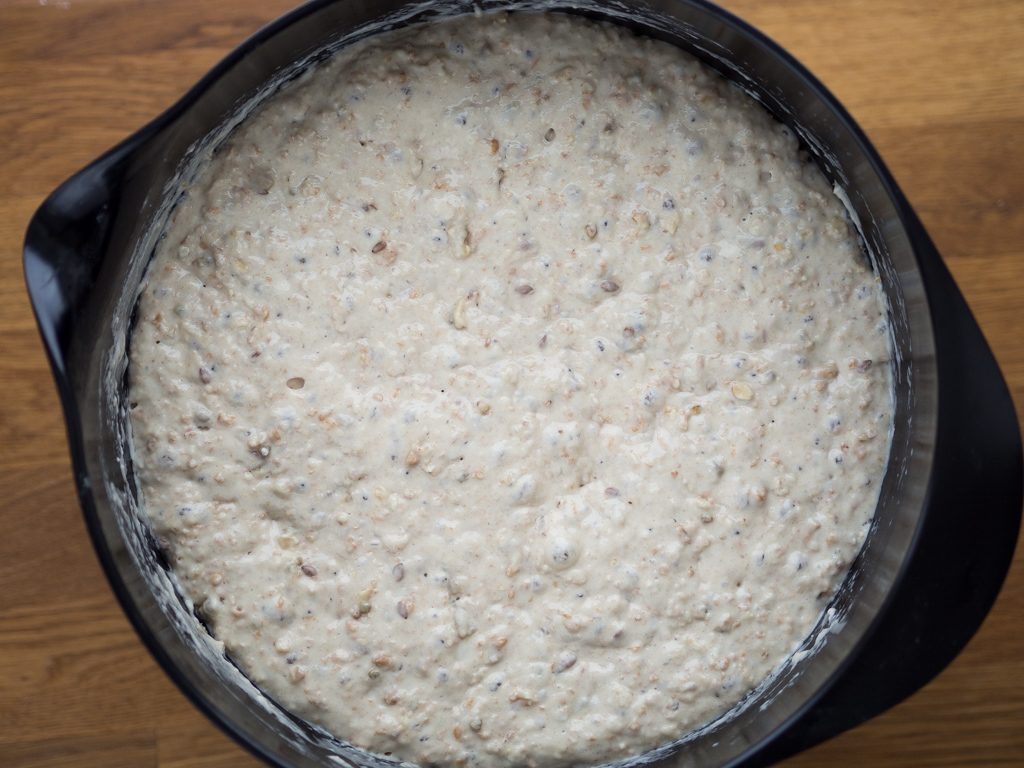 Topping for Nordic bread
The Nordic way of serving breakfast buns is typically with a slice of cheese, a slice of meat, jam or sometimes just smeared with cold butter.
Personally, I prefer to serve my freshly baked breakfast buns with a slice of cheese and a little homemade strawberry or raspberry jam – quite simple but still incredibly delicious if you ask me.
Of course, you just choose the exact topping for your morning buns as you prefer.
Also see: The best recipes for Homemade Jam
If you are having guests over or if you just want to make some extra delicious topping, then I would definitely recommend you to make some homemade topping. Here on my Nordic food blog I have several recipes for traditional Nordic topping which can be served with bread. Browse around and get inspired.
Also read: My best recipe for homemade strawberry and raspberry jam
I have several recipes for the best and super delicious jam. Or maybe you are more into some sweet homemade chocolate spreading. You can find the recipes by using the search field on the front page or by using the menu on top of this page to navigate to the topping section.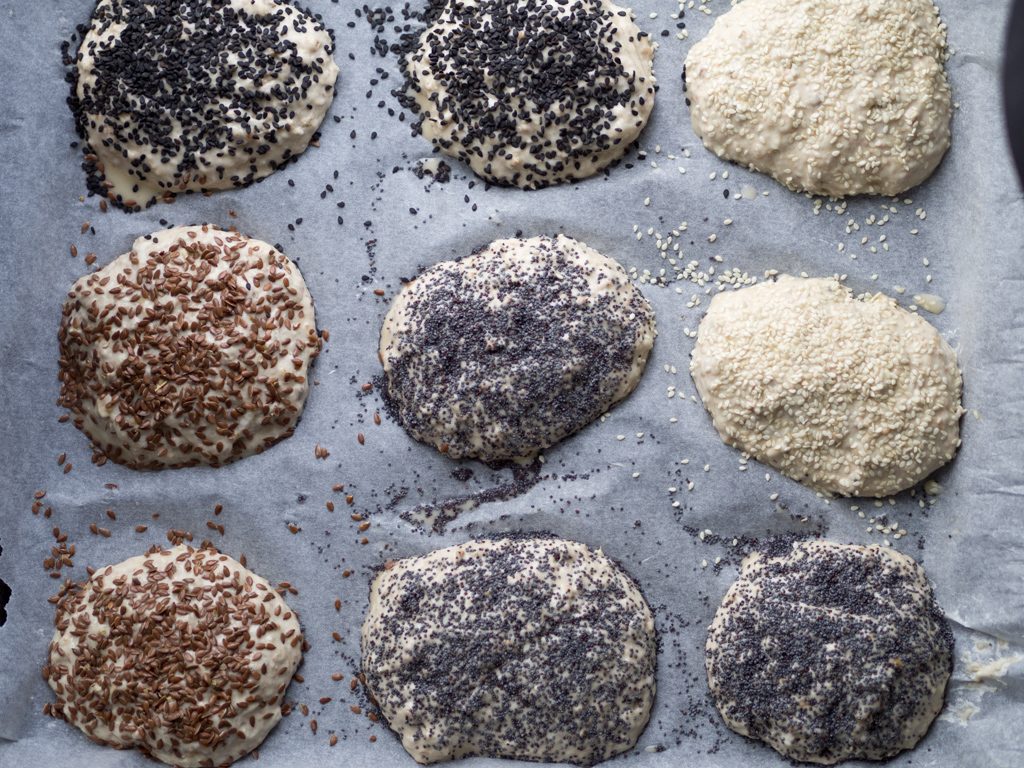 Recipe for Nordic breakfast buns
This recipe for Nordic overnight raised buns is super easy to follow.
You start by dissolving the fresh yeast and sugar in the cold water and milk. If you are going to use dry yeast then add this together with the flour instead.
Then simply add the rest of the ingredients and knead it all together into slightly sticky and uniform dough.
Now the dough must raise in the refrigerator for at least eight hours, but you can easily let it raise for longer.
If you plan to keep the dough in the fridge for a long time, then you can reduce the amount of yeast a little, in order to reduce the raising speed. Likewise, if you want to shorten the raising time, just add a little extra yeast.
Cover the bowl with plastic wrap when it raises in the refrigerator to prevent the dough from drying out.
Also see: The best recipe for healthy Nordic rye bread
After the time in the fridge, your cold raised dough is ready to be shaped into nice buns. Use two tablespoons dipped in warm water to grab the dough and set buns on a baking plate lined with parchment paper. Try to make the buns a little high and slightly pointed. The soft dough tends to flatten out a little when it raises.
Once you have made nice buns, they must be decorated. I personally use different seeds and grains. I can recommend you use sesame seeds, chia seeds, rolled oats and sunflower seeds.
Brush the buns with a beaten egg and sprinkle with seeds or grains. Finally, let them raise for another hour some place warm.
Bake them at 200 C (400 F) for about 30 minutes.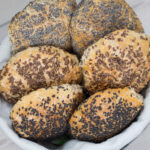 Nordic breakfast buns (overnight raised)
Super easy recipe for Nordic breakfast buns with a crisp crust and a delicious moist core. These buns contain lots of healthy fibers and are therefore a healthy but still a really delicious alternative to traditional white bread. Serve with cheese and homemade jam and you have yourself a great Nordic breakfast.
Keyword:
Healthy recipe, Nordic food
Ingredients
2.5

dl

water

(1 cup)

2.5

dl

milk

(1 cup)

15

g

fresh yeast

(1/2 oz)

2

tsp

of sugar

1

dl

whole wheat flour

(2/5 cup)

1

dl

oats, coarse or fine

(2/5 cup)

1

dl

Nordic five-grain mixture

or cracked wheat kernels (2/5 cup)

500

g

all-purpose flour

(1,1 lb)

1/2

tbsp

salt
Instructions
In a large bowl, dissolve the fresh yeast and sugar in the cold water and milk.

Add the rest of the ingredients and knead everything into a smooth and nice dough. If you can't find the five-grain mixtures then just use cracked wheat kernels. Five-grain mixture is equal combination of cracked rye kernels, cracked wheat kernels, flax seed, sesame seeds and sunflower seeds

Cover the bowl with plastic wrap and place it in the fridge for 8-12 hours. You can with advantage make the dough in the evening and use it for as breakfast the following morning.

Dip two tablespoons in cold water and use them to set buns on an oven plate lined with parchment paper. Try to make the buns a little pointy. When they raise, they will flatten out a little more.

Let the bread raise for an extra hour at room temperature.

After the final raising, brush the bread with some beaten egg and decorate them with different seeds or grains.

Bake the bread in a 200 C (400 F) preheated oven for about 30 minutes.