Very traditional and famous Danish carrot buns. They are perfect for breakfast, lunch or maybe as a sidedish for dinner. They are moist, filling and super delicious.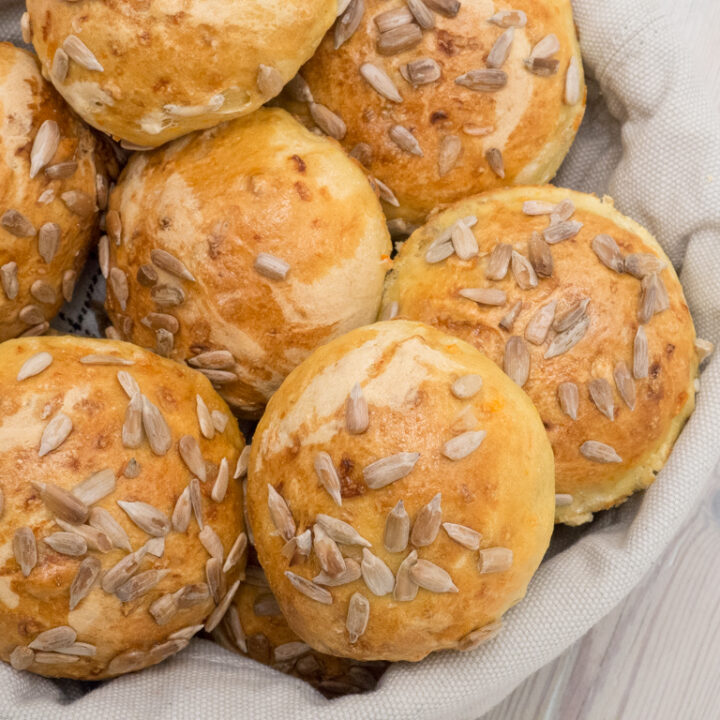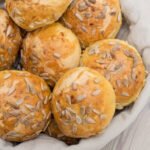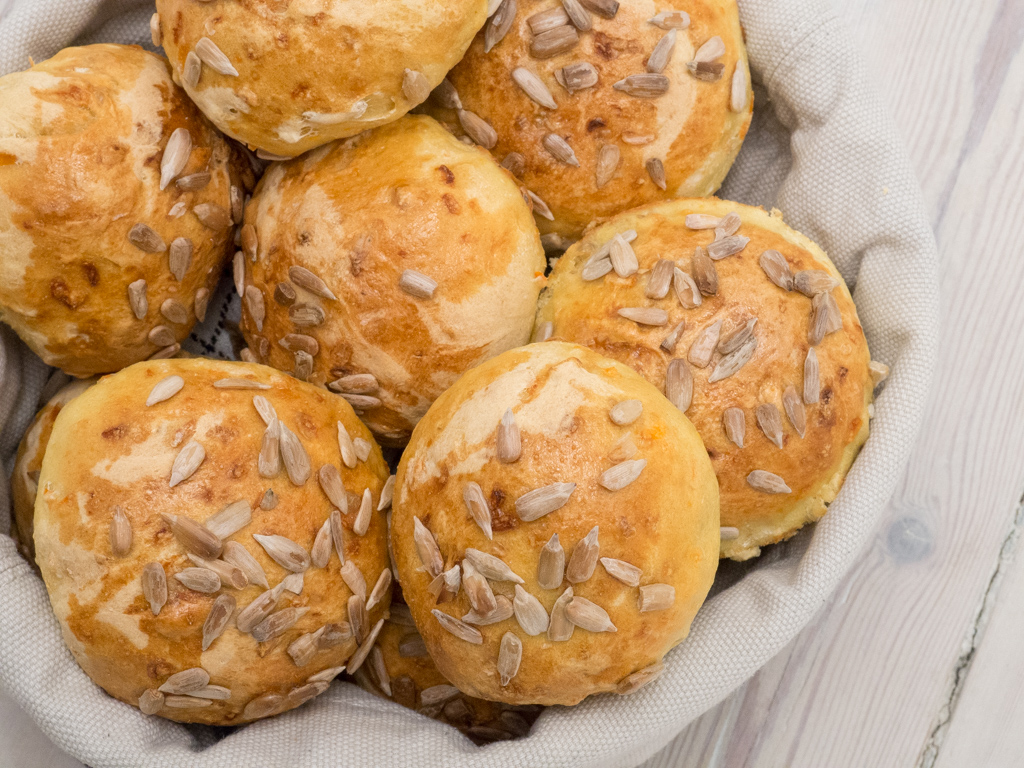 Carrot sunflower seed bread is a very popular type of bread in Denmark. What I like a lot about these carrot buns is that the carrots, which have been grated into small and fine pieces, make sure that the buns are nice and moist. The surface of the buns is golden and crisp while the centers of them are soft and moist - they are just perfect
Also try: Best recipe for Nordic breakfast buns
Sunflower or pumpkin seeds
In Denmark, I believe the most traditional way of making this bread is to use sunflower seeds. However, you can easily substitute the sunflower seeds with other types of seeds which you prefer. I have tried several times using pumpkin seeds which also works real good.
Also read: Recipe for traditional Danish breakfast buns
I believe it is more the carrot-seeds combination that is great about these buns not the particular type of seeds. To sum up, I can recommend both sun flower seeds and pumpkin seeds - both great choices which brings a great taste to the bread.
Seed Topping
Besides adding seeds to the bread itself I always also sprinkle the buns with seeds before I bake them. In order to make the seeds stick to the buns I brush them first with a beaten egg. This beaten egg actually has two function. Besides making the seeds stick it also makes sure that the bread gets a beautiful and golden color once they are baked.
Great substitute for burger buns
Another great thing about this carrot bread is that it can be used for several types of meals. Typically, I serve these carrot buns as a substitute for regular burger buns when I am making, for instance, pulled pork burger or normal ham burgers.
What is great about this substitute is that these carrot buns are more filling, because of the higher amount of dietary fibers, and they have more vitamins from the carrots. Therefor, I can highly recommend you to try to substitute your regular burger buns with these carrot buns the next time you are making ham or pulled-pork burgers.
Breakfast
Besides being a great substitute for regular burger buns, I also typically eat this bread for breakfast. I always keep a bag of these buns in my fridge and then I just take a couple of them out the night before I am going to have them for breakfast.
The morning after I just toast them and served them with slices of cheese and some homemade jam. Super easy and very delicious breakfast in almost no time.
When we are talking breakfast I can highly recommend trying my cloudy eggs with bacon topping. You can find this recipe by searching for it using the search field on the front page of this blog.
Overall these carrot sunflower seed buns are super delicious, moist and also a great and healthy alternative to regular white bread. If you are looking for other types of breakfast I can recommend you to take a look in my breakfast section to get inspired.
Instructions
These carrot and sunflower seed bread are very easy to make. In a large bowl you start by dissolving the fresh yeast in the lukewarm water. If you prefer to use dry yeast, this should be added in the step together with the all-purpose flour.
Then you add the rest of the ingredients to the water, and mix/knead everything into a nice and smooth dough. You can with advantage use a stand mixer to ease up this step. When the dough is ready, set it aside someplace warm to let the yeast do its job. The first rising time should be about one hour.
Now divide the dough into 24 pieces and roll each of them into small and round buns. Place them on a parchment paper covered oven plate and let them rise for another 30 minutes or so.
Prepare a beaten egg and gently brush each bun with it. Make sure to be gently so that you do not collapse the raised buns. Sprinkle the buns with some sunflower seeds and then bake them in a 210 C (410 F) for about 20 minutes.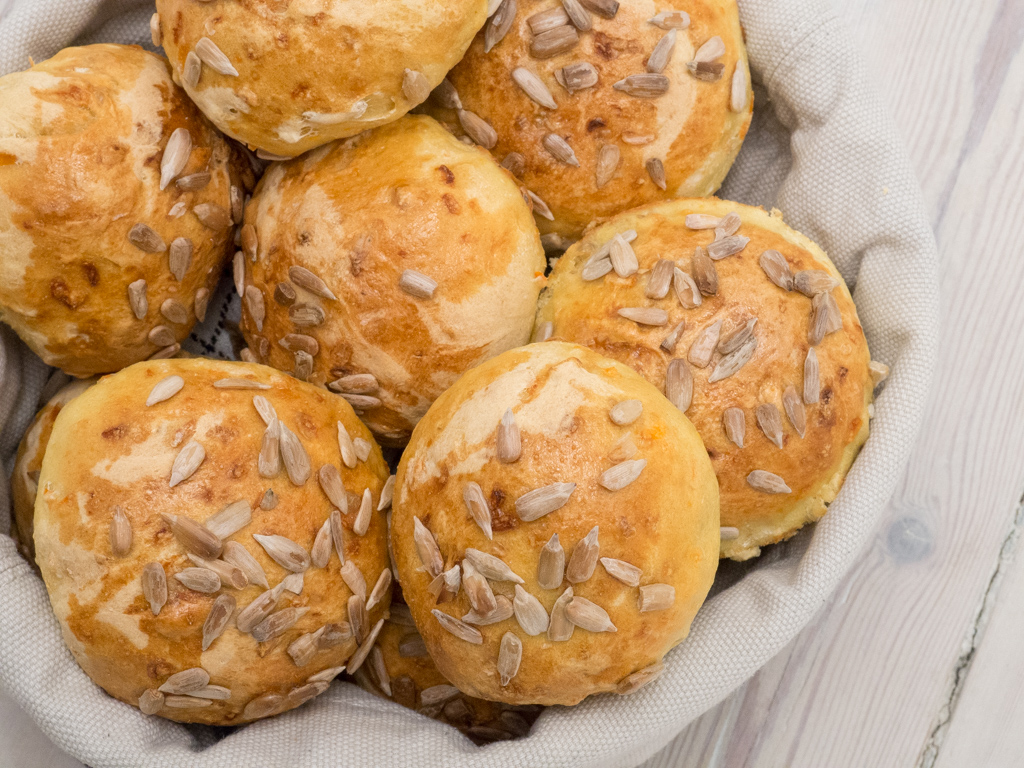 Ingredients
50

g

fresh yeast

(2 oz)

5.5

dl

water

lukewarm

80

g

sunflower seeds

2

tsp

sugar

2

tbsp

vegetable oil

250

g

carrots

1000

g

all-purpose flour

2

tsp

salt

extra sunflower seeds for decoration
Instructions
In a large bowl, dissolve the fresh yeast. If you are using dry yeast then add this in the step together with the flour.

Add the rest of the ingredients and knead everything into a nice and smooth dough.

Cover the bowl with a clean dish towel and set it aside to rise. Let it rise for one hour.

Divide the dough into 24 pieces and make them into nice buns. Place the buns on a parchment paper covered oven plate.

Let the buns rise for another 30 minutes.

Gently brush the buns will a beaten egg and sprinkle them with some extra sunflower seeds.

In a 210 C (410 F) hot oven, bake the buns for about 20 minutes.
Notes
Let the buns cool off a little before serving them with cold butter, homemade jam or slices of cheese.