Original recipe for Danish Aebleskiver also known as Danish Pancake Balls. These traditional pancake balls are traditinal served during Christmas. However, they are also perfect the rest of the year.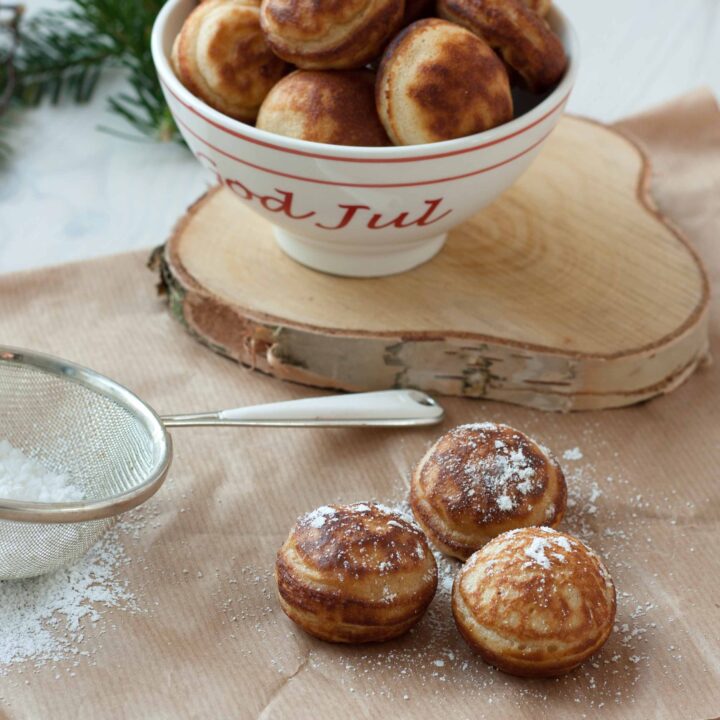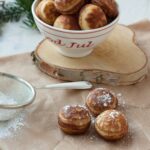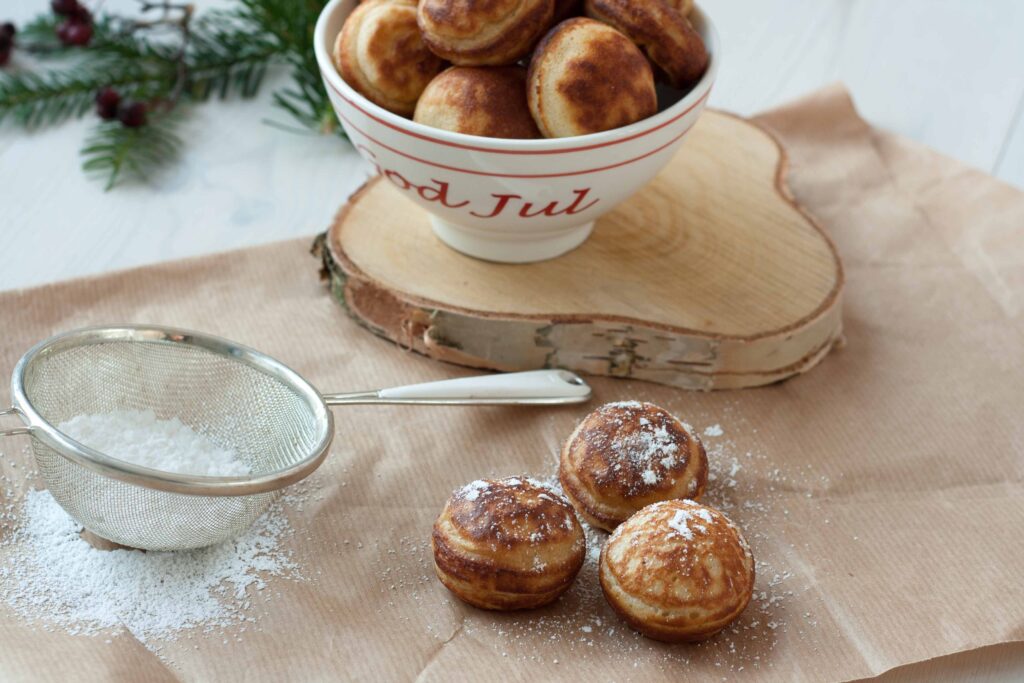 Danish Pancake Balls (Aebleskiver)
In Denmark we have so many cooking traditions and especially in the month of December we basically live in our kitchen. There are just so many great Christmas recipes we have to make during Christmas. This recipe for traditional Danish pancake balls is probably one of the most famous Christmas desserts that the Danes love and eat during Christmas.
In danish we call this dessert Aebleskiver which directly translated means Apple Slices although there aren't any apples in this recipe.
Read also: Traditional recipe for Danish Butter Cookies
An Aebleskive is like a spherical pancake, it's solid but still fluffy and light. If we should 'translate' the taste of an Aebleskive into an international standard it should be the taste of a donut mixed with pancakes.
As said, these pancake balls are extremely popular in Denmark during the Christmas holidays and these are to be found in almost every supermarket starting from November until after Christmas. However, the ones you can buy at the supermarket does not compare at all to the homemade ones. The ones you make yourself are just way more delicious.
See also: Original recipe for Danish Dream Cake (Droemmekage)
If you are looking for other great Nordic recipes then I can recommend taking a look at the Nordic section here on my blog - find it in the menu above.
The Old and Original Recipe for Aebleskiver
This recipe for Aebleskiver is the one my parents used to make homemade Aebleskiver when I was a child, and it's the one I use today.
The first Aebleskiver were originally cooked with small pieces of apples or sometimes applesauce as filling, from there they got their name. However, in the modern Danish kitchen these filling are not included anymore and haven't been for the past many year. For us this is the most original recipe for Aebleskiver, it's super delicious and relatively easy to make.
Read also: Delicious recipe for Danish Butter Cake (Dagmar tart)
This is one of our best Christmas traditions and we always makes them several times during the Christmas holidays. Most of the times we stick with our traditional recipe but sometimes we add different kinds of filling inside the Aebleskiver. This filling is added during the frying process.
As filling, we have used chocolate chips, small apple pieces or different variations of jam.
The Aebleskive Frying Pan
The frying of the Aebleskiver are done in a special Aebleskive frying pan. The old and traditional pans are made of cast iron. In Denmark these pans can be bought everywhere in the months of November to December. Internationally, these pans can be bought online or sometimes at a local kitchen store.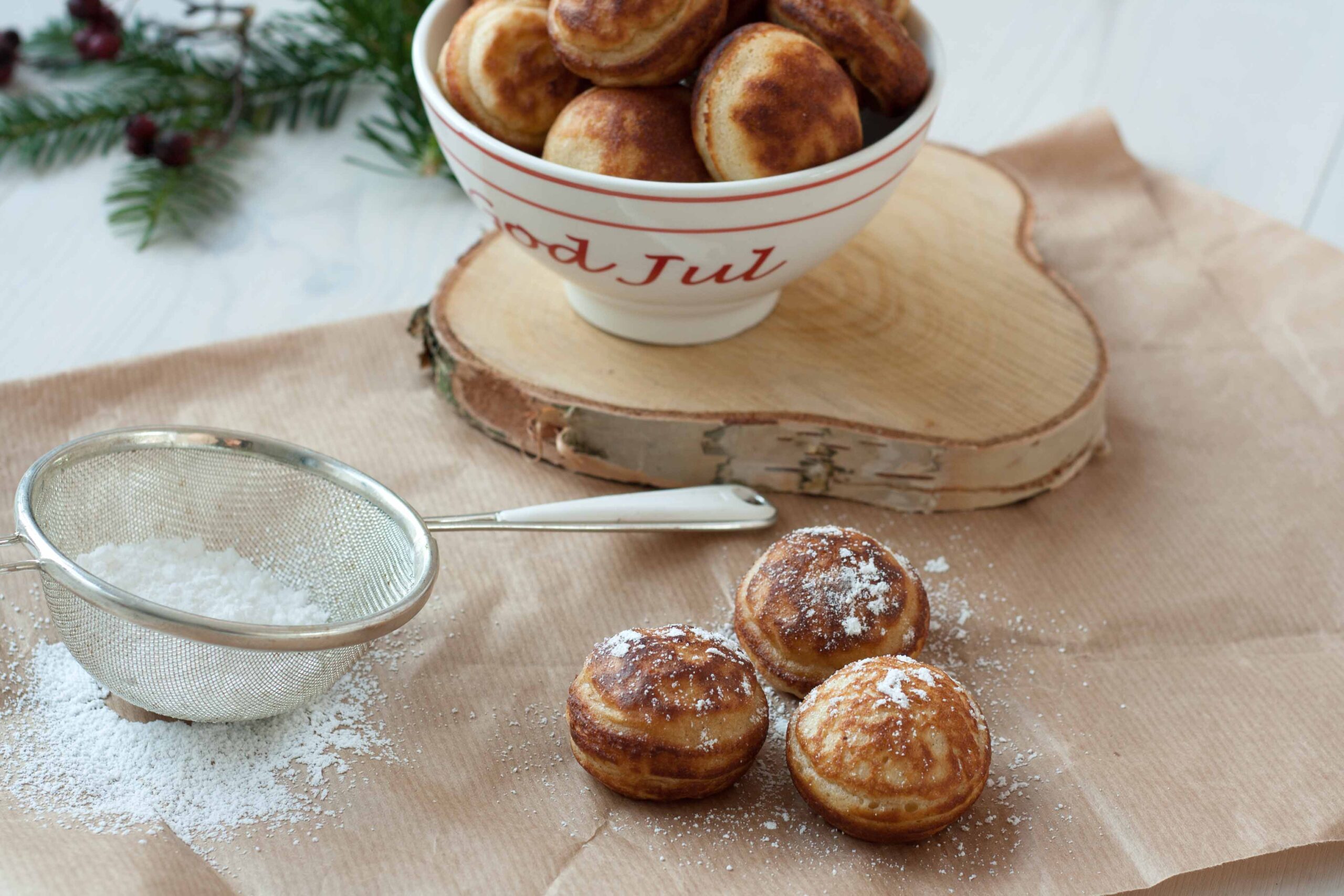 Ingredients
250

g

all-purpose flour

1/4

tsp

salt

1/2

tsp

Natron

(baking soda)

1

tbsp

vanilla sugar

4

dl

buttermilk

100

g

butter, melted

3

eggs

1

tbsp

sugar
Instructions
The Aebleskive Batter
Separate the egg whites and yolks in separate bowls.

Whisk the sugar and egg whites fluffy and stiff. The bowl must be completely clean and dry. A tiny bit of water will make the eggs whites impossible to whisk stiff. Set aside.

Mix the egg yolks, all-purpose flour, natron (baking soda), salt and vanilla sugar together in a separate bowl.

Use a hand mixer to mix the ingredients while gradually adding the buttermilk. Keep mixing until the batter is uniform.

Melt the butter and let it cool off a bit. Slowly add the cooled butter to the buttermilk mixture while whisking.

Use a wooden spoon or similar to slowly mix the stiff eggs whites in the batter.
The Cooking of Aebleskiver
You need a special Aebleskive pan for frying. You can get one online or maybe at your local kitchen store.

Heat up the Aebleskive pan at medium heat and add a small piece of butter in each hole. Fill the holes 3/4 with the Aebleskive batter.

When the batter starts to get firm and you can turn them over without cracking, then turn the Aebleskiver 90 degrees (using a wooden stick or similar) and let the batter flow into the pan.

At this point there is a hole in the side of the Aebleskive. Pour a little extra batter into the hole and turn the Aebleskive another 90 degrees so that the hole gets closed.

When the Aebleskiver have a solid surface turn them regularly so they get an even and light-brown crust.
Notes
In step 4 (in cooking of Æbleskiver), try adding different fillings inside the Aebleskiver. I can recommend filling with chocolate chips, strawberry jam or small apple pieces. Serve these Danish aebleskiver together with some jam and icing sugar.