Easy and very delicious recipe for Nordic Carrot bread also known as Gulerodsbrud. These buns are packed with delicious shredded carrots and sunflower seeds. Healthy and very delicious at the same time.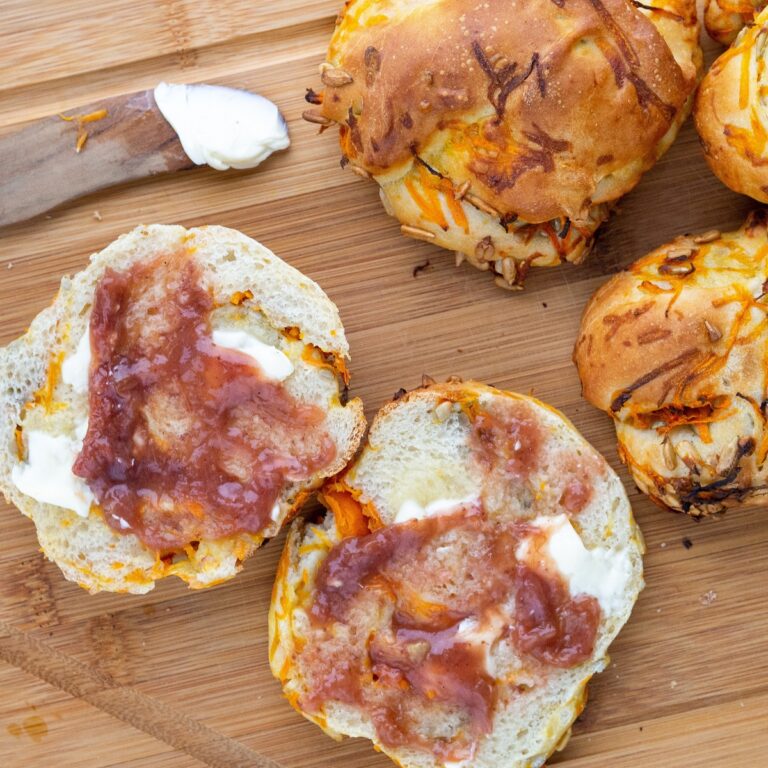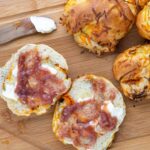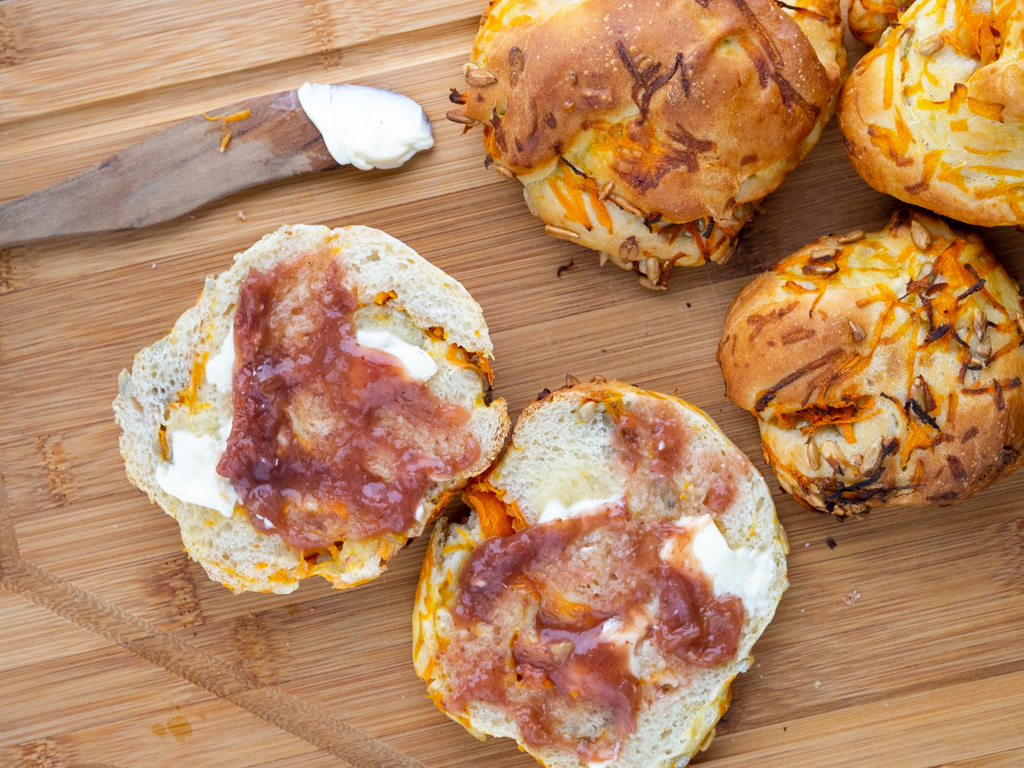 On this page I will share a great recipe for Nordic Carrot Bread which is stuffed with sunflower seeds and lots of shredded carrots. In Danish we call this particular type of bread Gulerodsbrud. In Denmark we traditionally made bread where we use all kinds of different nuts, grains or vegetables. Normal white toast bread is in Denmark very often substituted with for instance rye bread, grain buns or this carrot bread.
See also: Recipe for Nordic Carrot Buns
It normally takes a little longer to make Nordic inspired bread but typically it contains a lot more dietary fibers, protein and in this case vitamins from the carrots. Continue reading on and learn how easily you can make a fantastic delicious and filling Nordic carrot bread.
How to folding the carrot dough and stuffing
As already mentioned these buns are stuffed with shredded carrots and sunflower seeds. Normally when I make bread I add all the ingredients in a large bowl and knead everything into a nice and smooth dough. In this recipe the shredded carrots and the sunflower seeds are added to the dough after it has been kneaded.
The kneaded and risen dough is placed on a flour covers table and a large indent is made in the middle. The shredded carrots, seeds and a beaten egg are placed in the middle. The dough is then folded over the stuffing and cut into random smaller pieces using a dough scraper/cutter. The dough is then again folded and cut.
We are looking to gently mix the carrots and seed into the dough but without kneading it into uniform buns. The result should be random and distorted buns with pockets of delicious carrots and sunflower seeds.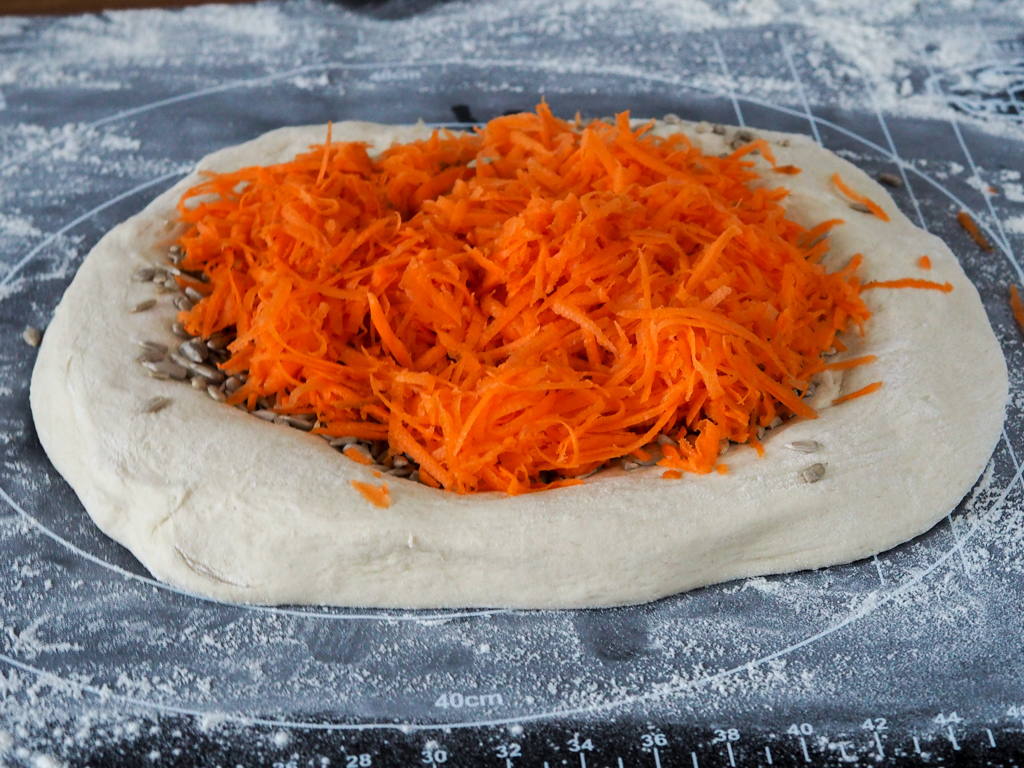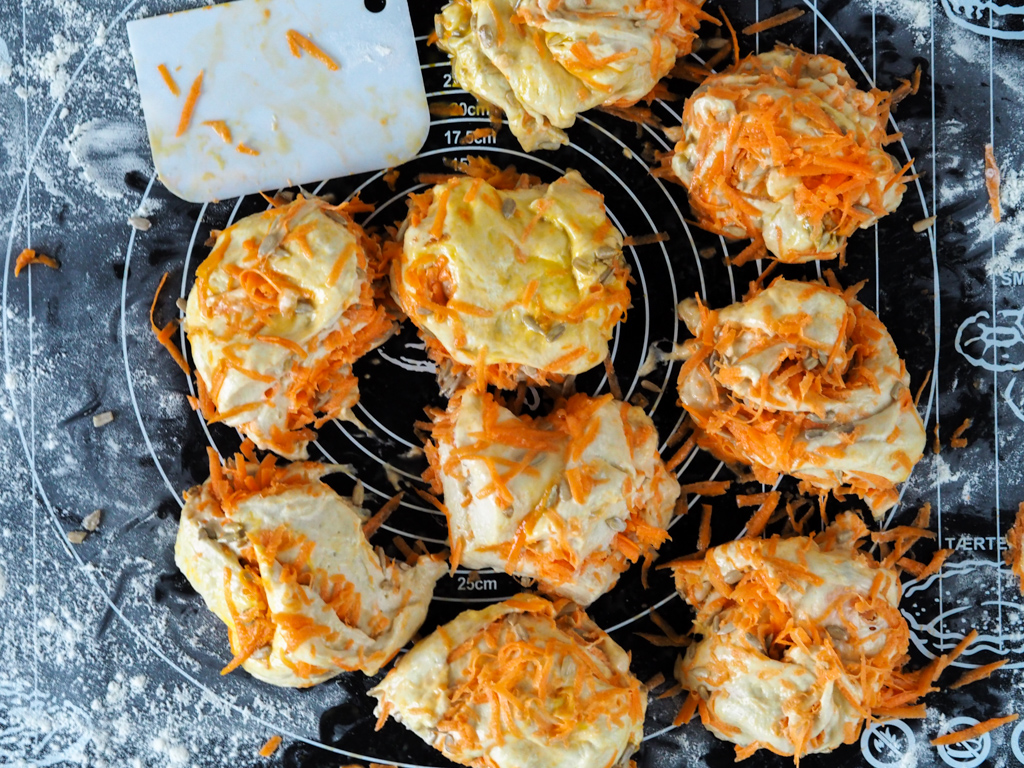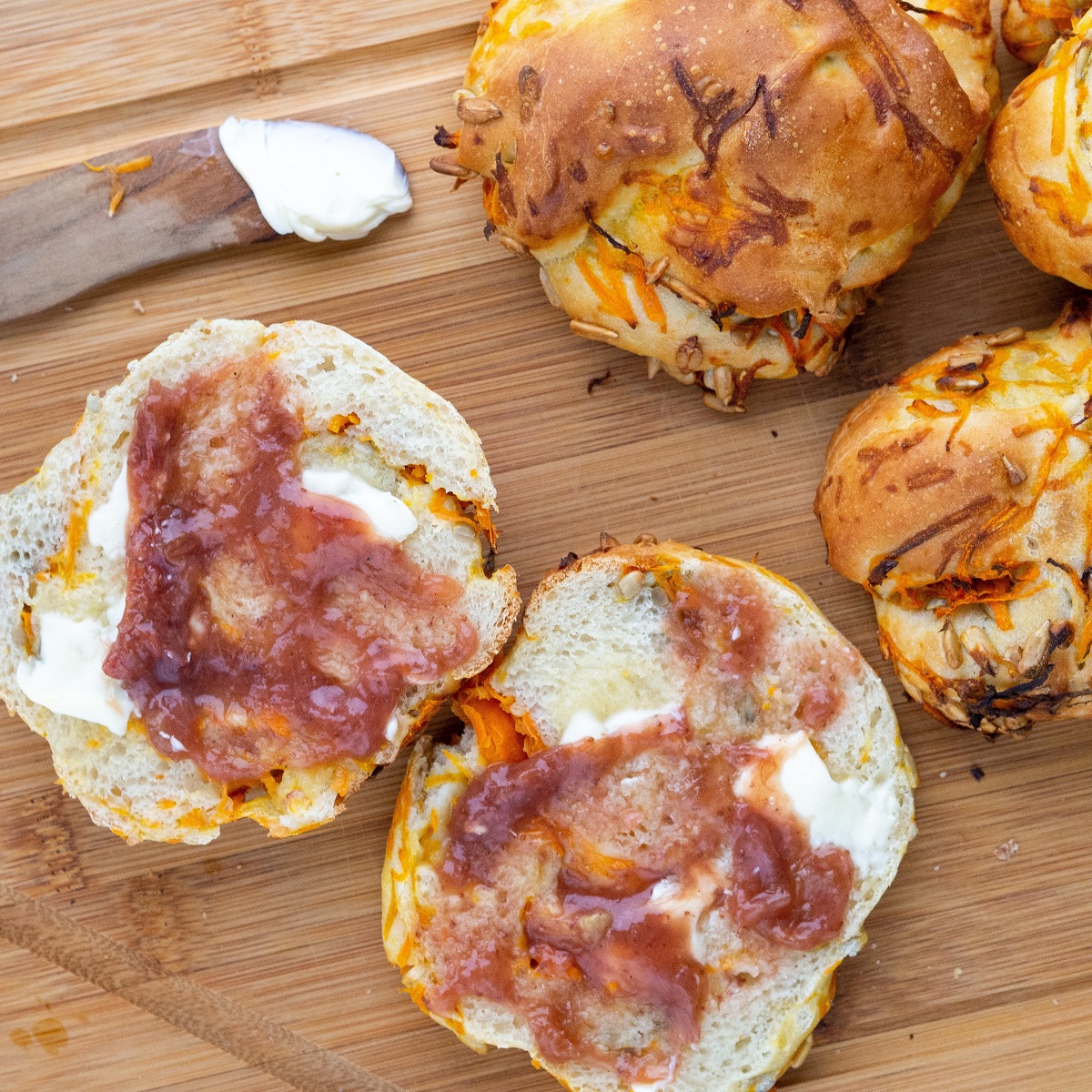 Ingredients
4

dl

lukewarm water

25

g

fresh yeast

(or equivalent dry yeast)

1

tbsp

sugar

650

g

all-purpose flour

50

g

butter

1/2

tbsp

salt

300

g

carrots

(coarsely shredded)

1

egg

(beaten)

1

dl

sunflower seeds
Instructions
In a large bowl, add the lukewarm water and dissolve the fresh yeast and sugar. If you are using dry yeast then add this in the next step.

Add the all-purpose flour, salt and butter in small pieces. Knead the dough for 5-10 minutes. The dough should be assembled, soft and only a little sticky.

Cover the dough bowl with a clean dish towel and let it rise someplace warm for one hour.

Place the dough on a flour cover table. Make a large indent in the middle of dough and add a beaten egg, the sunflower seeds and the shredded carrots at the center.

Fold the dough over the stuffing so that it covers it all.

Use a dough scraper/cutter to cut through the dough at random places. Again, fold some of the dough and cut again. Try not kneading the dough but instead fold and cut it. We are looking for random and distorted buns.

Finally cut the dough into 12 buns and place them on a parchment paper cover oven plate.

Let the buns rise someplace warm for another 40 minutes.

Bake the buns in a 210 C (410 F) preheated oven for about 18 minutes. The total time in the oven might vary. Tap on the bottom of the buns - if they sound hollow then they are done.