Traditional and old-fashioned recipe for the Danish Tree Logs also known as Traestammer. Delicious and soft chocolate cake covered with thin layer of marzipan.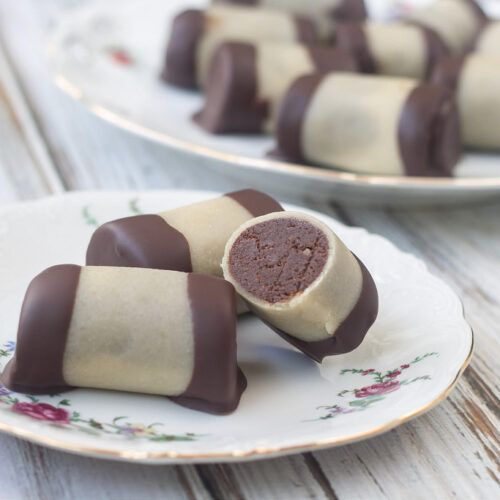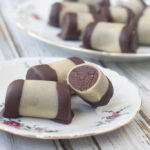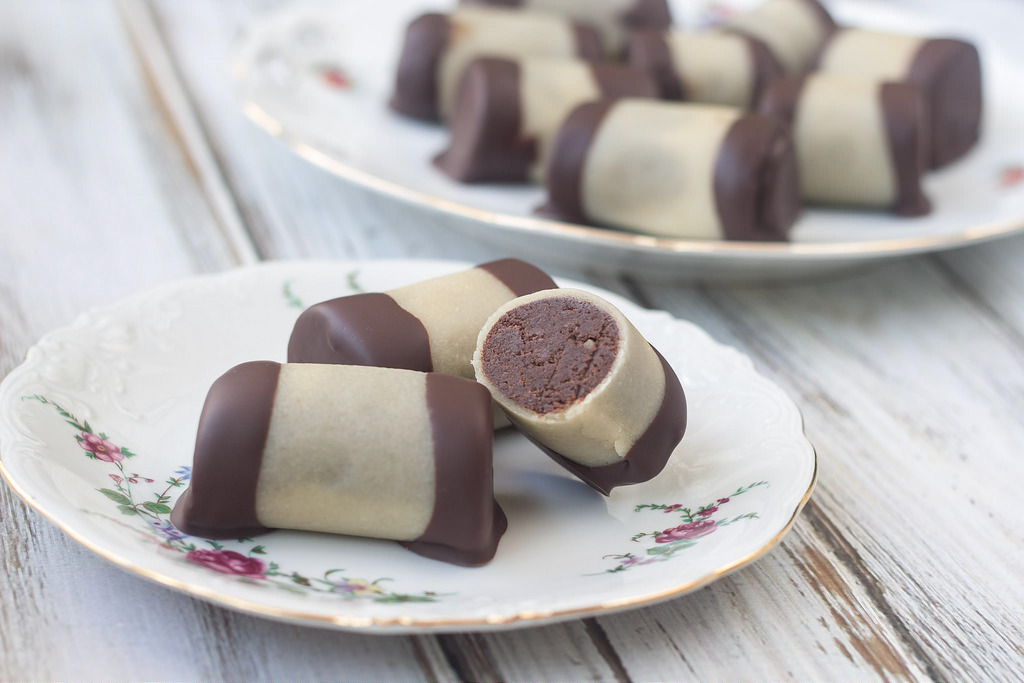 If we have some cake left-over we always bag it and save it in the freezer instead of throwing it out. After some time we have saved enough cake so that we can make some Danish Rum Balls or these Danish Tree Logs. In Denmark these marzipan-covered-rum-cakes are called Træstammer which translated means Tree Logs. Danish Tree Logs are a very traditional dessert and have been made and sold by the danish bakers for many, many year. We both remember having had these as kids and that we loved them!
See also: Traditional recipe for Danish Dream Cake (Droemmekage)
A Danish Tree Log is made from left-over cake which is blended together with some marzipan (almond paste), dark chocolate, raspberry jam and a little rum essence. Then they are covered with marzipan and dipped in chocolate. You can use different types of cake e.g. Danish pastry and chocolate cake. However, we personally prefer chocolate cake which goes great together with the dark chocolate which is added to the 'batter'.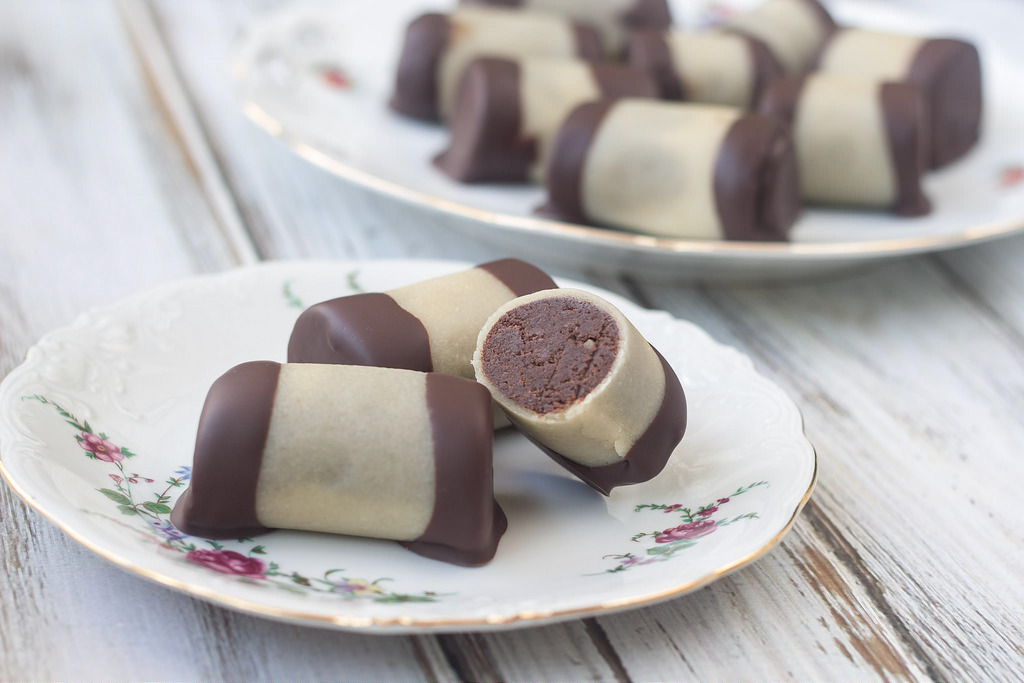 Ingredients
Chocolate Rum Cake
450

g

cake left-overs

(e.g. Danish pastry or chocolate cake)

100

g

marzipan

100

g

dark chocolate

(melted)

1

tbsp

raspberry jam

2

tbsp

rum essence
Marzipan covering
200

g

marzipan

(at room temperature)

a little icing sugar

100

g

dark chocolate

(melted)
Instructions
Cut the cake into smaller pieces and pour it in a food processor.

Grate the marzipan and melt the chocolate; pour it into the food processor. Also add the raspberry jam and rum essence.

Run the food processor until all the ingredients are completely mixed into a sticky dough.

Roll the chocolate dough into two logs with a length of about 40 cm (15 inch) each. Let the logs cool in the fridge while preparing the marzipan covering.

Make the marzipan covering: Start by bringing the marzipan to a room temperature. Using a rolling pin; roll the marzipan into a thin squared piece. If you sprinkle the kitchen table with a little icing sugar, then the marzipan will be easier to remove afterwards. You can also try using a sheet of parchment paper instead of icing sugar.

Divide the rolled marzipan into two pieces.

Place the chocolate logs on the marzipan and roll them so that the entire logs are covered with marzipan.

Cut the logs into smaller pieces with a length of about 8-10 cm (3-4 inch).

Melt the chocolate in a water bath or using the microwave on low heat.

Cover a chopping board or similar with parchment paper.

Dip each end of the logs in the chocolate and place them on the parchment paper.

Let the logs cool off until the chocolate is completely hardened.