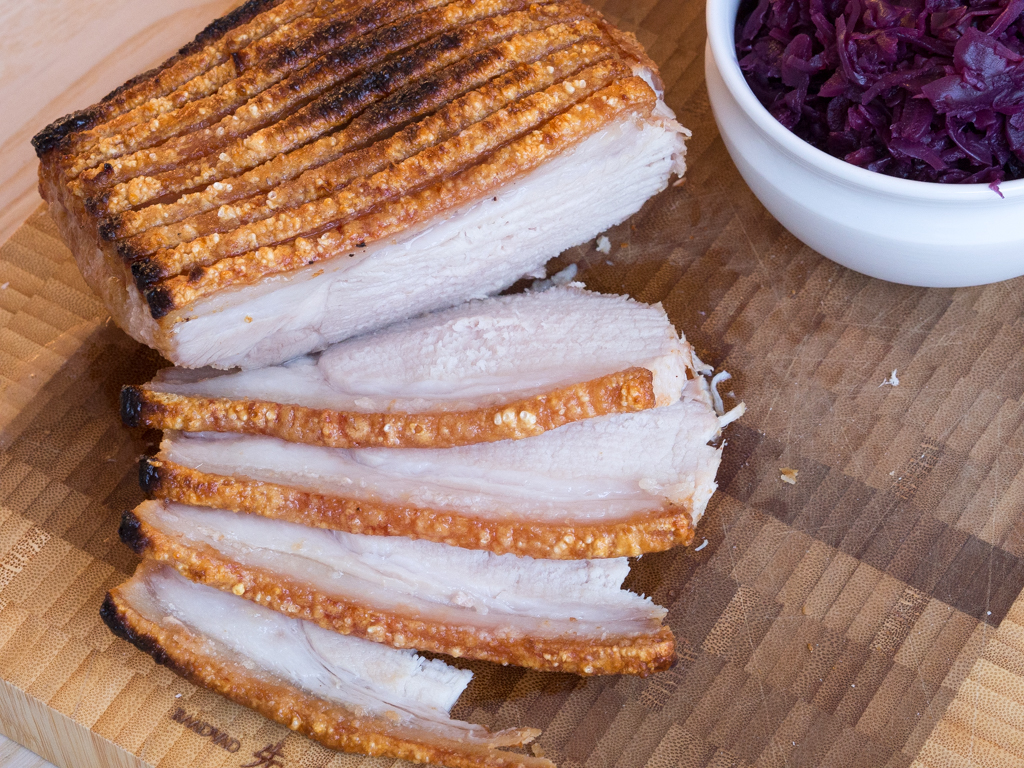 This is the recipe for a traditional Danish roasted pork with a crisp rind. In Denmark this roast is called a Flæskesteg which translated simply means a pork roast and it is typically served during Christmas. However, many people also have it for dinner all year around. In many countries, a pork roast is normally prepared without the rind. In this Danish version the rind is always left on and then it is cooked into crisp and salty cracklings. In Denmark, you can get this piece of meat in every grocery stores. Outside Denmark, you properly need to contact you local butcher to get a cut where the rind is left on the meat.

In the following we have collected three important tips how to get a very delicious Flæsesteg.

Tip 1; When preparing this pork roast you need to cut deep grooves in the rind about 5mm (1/5 inch) apart. In this step it is important that the grooves are deep but do not goes all the way down to the actual meat.

Tip 2; It is also important the you add plenty of salt on the rind and down in-between the grooves. If you do not add enough salt you risk that the rind do not get nice and crisp.

Tip 3; finally, is important that the roast is lying in a horizontal position when cooking it in the oven. This makes sure that the rind is cooking evenly, so you do not risk that one end is burned and the other is under cooked.

If you are looking for other traditional Danish recipes you can take a look at our Danish archive section.
---
Danish Roast Pork with Crackling
3 people
Preparation time: 1.5 hours
Danish title: Flæskesteg
Cuisine: Danish
Category: dinner
Ingredients:
Boneless pork roast with rind (about 1-1.2 kg. – 2.2-2.6 lb)
salt, coarse
3-6 dried Bay leaves (can be omitted)
Instructions:
1. Use a sharp knife to cut long deep grooves in the rind of the pork roast. The grooves should be about 5 mm (1/5 inch) apart. Make sure to make deep grooves in the rind but do not cut into the actually meat.
2. Rub the entire roast thoroughly with coarse salt. Especially, make sure that you get salt well in the grooves in the rind.
3. Place 3-6 dried Bay leaves in the grooves – this can be omitted if you do not have any.
4. Place the roast on a rack with a roasting pan underneath. In the roasting pan; add 1/2 l (2 cups) of water and some cut carrots and onions. This water with vegetables can later be used to make a nice gravy. Make sure that the roast is lying in a horizontal position. You can use a ball of aluminium foil under the roast to level it out. If you do not do this you risk that the rind gets an uneven color or get burned.
5. Preheat the oven to 225 C (440 F) and cook the roast for 15 minutes.
6. Turn down the heat to 200 C (400 F) and continue cooking.
7. When the core temperature is 57 C (135 F) turn on the grill function in the oven. This make sure that the rind gets nice and crisp. Keep an eye on the roast so that you don't burn it.
8. The roast is done when the core temperature is 65 C (150 F). It takes about 1.5 hours to reach this temperature. If the water evaporates during the cooking, you should add some extra.
9. When the roast is done; take it out of the oven. Let it rest for about 15 minutes or eat it right away. Cut the roast in slices at each groove.
10. If you want to make a nice gravy; drain the vegetables form the water and pour it in a sauce pan. Add some heavy cream and some brown gravy coloring. Add salt to taste.
---