Delicious and very easy-to-make Nordic recipe for an one-pot curry with creamy tomato-coconut sauce together with chickpeas, zucchini and red lentils. Vegetarian dinner packed with vitamins, lots of proteins and the best of all - it is super tasteful.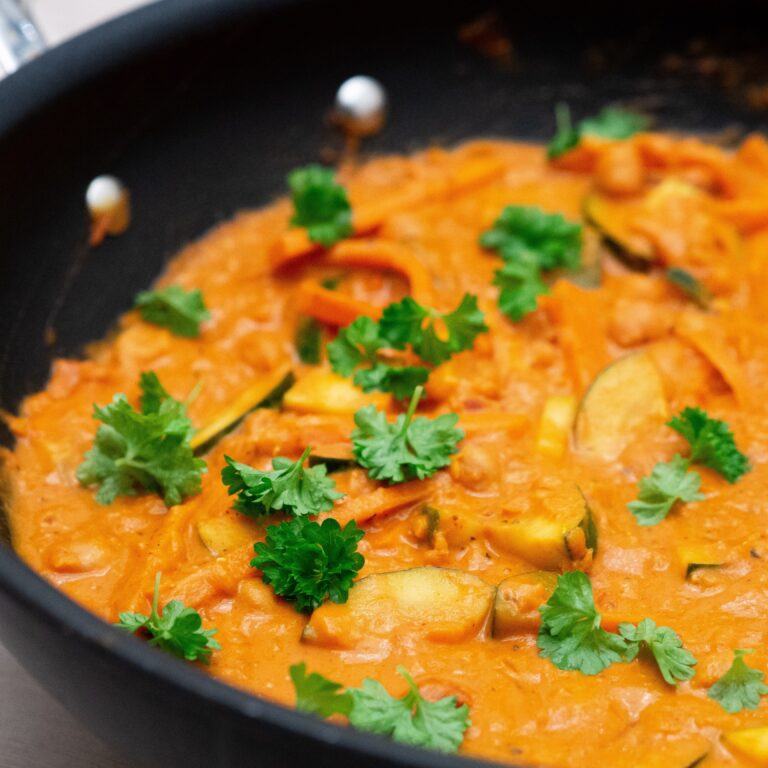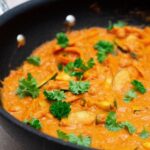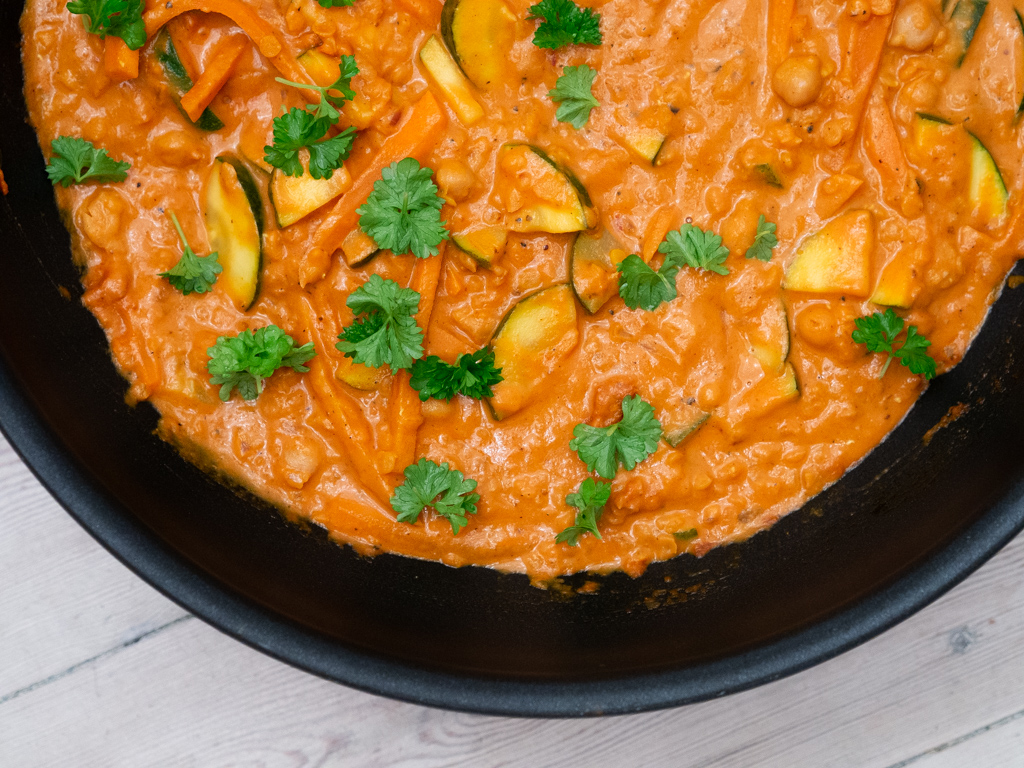 This is another great and easy to make recipe in the series of 'me trying to eat more healthy and with less meat'.
This Nordic inspired recipe for one-pot chickpea coconut zucchini curry is for sure one on my top-5 list of healthy vegetarian recipes - it is simple to make, very tasteful and it only takes about 45 minutes to cook.
So this recipe is absolutely really great if you are trying to live a healthier lifestyle but also if you are a busy person with little time to cook.
See also: my favorite vegetarian recipes
What I really like about this dish, besides that it is super tasteful and delicious is that it is super easy to make. It is basically just adding all the prepared ingredients in a large saucepan and simmering it for 30 minutes. When thinking about it - have I told you how much I love food that cooks it by itself? I love healthy fast food!
When you are done you have the most wonderful curry with chickpeas, zucchini and red lentils all served in a creamy tomato-coconut sauce. Dive in, and check the recipe below and see how easy it is to make.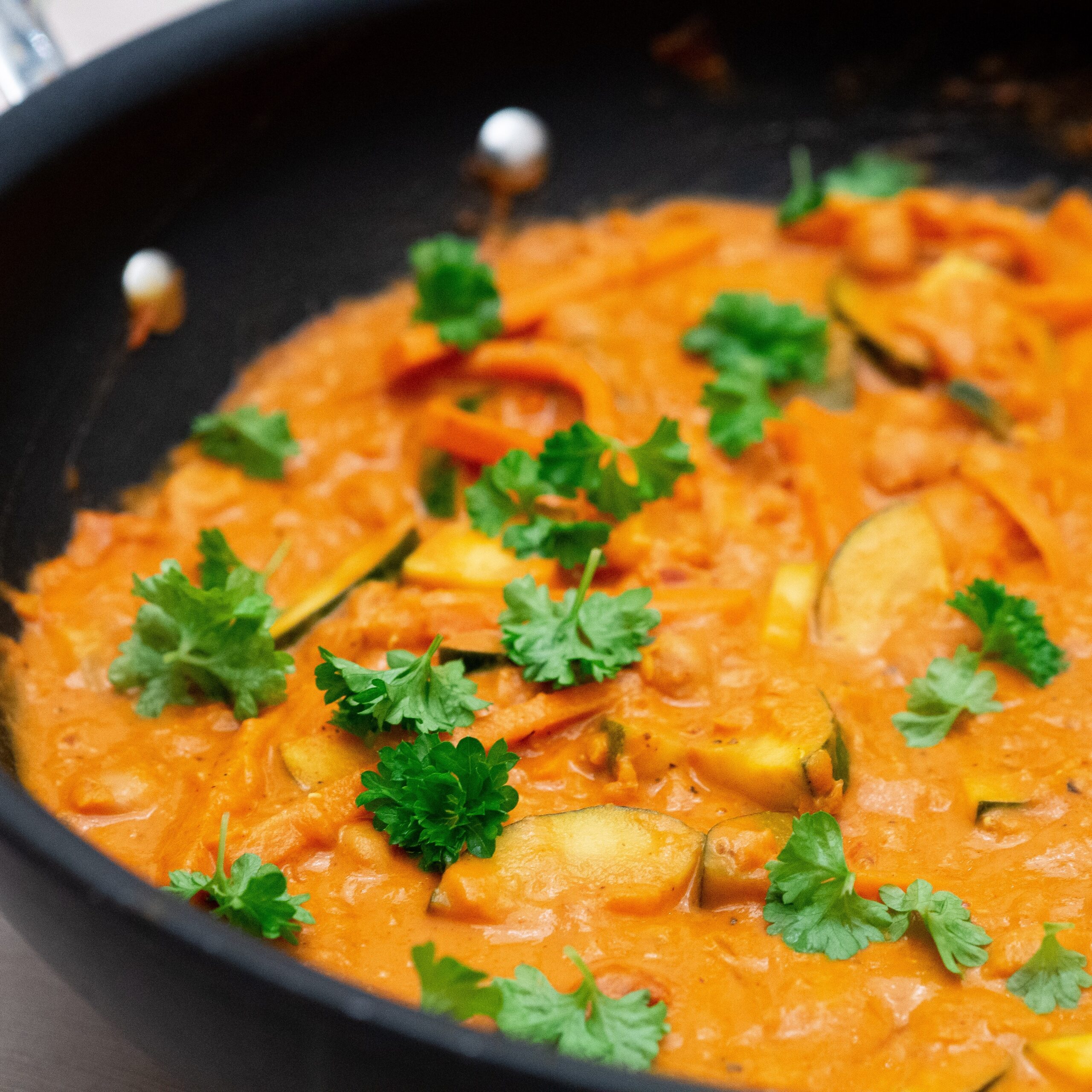 Ingredients
2

red onions

(diced)

2

cloves garlic

(minced)

1

tbsp

curry powder

1 1/2

tsp

cayenne pepper

2

large carrots

1

zucchini

1

can

chickpeas

(cooked and drained)

1

can

coconut milk

1

can

crushed tomatoes

1.5

dl

red lentils

2.5

dl

vegetable stock

cilantro

(optional topping)

spring onions

(optional topping)
Instructions
In a large pan, fry the diced onions and minced garlic together with the spices. Fry for a couple of minutes.

Add drained and cooked chickpeas, coconut milk, crushed tomatoes, vegetable stock and red lentils. Let the curry simmer for about 20 minutes or until the lentils are almost cooked.

Peel and julienne the carrots. Cut the zucchini into smaller pieces. Add to the frying pan and cook for another 10 minutes.

Add salt and pepper to taste.
Notes
Serve together with cooked rice or naan bread. Topped with fresh cilantro or spring onions.