Super easy and traditional recipe for Nordic carrot cake with cream cheese topping. This recipe is the old-fashioned and traditional recipe which has been used for generations in Denmark.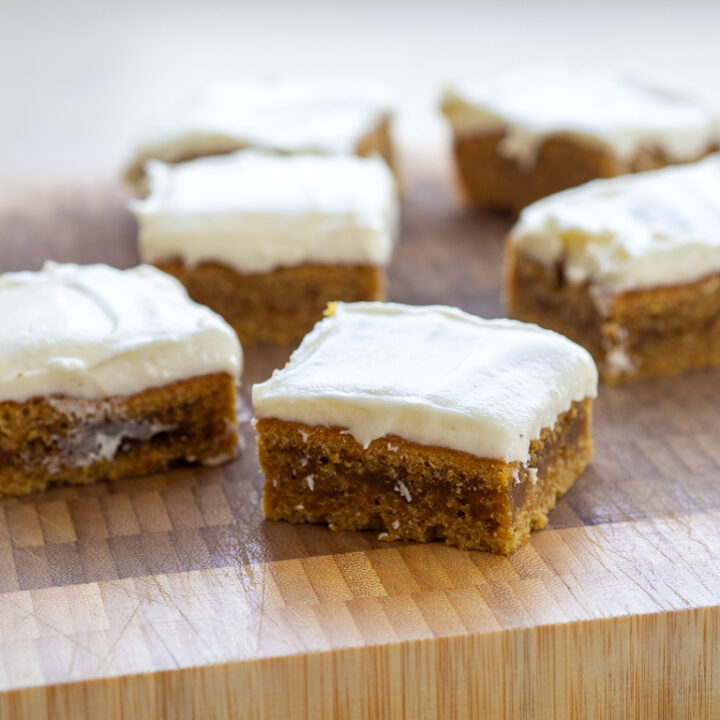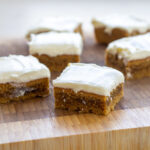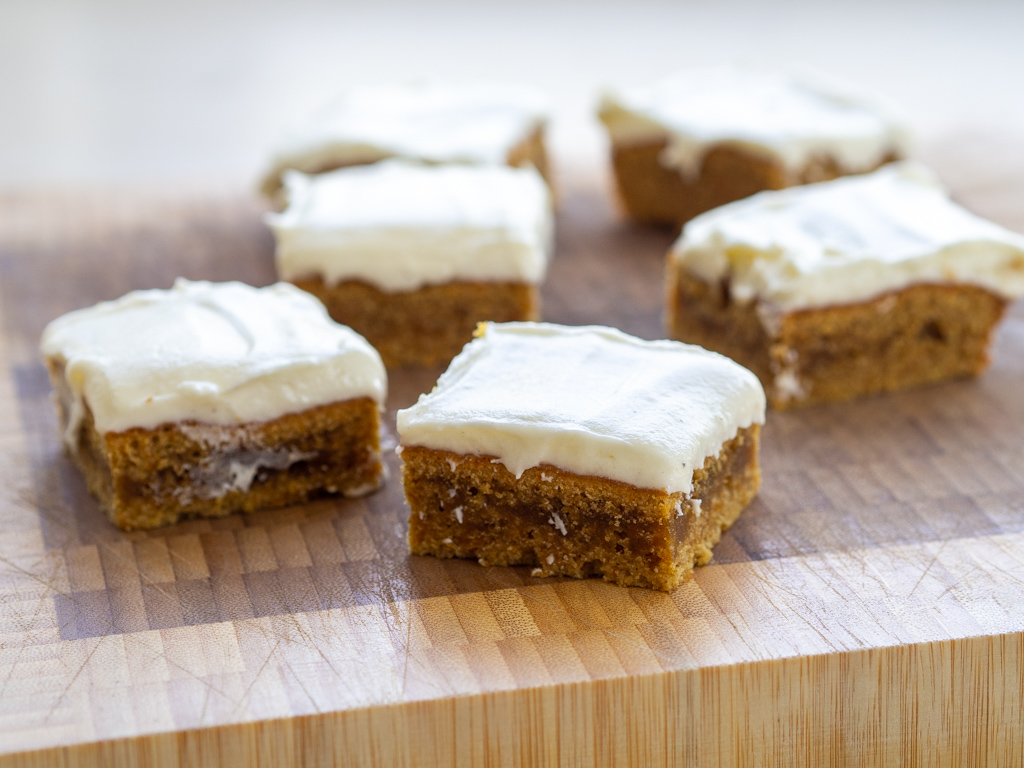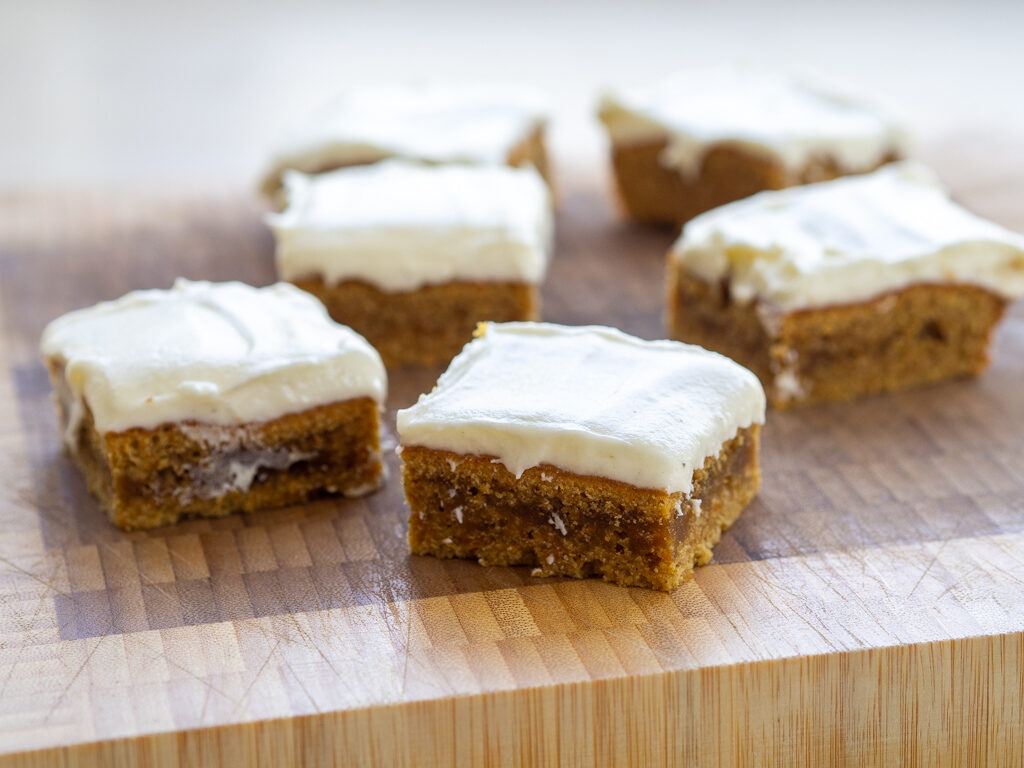 This recipe for Nordic carrot cake with cream cheese topping and a twist of cinnamon is another old-fashioned, very traditional and super delicious Danish recipe.
This Nordic carrot cake is easy to make and it only takes about 20 minutes of work. The cake has been made for many years so if you are looking for a real Danish dessert, this carrot cake is a great choice.
See also: Traditional recipe for Danish Dream Cake
Before you get scared away because of the combination of carrots and cream cheese, I will start to promise you that it is actually super delicious, creamy and perfectly moist.
Grated carrots in a cake
You might be thinking that carrot in a cake sounds weird and not something that you want.
Why is it a great idea to add grated carrots in a cake? Besides adding a special and great taste, grated carrots also make sure that the cake keep moist and soft.
See also: Recipe for Danish Butter Cake (Dagmar Tart)
Combined with the cream cheese topping and a little cinnamon the carrots are just perfect.
Just to clarify, we are not trying to make a healthy cake. We are simply trying to make a traditional and fantastic cake.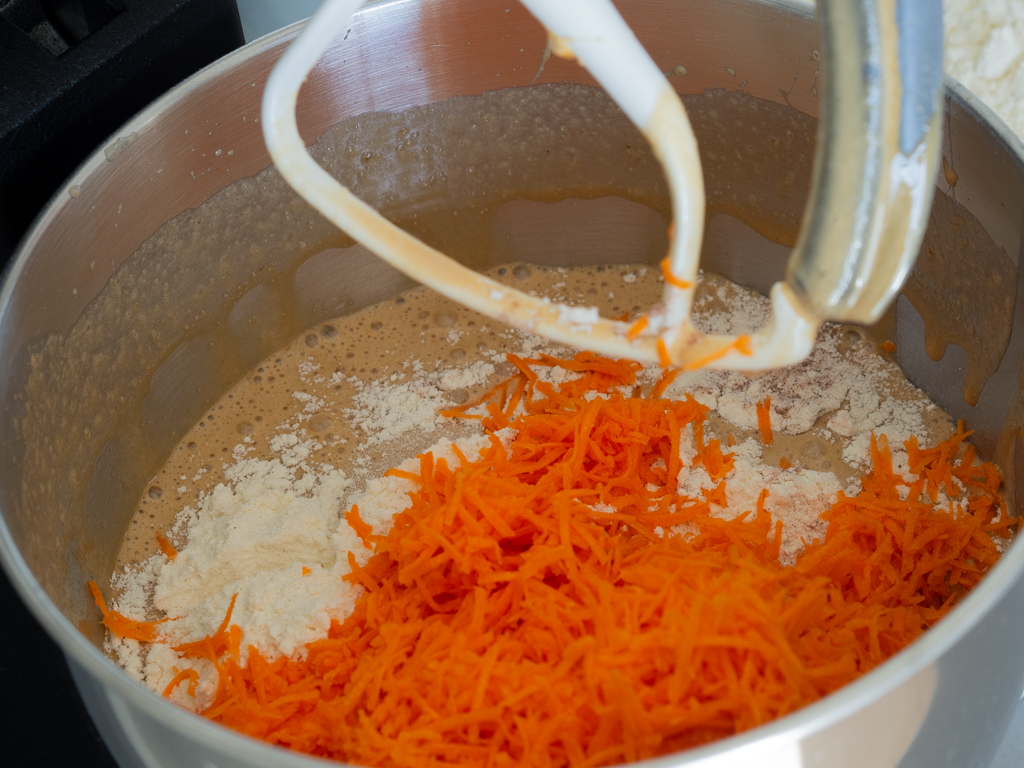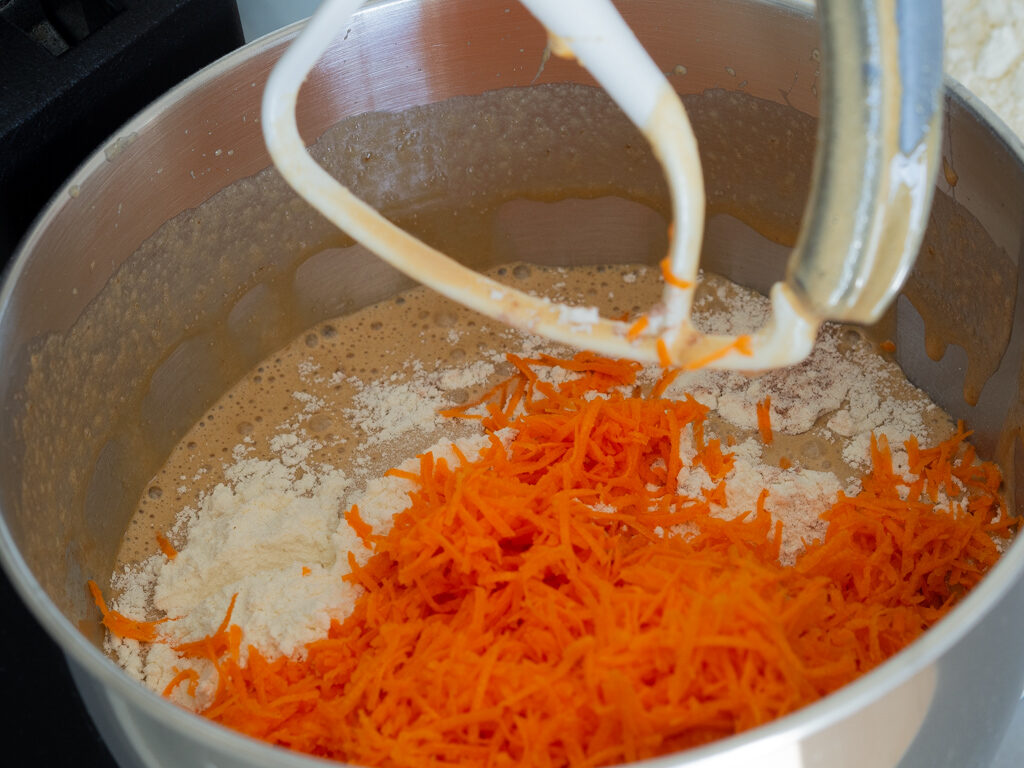 Cream cheese topping for carrot cake
As you might have guessed based on the title, this cake it topped with a homemade and sweet cream cheese topping.
You might be thinking what cream cheese is doing on this cake and that this ingredient is only for bagels and sandwiches. However, I will promise you that cream cheese is a fantastic ingredient to use in desserts like this Nordic carrot cake.
In this recipe, the cream cheese topping is made by simply whisking together natural cream cheese, butter, icing sugar and some vanilla extract. This simple recipe gives you a fantastic and delicious creamy cheese topping which goes perfectly together with the carrot cake.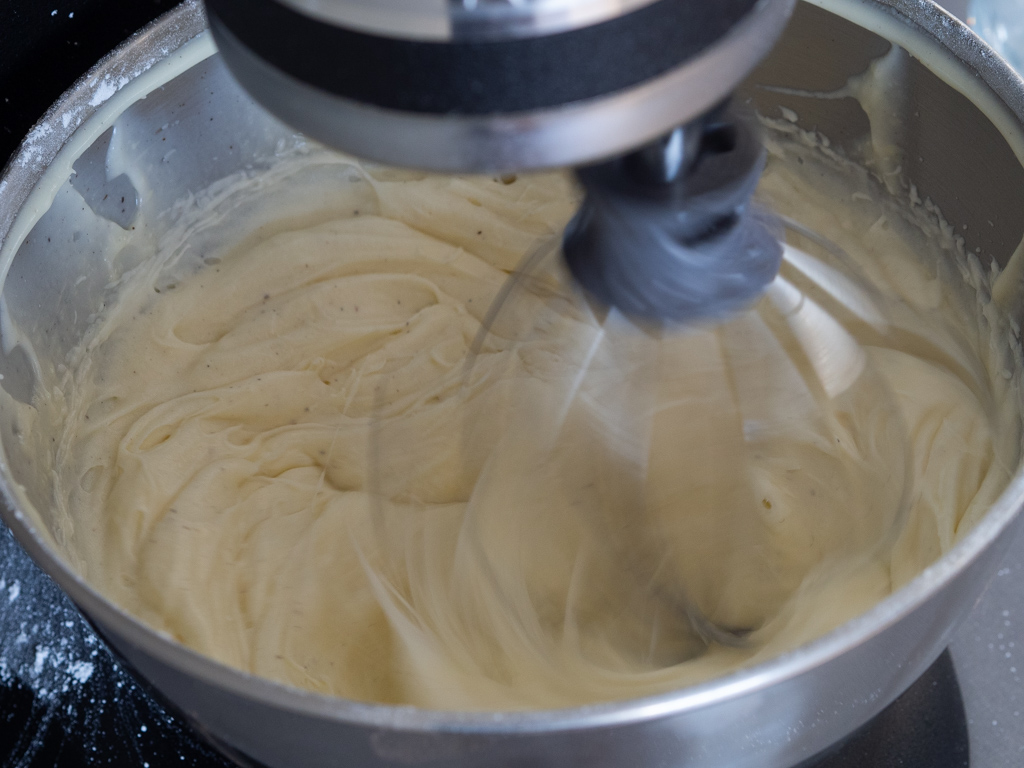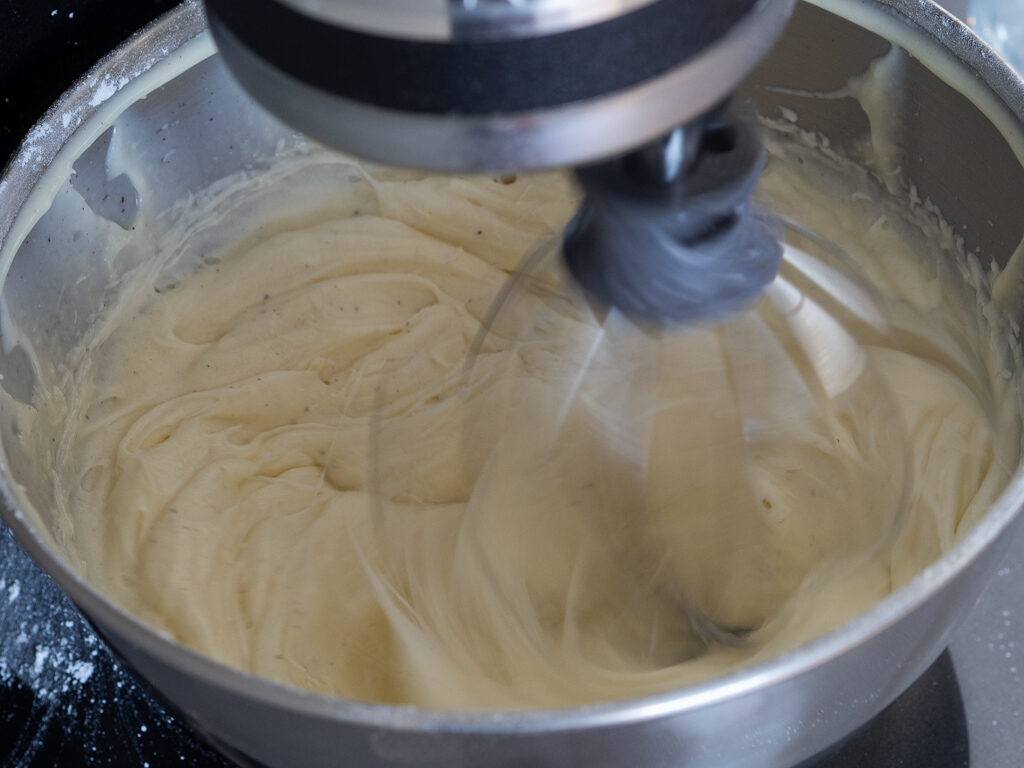 Recipe for Nordic carrot cake with cream cheese
As already said, this Nordic carrot cake is actually very easy to make. The cake can be divided into a two parts, the bottom cake and the cream cheese topping.
See also: Super delicious brownie with homemade caramel topping
You start by making the cake itself. This is simply done by mixing the sugar and oil well toegther followed by adding the dry ingredients and the finely grated carrots. Bake the cake in a 20x30 cm (8x12 inch) pan at 185 C (365 F) for about 40 minutes.
You can also use a different size pan. In that case, the cooking time with chance as well. The cake is done when a fork inserted into the cake comes out clean and without 'wet' batter sticking to it.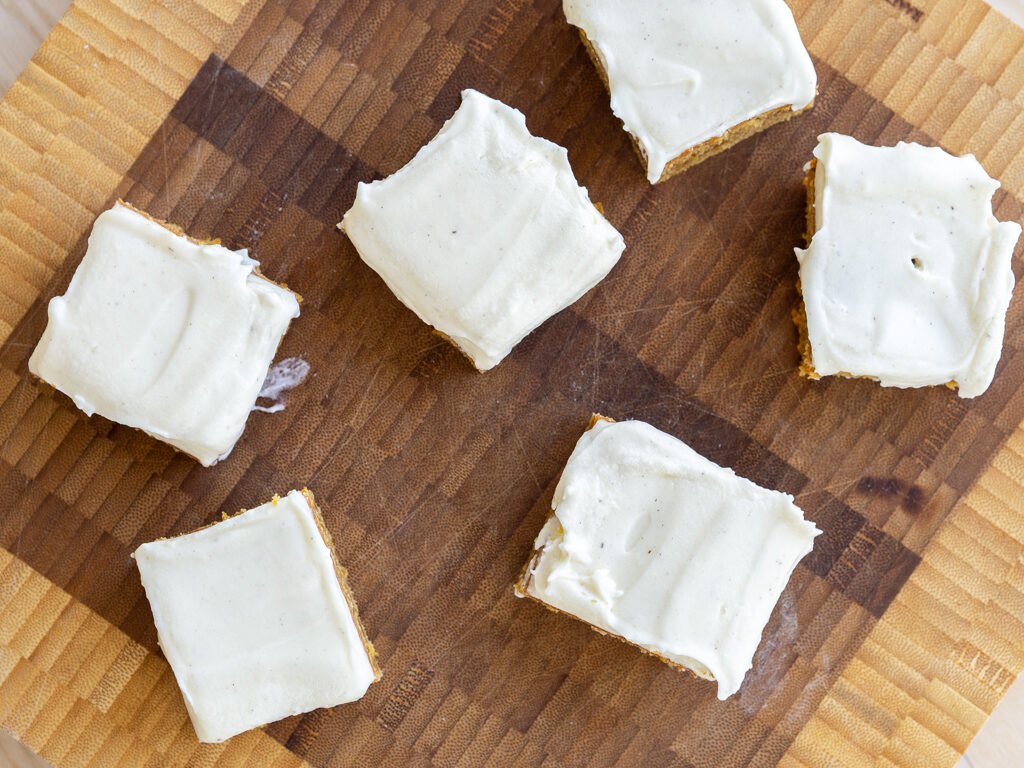 How to make cream cheese topping
The cream cheese topping is the easiest part of this recipe. In a small bowl, you simply add all the ingredients and mix them well together.
After some time mixing you will have the most delicious and creamy topping for your carrot cake. That is how easy it is to make homemade cream cheese topping.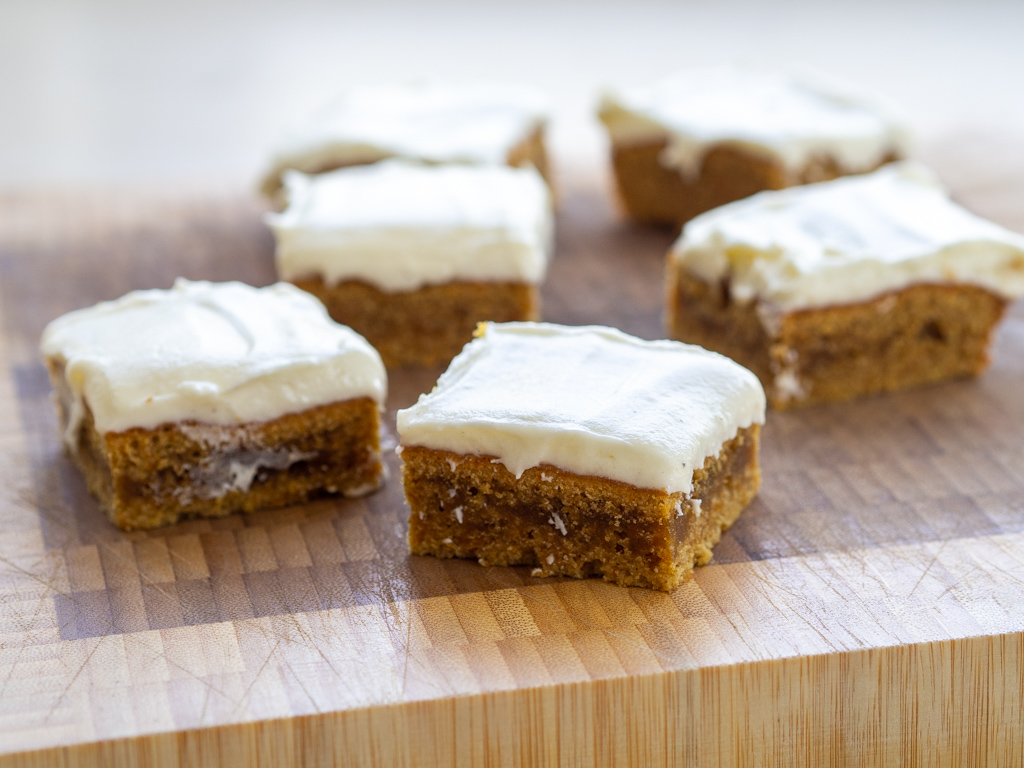 Ingredients
Carrot cake
300

g

brown sugar

2

dl

vegetable oil

4

eggs

375

g

carrots

275

g

all-purpose flour

1

tsp

salt

2.5

tsp

baking powder

2

tsp

cinnamon
Cream cheese topping
300

g

cream cheese

180

g

butter

270

g

powdered sugar

2

tsp

vanilla powder

(or essence)
Instructions
Whip the brown sugar and oil well together while adding the eggs one by one.

Peel the carrots and grate them finely. Add them to the brown sugar mixture.

Add the dry ingredients and mix it all together.

Pour the cake batter into a greased dish with a size of about 20x30 cm (8x12 incand bake it at 185 C (365 F) for about 40 minutes. The baking time depends on the size of the dish. The cake is finished when there is no batter on a fork that is inserted in the cake.

The cheese cream is easily made by whipping all the ingredients together.

The cheese cream is spread evenly over the cake when it is baked and cooled.