Easy recipe for homemade salted Dulce De Leche brownie cake. This cake is a perfect birthday cake or just if you are looking for a fantastic dessert for yourself. It's easy to make but takes a little time. Enjoy.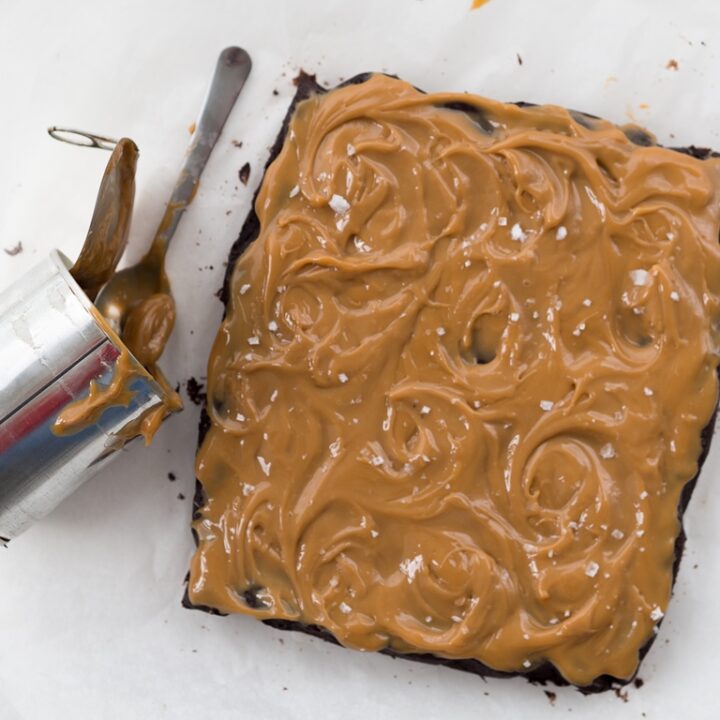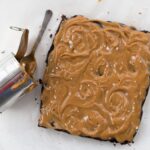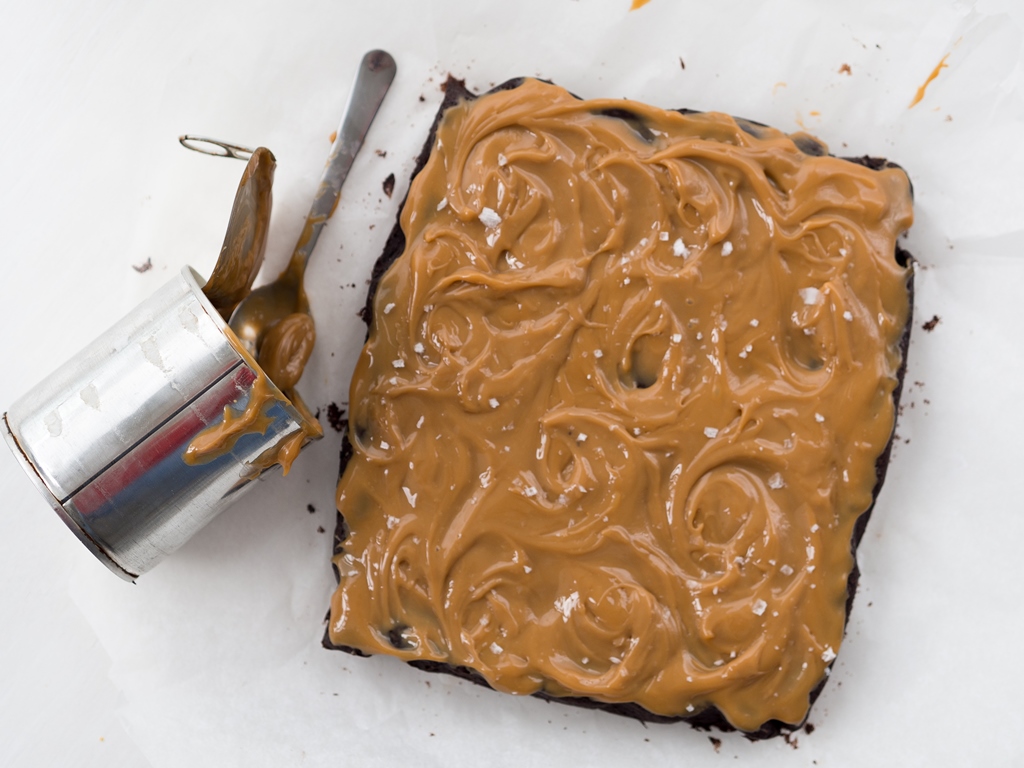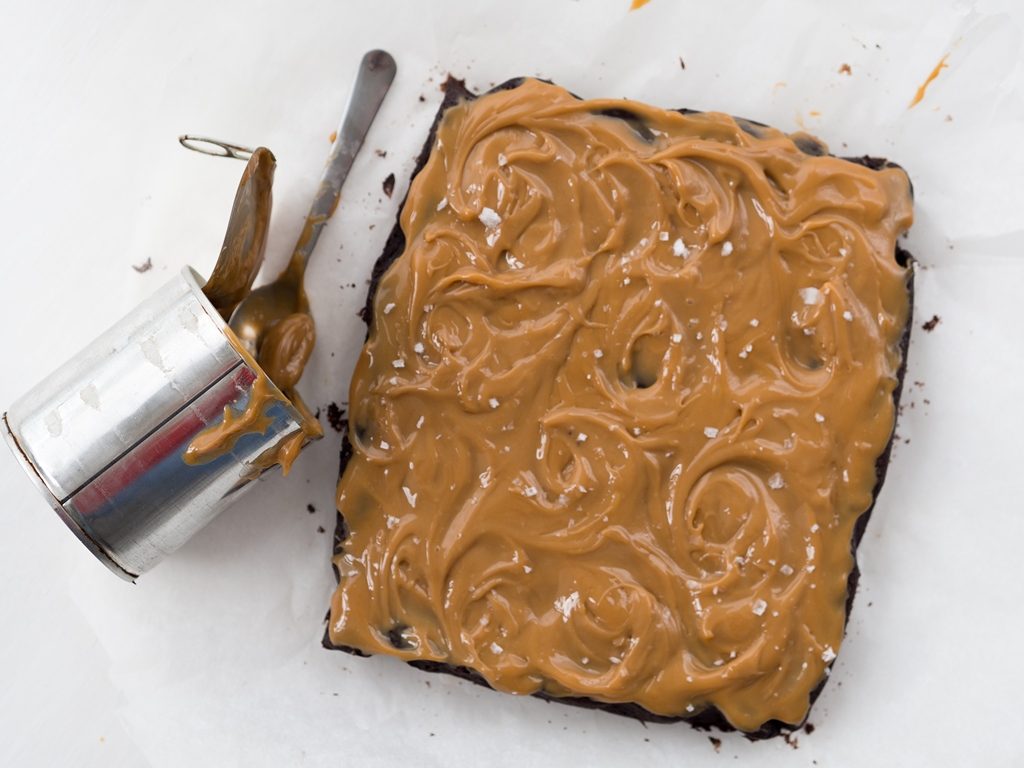 In this commercial post I have had the opportunity to work with the Can For Life project on developing a recipe with the well-known metal can in focus. When thinking about food form cans, of course my first thoughts fell upon homemade Dulce De Leche which is cooked directly in a can in hot water. Read more and learn how easy it is to make the most delicious brownie topped with homemade Dulce De Leche.
As a start, in this recipe we have to make the very best brownie - read more and see why, without blinking, I think this is the best Brownie I have ever had.
This salted Dulce De Leche Brownie recipe is super easy to make and does not require any fancy or professional cooking skills. The result, however, is nothing but wonderful, delicious and super tasteful. I hope that I have got your attention - you will not regret read on - I promise.
The Best Brownie Recipe
I believe this is the best brownie you can make. I know, this is a strong statement!
So why is this brownie so delicious and what makes it so special?
The short answer to this question is the caramel topping. The special ingredient in this brownie is the most delicious and homemade caramel. In the following section you can read much more about how to make homemade caramel for a brownie.
Read also: The best recipe for healthy chocolate cake without sugar and flour
The brownie cake itself has a very intense and delicious cocoa flavor, which match perfectly with the sweet and sticky caramel on top. And finally, the brownie is sprinkled with crisp sea salt. This makes the final touch and makes this brownie very special and incredibly delicious.
It is without doubt my favorite brownie - I hope, of course, that you will like this brownie recipe as much as I do.
As always, you are more than welcome to give a comment on my recipes at the bottom of the page. You may have a good advice that you want to share with me and the rest of the readers of my blog.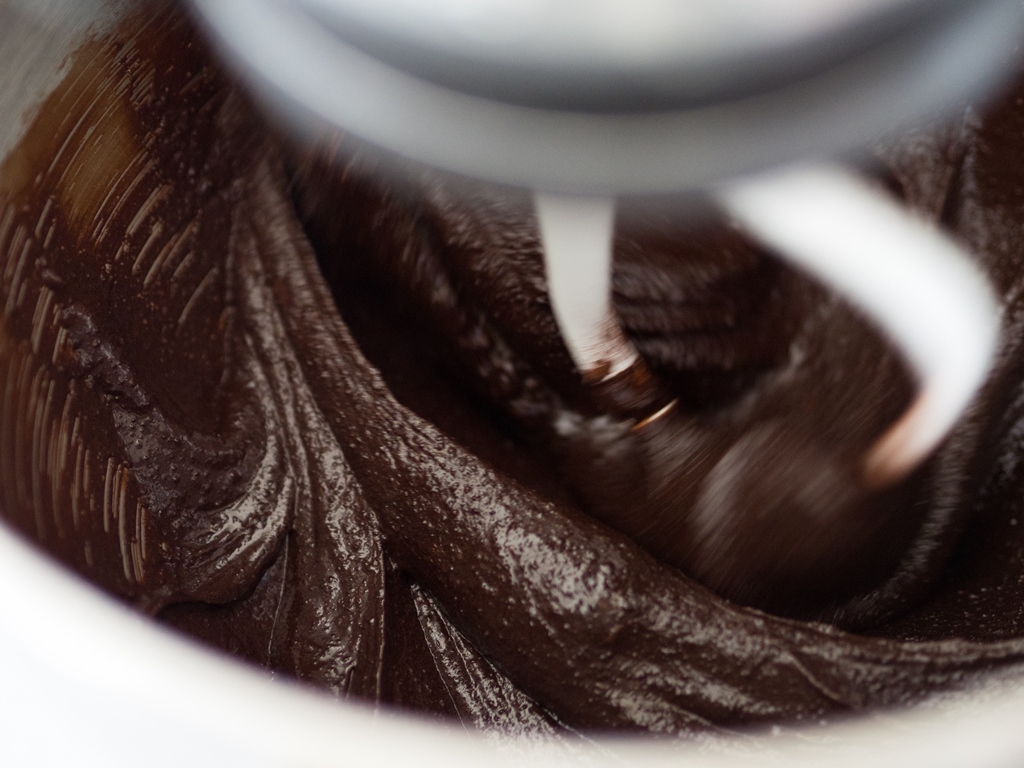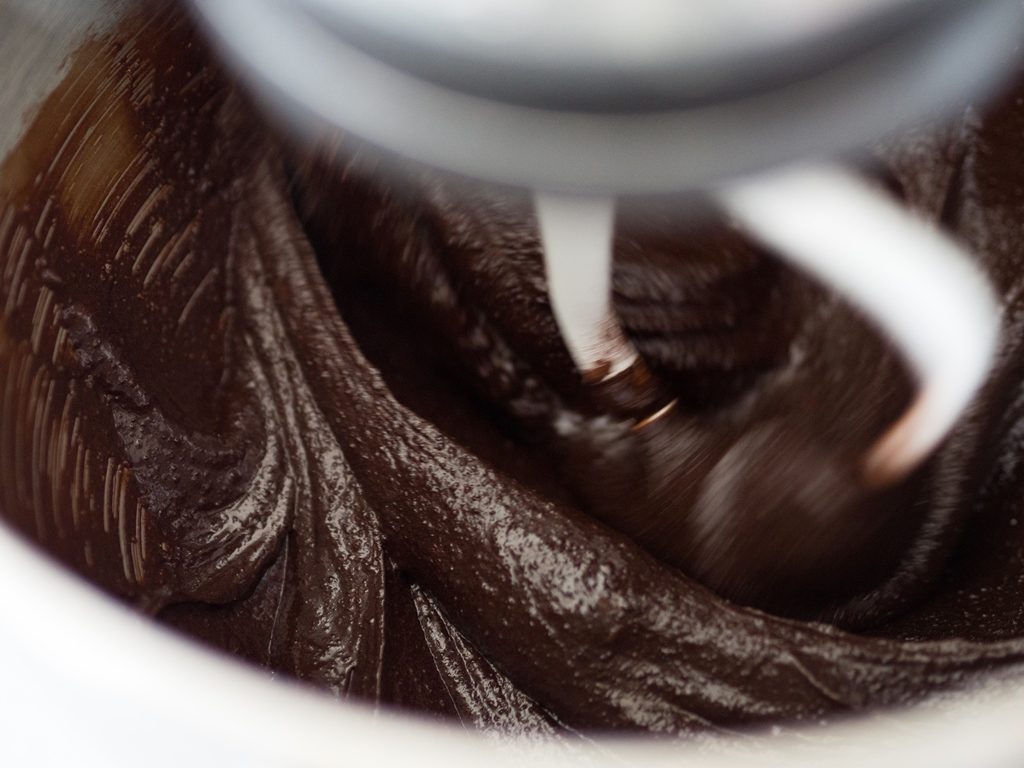 Homemade caramel for brownie
As you can read in the section above, this brownie is topped with a delicious homemade caramel.
Perhaps you are sitting and think that is sounds difficult and time consuming to make a homemade caramel.
But do not worry - it is actually very easy!
Hurry up and continue reading and see how incredibly easy it is to make homemade caramel or Dulce De Leche, as it is also known as.
The only ingredient you need to make homemade Dulce De Leche is an unopened can of condensed milk - and that's it! Dulce De Leche is a actually a Spanish word that translated means candy from milk and that is exactly what it is!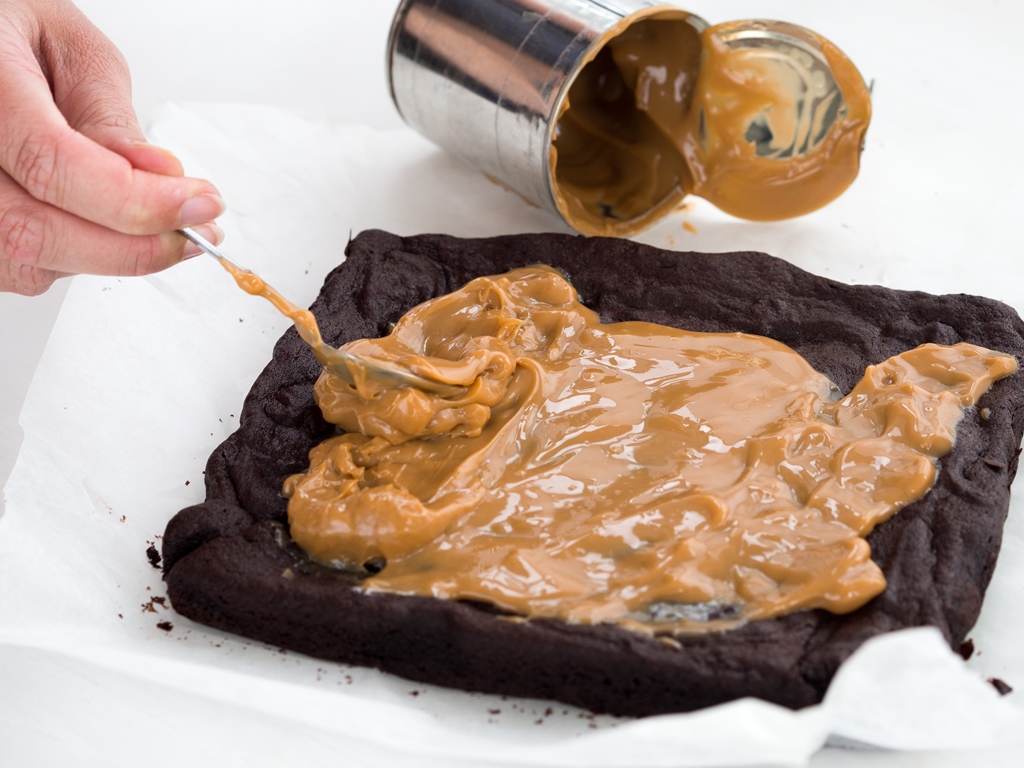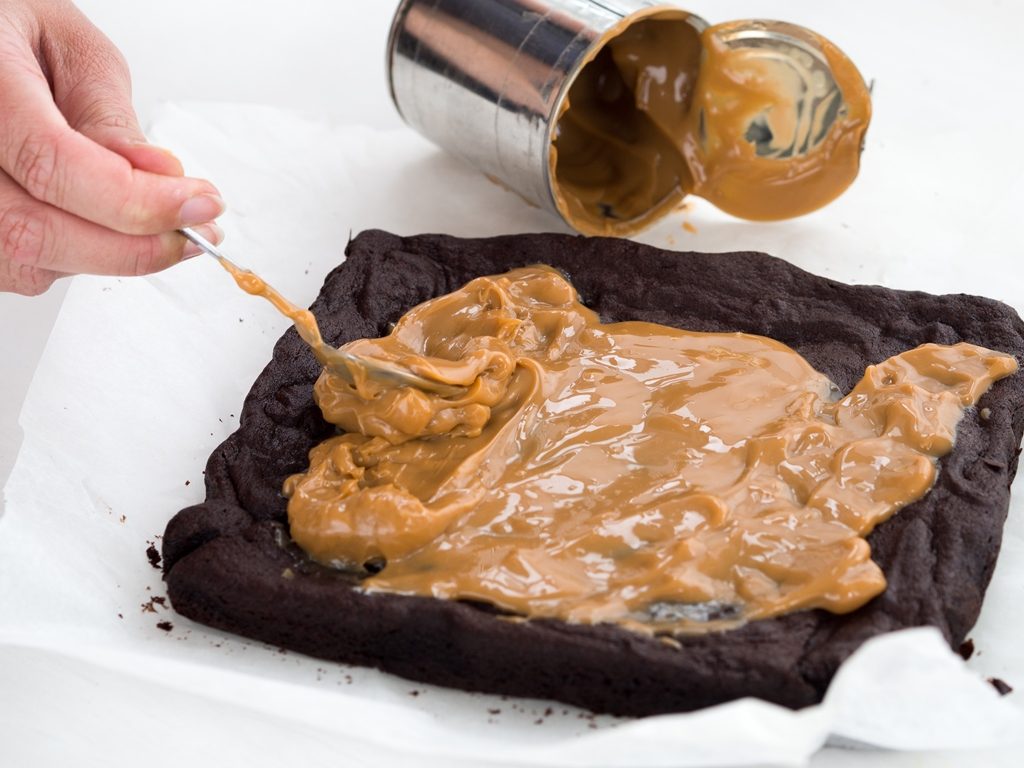 How to make dulce de leche
As said, Dulce De Leche is incredibly easy to make. You should only consider that it takes a little while. This is just about not getting impatient.
All you have to do is to simmer an unopened can of condensed milk in water for three hours and that is it!
Yes! You read it right; it is actually so easy to make this wonderful and homemade caramel sauce.
By simmering an unopened can of condensed milk, the sweet content will slowly get a firmer consistency and a delicious caramel flavor and color. I like to think of it as a kind of magic.
Read also: The best recipe for Dulce De Leche
Simmering is the level just below boiling temperature. The water should not boil but just simmer. Also, make sure the can is completely covered with water and that there is little extra in the pot as some of it will evaporate. For the same reason, it is important to have a lid on the pot during cooking.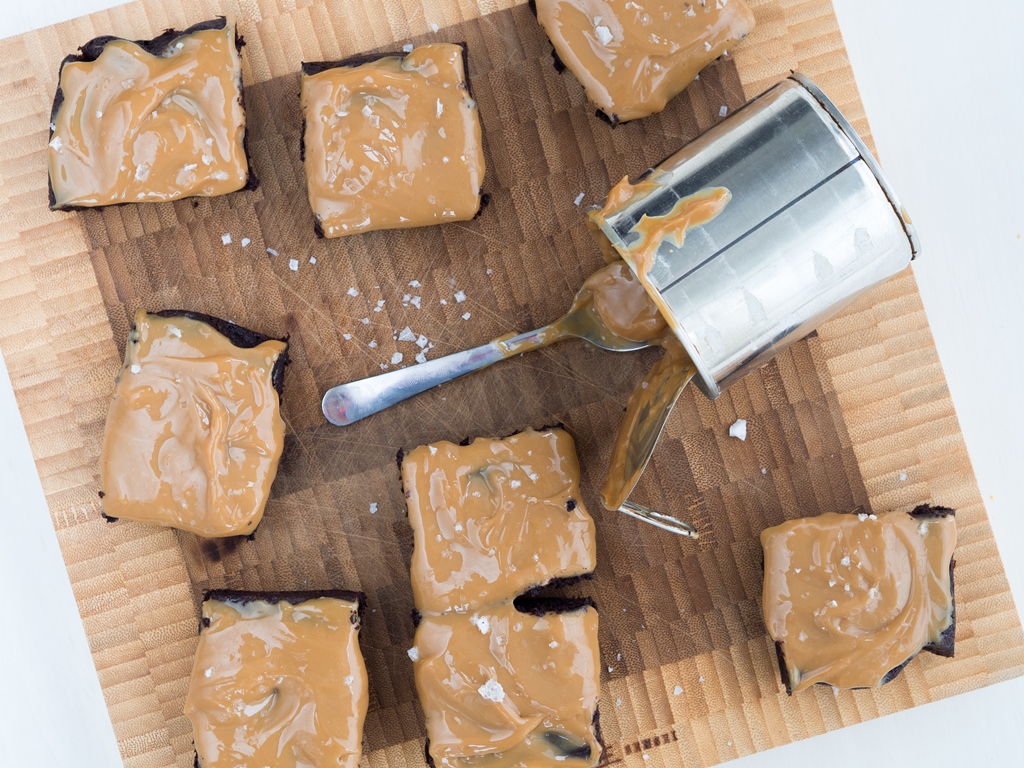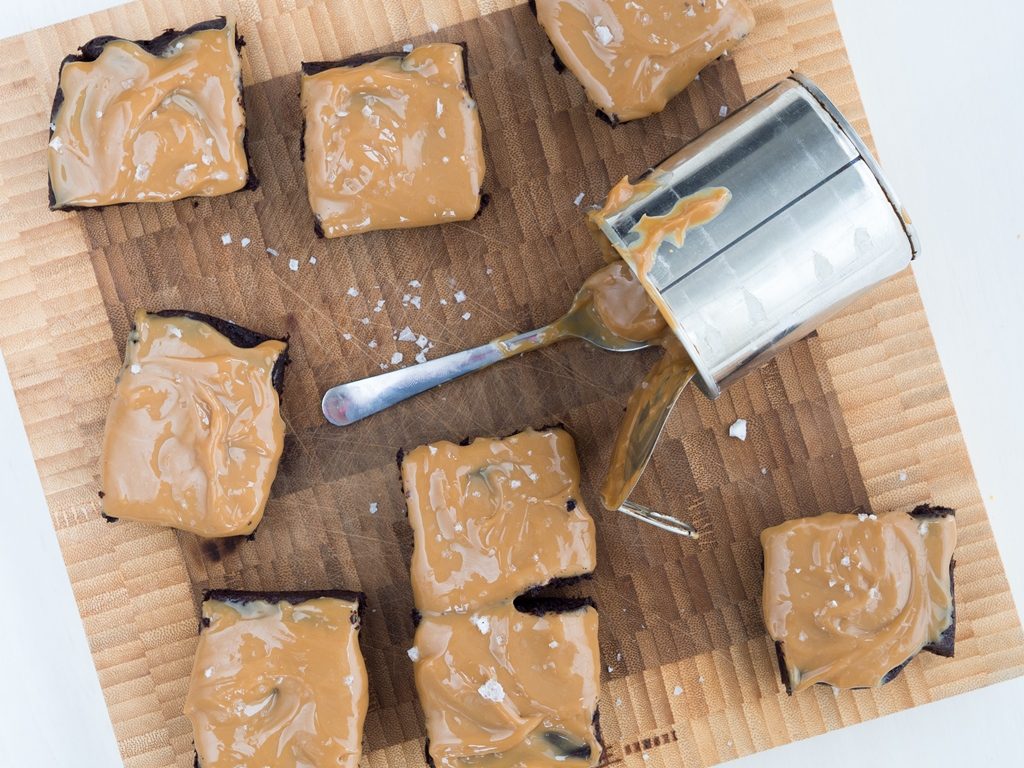 Dulce De Leche for desserts
If you have never tasted homemade Dulce De Leche before be prepared for a new dessert world which will open up for you.
Once you've learned how to make this delicious caramel, from just a can of condensed milk, it is basically just your imagination that will be the limit of its use.
Dulce De Leche is very good as topping for ice cream, filling in cupcakes, sauce for pancakes or perhaps as a sweet and specially ingredient in a cup of hot coffee - Come up with more examples yourself.
If you have one good example of what Dulce De Leche can be used for, I would love to hear from you in the comment section below.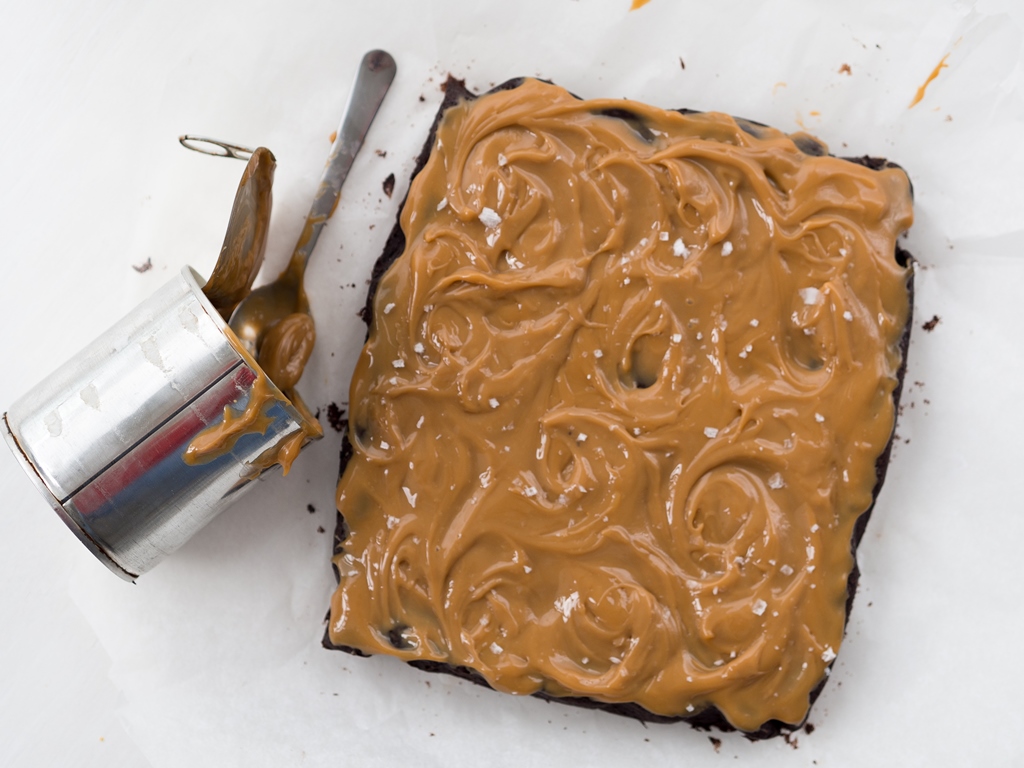 Ingredients
Brownie
140

g

soft butter

(5 oz)

2

eggs

150

g

brown sugar

(5.5 oz)

100

g

sugar

(3.5 oz)

80

g

unsweetened cocoa powder

(2 3/4 oz)

1

tsp

vanilla powder

or extract

1

tsp

instant coffee

(dissolved in 1 tbsp hot water)

1/4

tsp

salt

60

g

all-purpose flour

(2 oz)

2

tsp

flakes of sea salt

(for topping)
Instructions
Dulce De Leche
Remove the labeling from the metal can.

Place the unopen can of condensed milk in a sauce pan and cover it with water. Make sure the entire can is submerged in water.

Cover the sauce pan with a lid and turn on the heat. Let the water simmer (just below boiling) for three hours.

Remove the hot can from the water and let it cool off for minimum three hours. The hot caramel is liquid and should settle a little.
Brownie
In a large bowl, add soft butter, eggs, the two types of sugar, vanilla powder, cocoa powder, coffee, flour and salt. Combine well and whisk until the batter is nice and smooth.

Pour the brownie batter into a 20x20 cm (8x8 inch) oven pan which is lined with parchment paper.

Bake the brownie in a 175 C (350 F) preheated oven for about 25-28 minutes. When done, a toothpick inserted into the brownie must come out almost clean.

Remove the brownie from the oven and allow it to cool off before spreading the Dulce De Leche on top. Make nice swirl patterns in the caramel.

Sprinkle the cake with coarse sea salt flakes and cut it in square pieces.