Super simple and easy-to-make five seed crackers. Perfect alternative to unhealthy snacks and great as a quick lunch.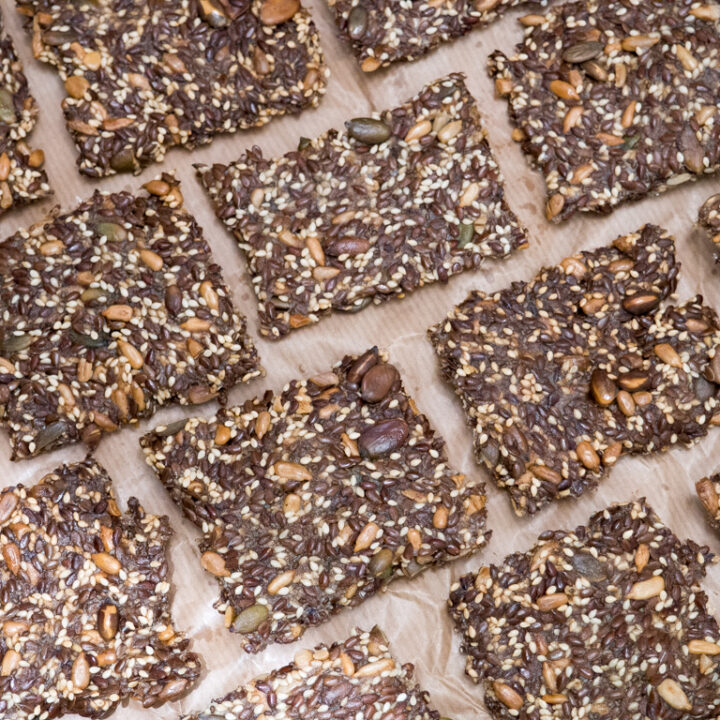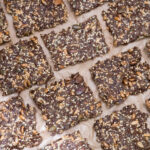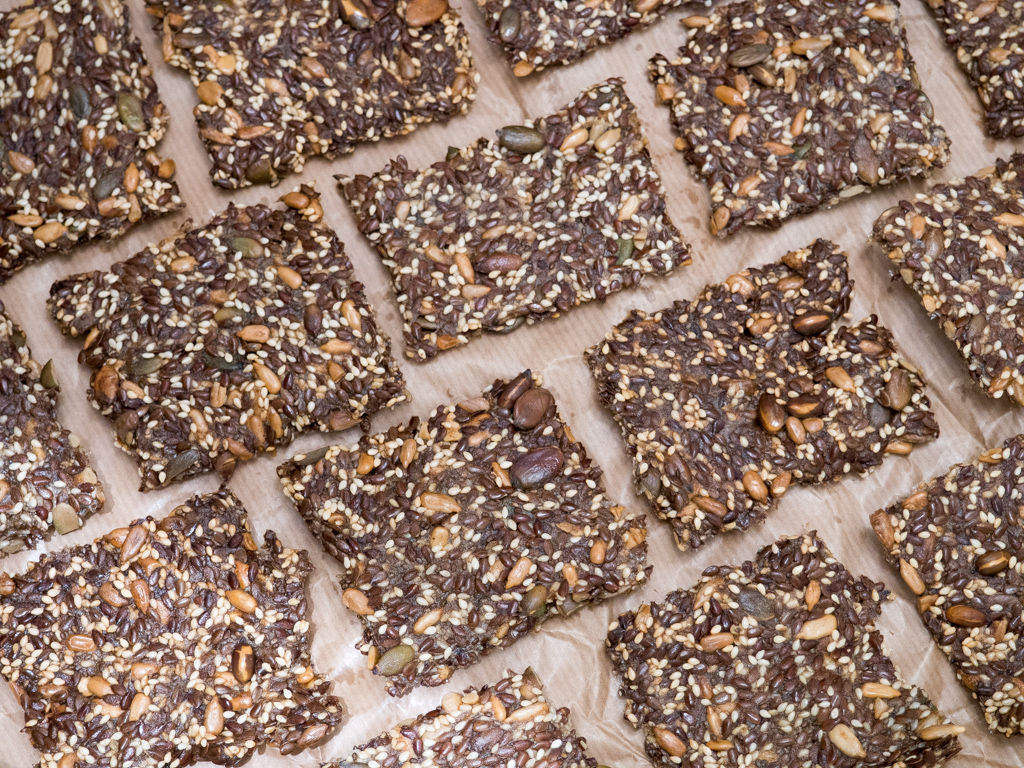 I am always on the lookout for quick and easy to make snacks. These snacks that I would like to share with you here on this page contains only few, but super great, ingredients. These snacks are made from five different seeds, some vegetable oil, water, salt and some Psyllium husk. The first time I was cooking with Psyllium husk I thought it was a little funny. Psyllium husk is a great ingredient which is packed with protein and, when together with water, perfect as a combining agent making sure all the seeds and oil sticks together.
Travel snack pack
I know that I have mentioned this several times here on my blog. As a project manager in the dairy business, I do travel quite a lot to visit customers within Europe. Being on the road and at the same time trying to commit to a healthy lifestyle can sometimes be quite challenging. Airports and especially the highways have a high density of fast-food chains and other places to grab a quick bite. The common factor is that all these places typically only serves unhealthy food. And if they somehow have decided to make a salad it is almost always super boring and soaked in a sad dressing.
Therefore, I have a very important tradition. The evening before a traveling day I always prepare myself with want a call a 'traveling pack'. My traveling packs typically consist of a couple of fruits like apples, bananas or pears, a plastic bag with raw mixed nuts - of course without oil and salt - and then some high filling cookies or these Five-seeds Paleo snacks I am sharing here on this page.
Banana oat cookies
I believe the recipe which I have made the most times, and brought with me on my trips, are the banana oat cookies. I have a separate blog post about these cookies here on this blog. I can highly recommend trying these cookies. They are super filling and perfect to bring on the go. Find them using the search field on the front page of my blog.
Healthy Five-seeds snacks
However, there is one more important detail. Besides being quick and easy to make, my snacks have to be healthy. I am a person who always tries to take care of myself and especially the food I eat is very important to me. Do not get me wrong I have no problems eating greasy burgers and deep fried fries. It is just important that the unhealthy food is only on special occasions where the healthy and filling food is what I eat on a daily basis.
Packed with dietary fibers
Besides being crisp and very delicious, these five seeds snacks are literally packed with dietary fiber. These snacks have about 20 g of dietary fibers for every 100 g and that is a lot. The great thing about dietary fibers is that they give you a filling effect and give your stomach something to 'work' with. Feeding your stomach with only white bread and sugar rich food will be hard on your stomach.
Instructions
These five seeds snacks are super easy to make in only five steps. In a bowl, mix together all the ingredients. On a parchment paper covered oven plate spread out the dough. Place another sheet of parchment paper over the hot dough. Use a rolling pin to flatten the dough in an even layer. Remove the top parchment paper and use a knife to cut snack sized pieces in the dough. Bake the dough in a 160 C (320 F) oven for about 55 minutes. When done, break out the snack and keep them in an airtight container.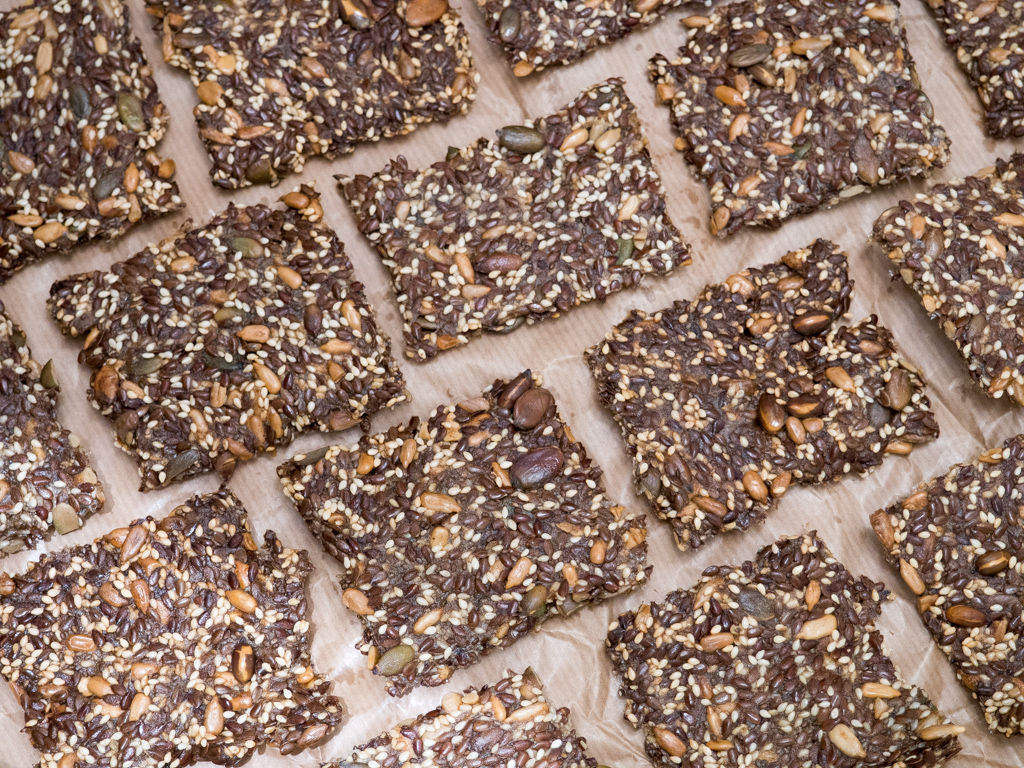 Ingredients
1

dl

flaxseed

(2/5 cup)

1

dl

pumpkin seeds

(2/5 cup)

1

dl

sesame seeds

(2/5 cup)

1

dl

sunflower seeds

(2/5 cup)

1/2

dl

psyllium husks

(1/5 cup)

1/2

dl

chia seeds

(1/5 cup)

1/2

dl

vegetable oil

(1/5 cup)

1

tsp

salt

3

dl

boiling water

(1 1/4 cups)
Instructions
In a bowl, mix together all the ingredients.

Pour the mixture onto a sheet of parchment paper. Place another sheet of parchment paper on top.

While the dough is still hot, use a rolling pin to roll the dough very thin in between the two sheets of parchment paper.

Remove the top sheet of paper and use a knife to cut the dough into snack-sized pieces.

Bake the dough in a 160 C (320 F) hot oven for about 55 minutes or until they are nice and crisp.