These traditional Danish Fastelavnsboller (Shrovetide Buns) are very delicious and actually quite easy to make. Serve as a snack in the afternoon or evening.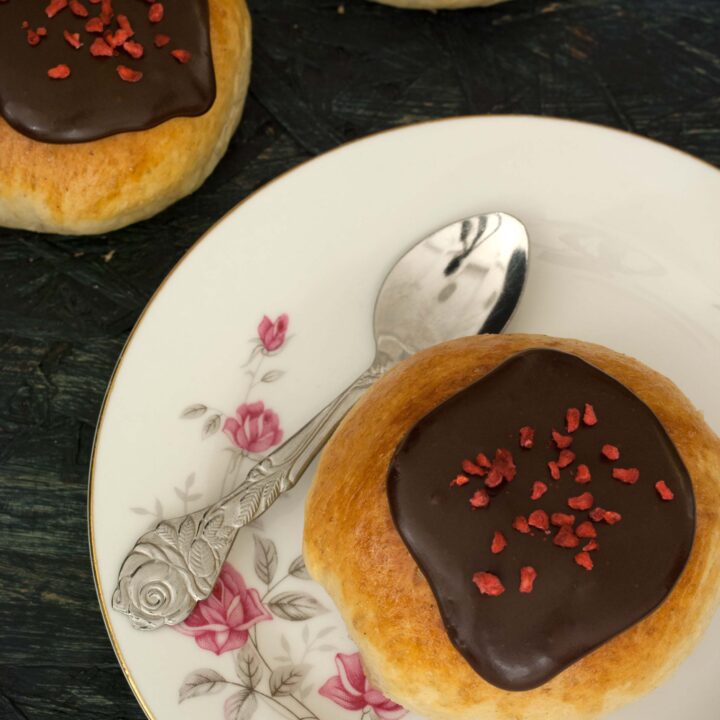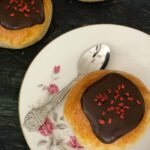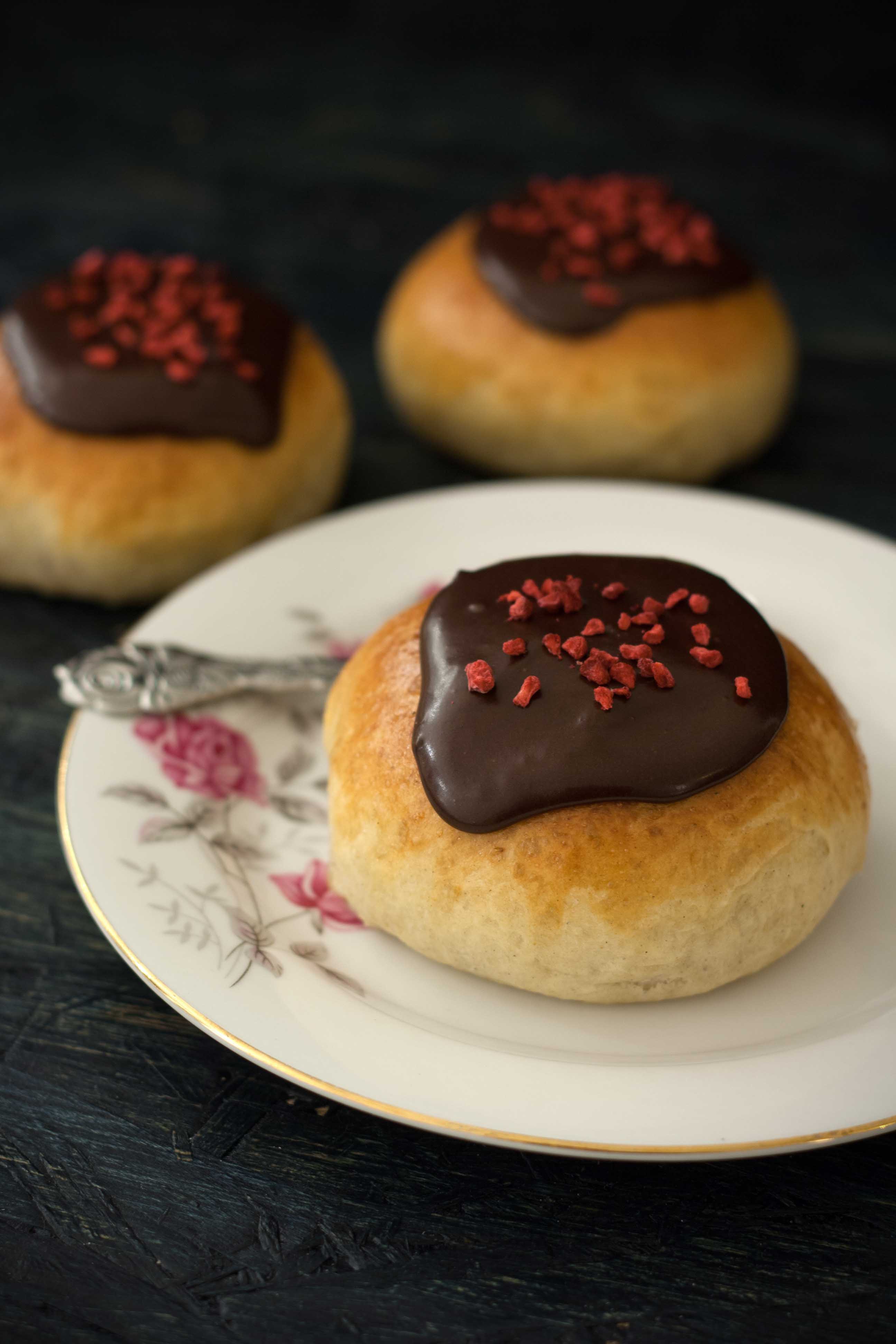 Fastelavn is a Nordic holiday celebrated on Sunday or Monday before Ash Wednesday. It has some similarities to the American holiday Halloween where children dress up in costumes and go house to house to beg for candy.It is also a tradition in Denmark to 'slå katten af tønden' - 'beat the cat in the barrel'. It is a wooden barrel that is filled with candy inside and in the old days they actually put real cats inside the barrel! The children takes turn hitting the barrel with a bat and the one that knocks the bottom out of the barrel is crowned "kattedronning" (queen of the cats). The one who knocks down the last piece of the barrel becomes kattekonge ("king of cats"). Both the king and queen gets a crown to wear.
The children go door to door begging for candy. When they come to the door they will sing a little song called 'Boller op, boller ned'. (Buns up and bun down). In the song it says, that if the children don't get buns in their stomach, they will make trouble. And the buns the song are referring to is of course 'Fastelavnsboller', which is a very popular pastry served on this particular day.
There are many different kinds of Fastelavnsboller. Some is made of danish pastry and some is made of a regular yeast dough. Some are filled with a custard or jam and then baked, while others are sliced open and then filled with a custard or whipped cream filling. My recipe is made from a yeast dough and then filled with custard or marzipan remonce - so here is actually a recipe
for 2 different kinds of filling. Some actually put both remonce and custard inside of the bun, so if you wan't you can try that.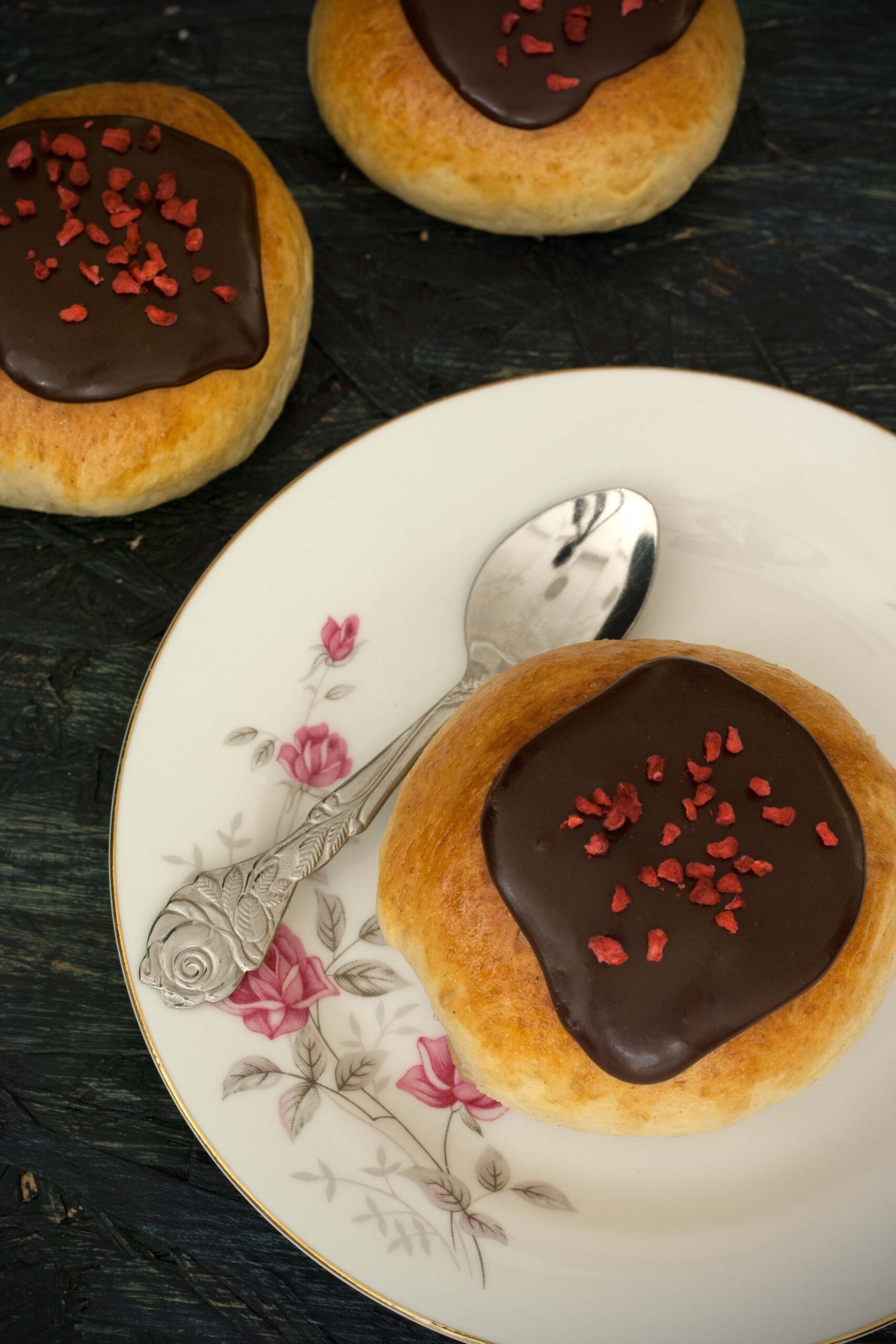 Ingredients
Dough
50

g

fresh yeast

or equivalent dry yeast

2

eggs

2,5

dl

milk

200

g

cold butter

2

tbsp

sugar

600

g

all-purpose flour

2

tsp

cardamom

1

egg

for egg wash

Icing sugar

Cocoa and water for the icing
Custard filling
2

eggs

4

tbsp

sugar

2

tbsp

corn starch

3

dl

milk

1

vanilla bean

the seeds
Marzipan Remonce
150

g

sugar

150

g

butter

soft

150

g

marzipan
Instructions
Dough
Mix flour, sugar and cardamom in a bowl.

Add the butter and crumble it between your hands.

Heat up the milk in a small pan until it is finger warm. Dissolve the yeast in the milk. If using dry yeast add this together with the flour.

Add the eggs to the milk/yeast mixture and whip it together.

Add the milk/yeast/egg mixture to the dry ingredients and mix it together. Knead the dough well and add more flour if the dough is too sticky.

Leave dough in bowl and cover with a tea towel. Let the dough rise for about 1/2 hour.
Custard filling
For the custard filling; Add all the ingredients in a small pan. Remember to add the empty vanilla bean as well (it has plenty of extra flavor)

Whip all of the ingredients together and heat it up slowly. Stir constantly in the custard until it comes to a boil and begins to thickens. Pour the custard in to a bowl and let it cool off. Remember to remove the vanilla bean.
Marzipan remonce
For the marzipan remonce; Mix sugar, soft butter and marzipan in a bowl. Knead it with your fingers.
Fastelavnsboller (The assembly)
When the dough is done rising; separate it into 24 pieces. Roll or press the pieces flat and add about 1 tsp of custard filling and 1 tsp of remonce filling.

Fold all corners up to the center and press to seal all edges. Turn the dough ball over, tuck in all edges and place on two baking sheets with the seam side down.

Brush the buns with a beaten egg.

Let them rise for 1/2 hour with a clean tea towel on top.

Bake the buns in the oven at 200 C (400 F) for 10-15 minutes or until they are nice and golden.

When the buns are cooled of you can decorate them with icing (made from icing sugar, water and maybe cocoa powder).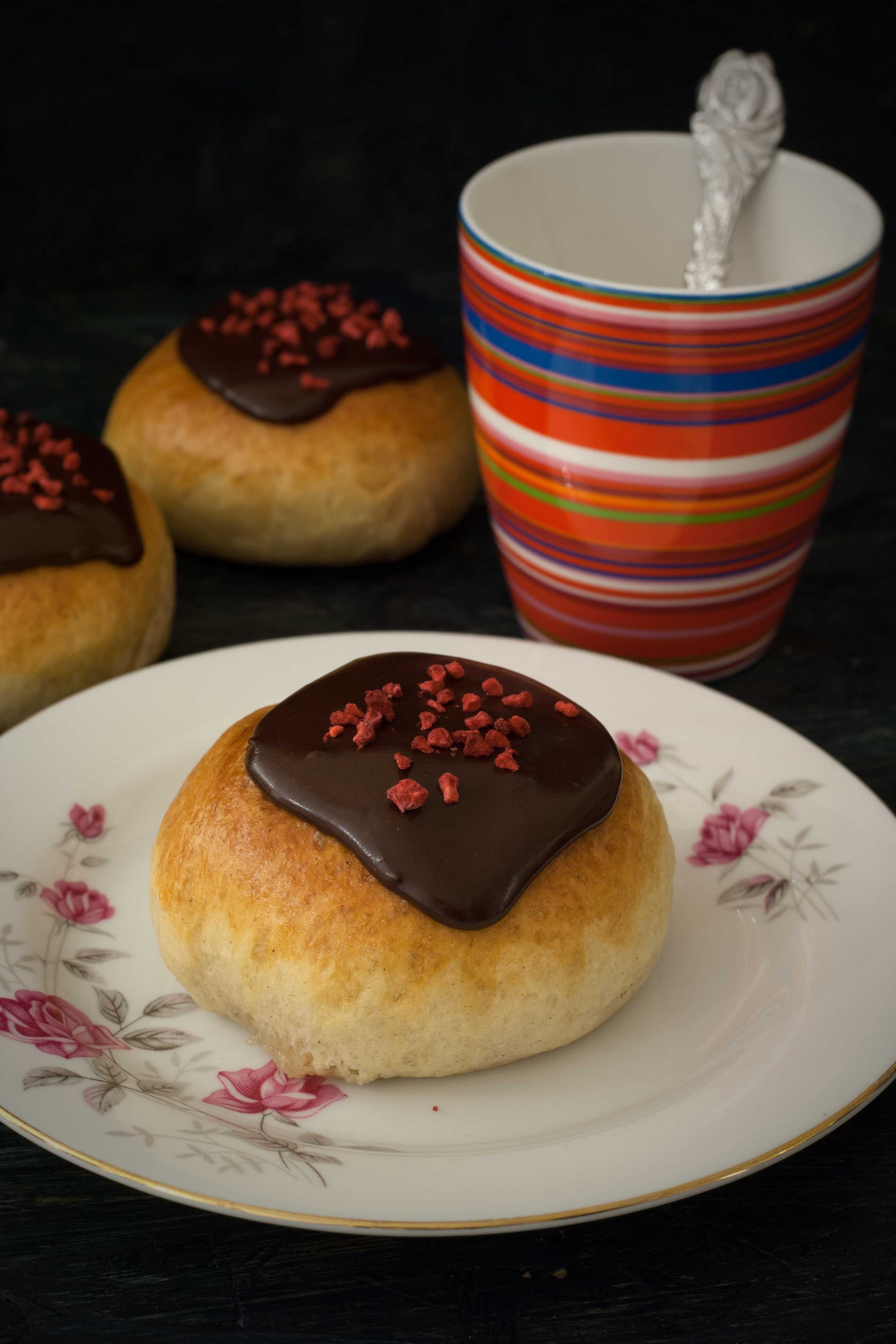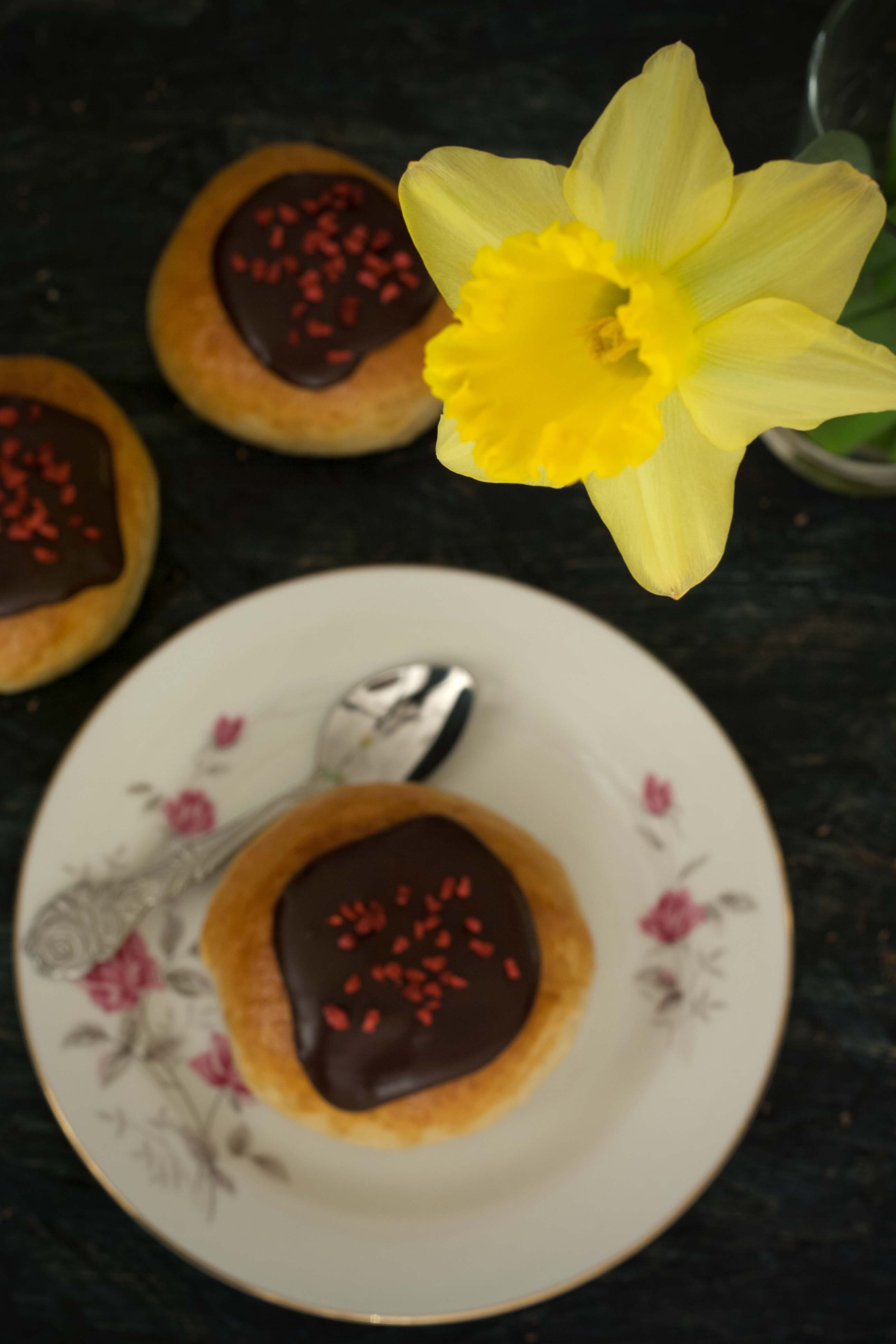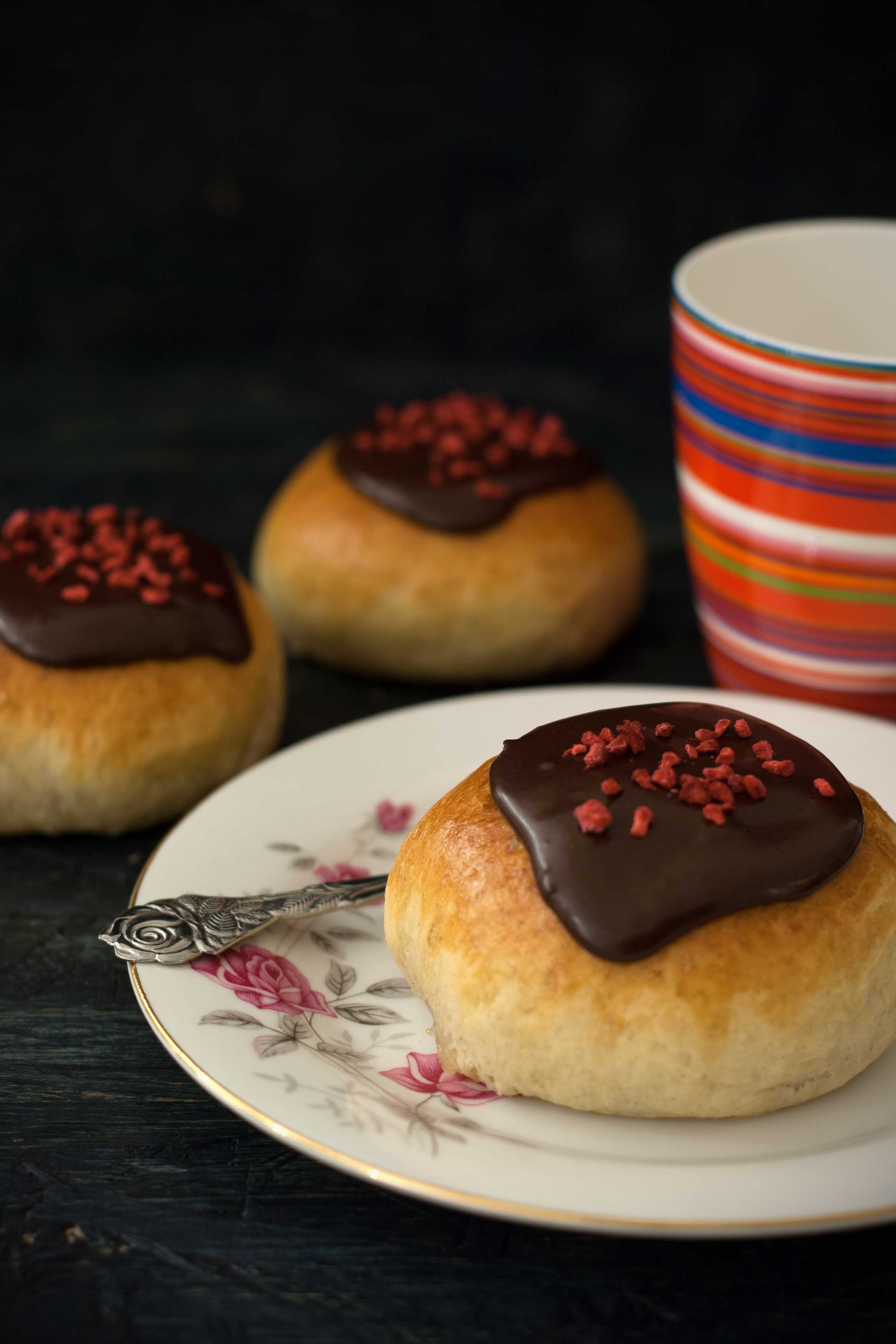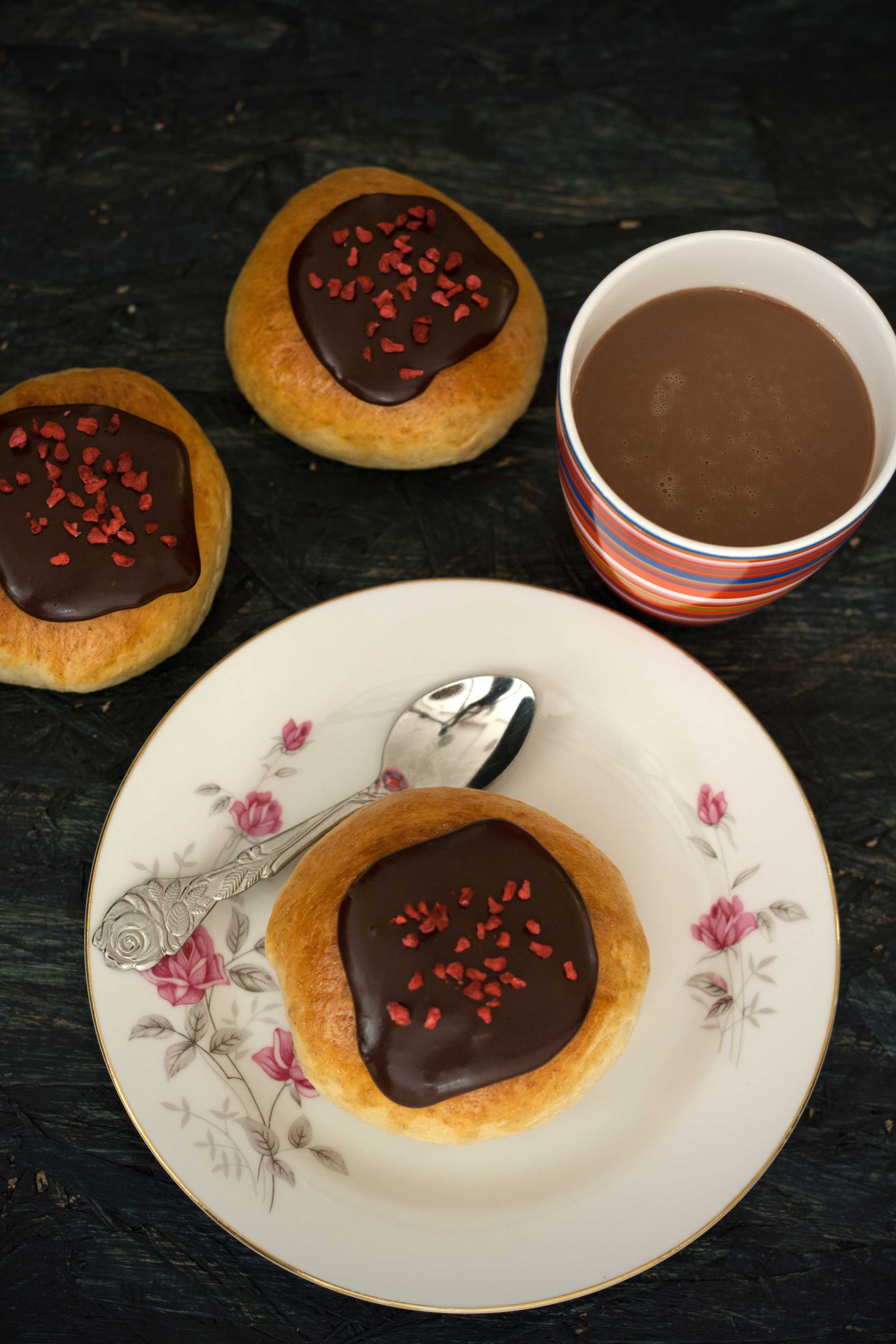 Reader Interactions