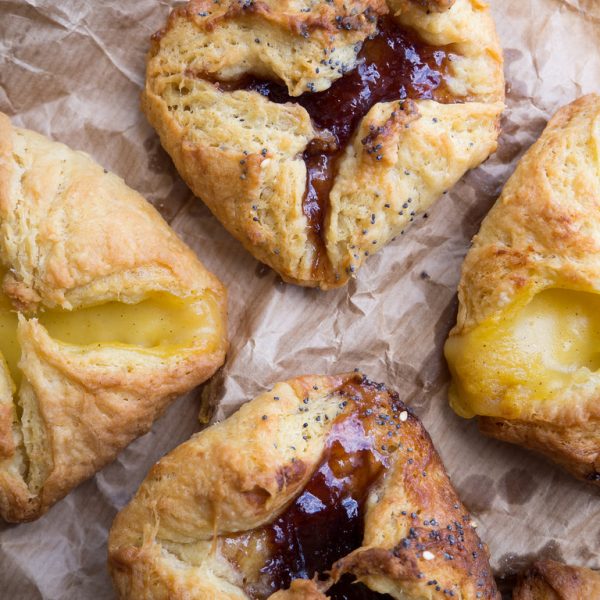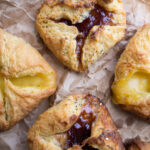 These Danish are probably the most popular part of the Danish Pastry family. In Denmark these pastry are better known as Spandauer which is just a name and cannot be translated directly to English. I guess this is why them simply just got the name Danish when bakers from outside Denmark started to make them.
They are popular all over the world and every time I see them outside Denmark, they make me feel good. It is nice to know that people around the world also like this Danish pastry like we do in Denmark.
In Denmark, they are traditionally eaten as an afternoon snack often together with a cup of coffee. In general, the afternoon coffee is traditionally accompanied with some kind of delicious snack like Danish Butter Cookies or some Danish Pastry. I have recipes for both Danish Butter Cookies and different Danish pastry here on my blog. Simply just browse to the 'Traditional Danish' section or use the search field on the front page.
Base Pastry Dough
Making a good Danish is actually easy once you have learned a few tricks. The first thing you need to do is to make a base pastry dough. The pastry dough is the base for all the Danish Pastry recipes I have here on my blog. So once you have learned to master this part, you are able to make several Danish pastry. Because, this dough can be a little tricky and because it is used for several other recipes, I have decided to make a stand-alone recipe for this part. You can find the recipe by searching, on the front page, for 'Danish Pastry Dough' or you can click the link here.
Instructions for A Danish
As mentioned above, start this recipe by making a base pastry dough. Find the recipe here on my blog. Once this dough is ready, it is actually quite easy to follow the last steps.
On your tabletop, use a rolling pin to flatten the dough into a 60×40 cm (24×16 inch) rectangle. Then cut 10×10 cm (4×4 inch) squares. At the center of each square, place two teaspoons of your favorite filling which could be vanilla cream, strawberry, raspberry or blueberry jam.
Fold the four corners over the filling and gently press them together sealing the filling inside. When the Danish are baked, they will open up like flowers. Before baking them, let them rise for 30 minutes. Bake them in a 220 C (430 F) preheated oven for 5 minutes before turning the oven down to 200 C (400 F) while continuing baking them for another 13-15 minutes.
Let them cool off on an oven grid before serving them.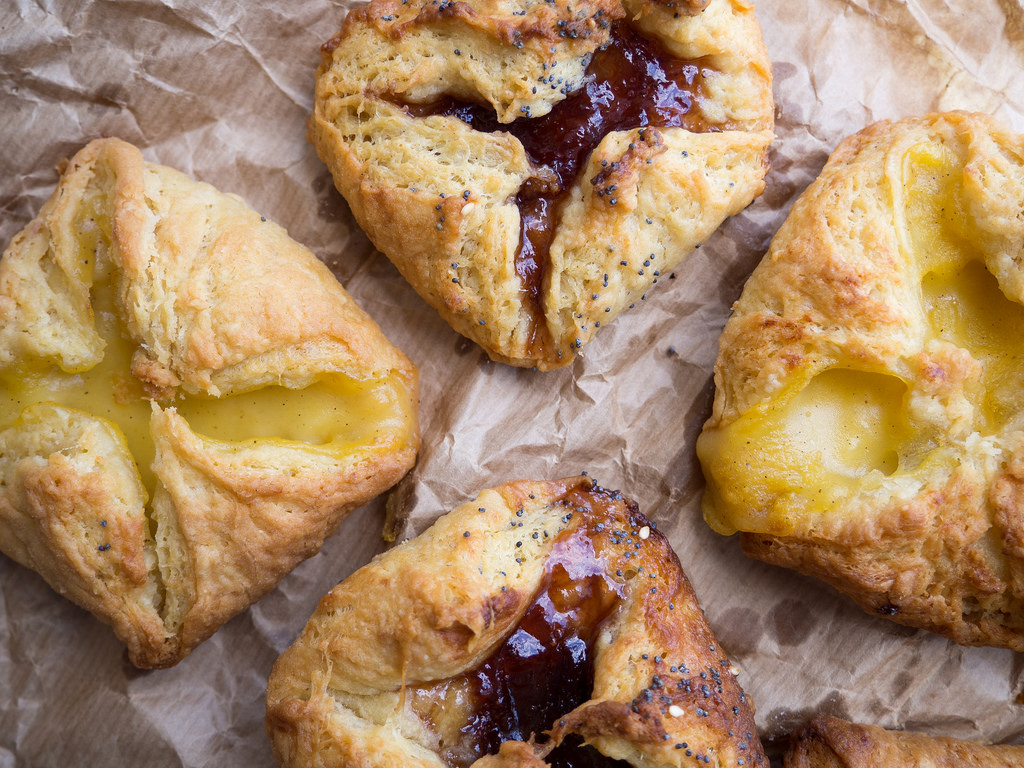 Total Time:
1
hour
30
minutes
Ingredients
1

serving of Danish Pastry Dough

find the recipe here on NordicFoodLiving.com

1/2

litre

vanilla cream filling

(Homemade recipe on NordicFoodLiving.com)

100

g

jam (strawberry, raspberry, blueberry or similar)

1

beaten egg
Instructions
Start by preparing a basic Danish Pastry Dough, which can be used to make all kinds of Danish pastry. You can easily find the recipe for this dough on www.NordicFoodLiving.com by search for it on the front page.

Cover you table top with a little all-purpose flour. Use a rolling pin to flatten out the dough into a 60x40 cm (24x16 inch) square.

Use a knife to cut 24 squares measuring 10x10 cm (4x4 inch).

Place 2 teaspoons vanilla cream on 12 of the squares and 2 teaspoons of your preferred jam on the rest.

Now fold the four corners over the cream/jam and lightly press the edges together sealing the filling inside. When you bake the pastry, they will open up again like a flower.

Cover the prepared Danish with a clean dishtowel and let them rise somewhere warm for 30 minutes.

Preheat the oven to 220 C (430 F).

Gently brush the Danish with a beaten egg. This will give them a nice golden color when they are baked.

Place the pastry in the middle of the oven and bake them for 5 minutes at 220 C (430 F). Then turn down the heat to 200 C (400 F) and bake them for another 13-15 minutes. They should now open up nicely revealing the delicious filling.

10. When they are done, let them cool off on an oven grid.
Notes
Keep them in a plastic bag or similar airtight container to keep the crispness for a longer time.