Easy-to-make and very delicious Danish recipe for Apple Trifle. This recipe is very popular in Denmark and was been used for many years.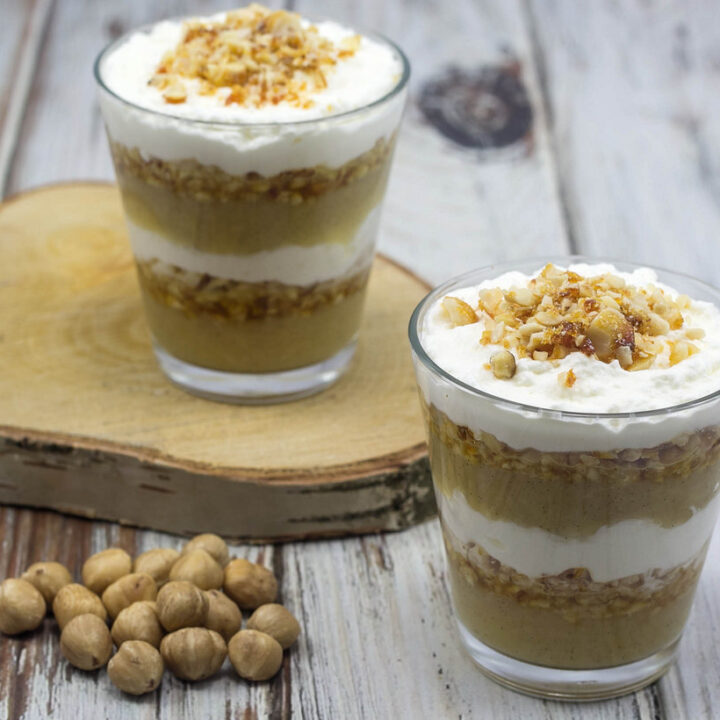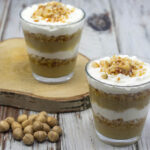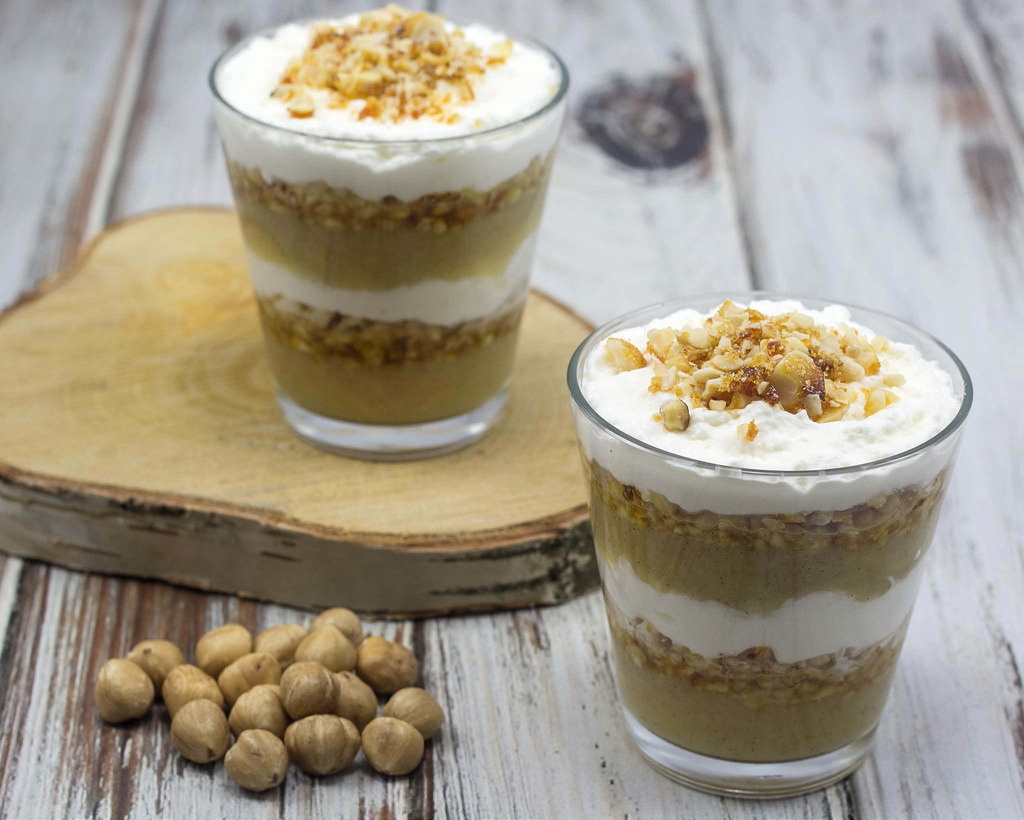 This is another old and Danish recipe. This time it is a delicious apple trifle made from simple ingredients; apples, sugar, hazelnuts, heavy cream and water. An apple trifle is a cold dessert typically made in a transparent glass bowl or as single servings in small glasses. The special about this dessert is that it is made in several layers starting with a thick layer of apple puree, then some hazelnut croccante and then some whipped cream. The dessert is then made with 2-3 of these layers, which makes it a beautiful dessert seen through the glass.
The taste is very fresh with a crunchy feeling from the hazelnut croccante. Hazelnut croccante is sugar coated hazelnuts chopped in small pieces. This gives the dessert a very delicious crunchy taste.
We are not sure that this recipe is originally from Denmark. However, it has been around for a very long time and it very popular in Denmark and the Nordic countries in general. This recipe, with hazelnuts croccante layers, is very close to the traditional and properly even older recipe for another version of this Danish apple trifle. In this other version of the dessert one of the layers is made from a small Danish sugar cake called a makron, which is very similar to macaroons.
We normally make this dessert as a single serving in small glasses. We think this is the best way to serve it. However, you can also make one big serving in a large glass bowl or similar.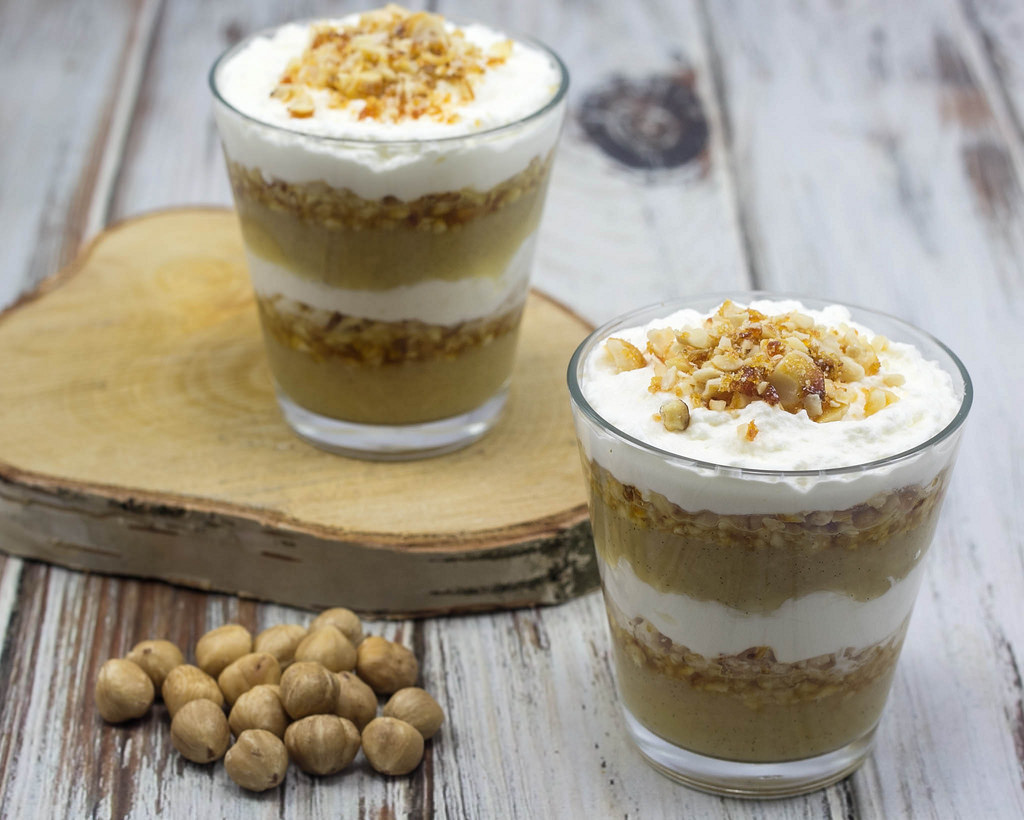 Ingredients
Apple puree
5

apples

50

g

granulated sugar

1/2

dl

water

1

vanilla bean
Hazelnut croccante
100

g

hazelnuts

50

g

granulated sugar
Topping
3

dl

heavy cream

(for whipped cream)
Instructions
Rinse and peel the apples. Remove the core and cut the apples in smaller pieces.

In a sauce pan; add water, the apple pieces, sugar and the seeds from a vanilla bean. Also add the empty vanilla bean, it still have a lot of flavor.

Heat up the apple mixture and let it simmer until the apples are tender. If the apples are sour you should add a little extra sugar. When the apples are done; set aside to cool off completely.

Pour the hazelnuts in an oven proof dish and bake them for 10 minutes at 200 C (400 F).

Pour the warm hazelnuts in a clean dishcloth and rub them well until most of the skin are removed.

Pour the sugar on a frying pan and slowly melt it at medium heat. Do not stir in the sugar while it is melting. Let the sugar melt completely and become light brown.

Add the skinned hazelnuts to the molten sugar and stir in the mixture for about 1-2 minutes. Pour the hazelnut croccante on a sheet of parchment paper and let it cool off.

When the hazelnut croccante is cooled off; chop it using a food processor or similar.

Whip the heavy cream into a whipped cream.

Now the apple trifle are to be assembled; Use two large or four smaller glasses; Start with a layer of apple puree, then some hazelnut croccante and then some whipped cream. Continue until you have the amount of layers you like. We normally have two layers. Finish off with some of the hazelnut croccante. Serve right away or keep it refrigerated.