Simple and easy recipe for Nordic-style Chicken Curry with delicious topping. This dish is easy to prepare and contains many healthy elements. Perfect for both kids and adults.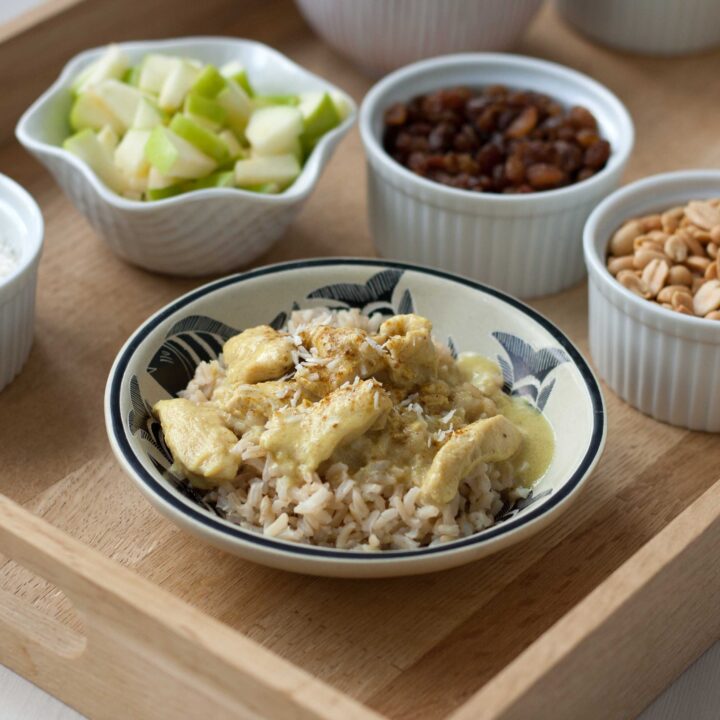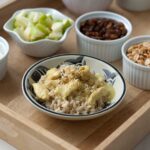 Rijsttafel is a Dutch word, which can be translated to 'Rice table'. Indonesian Rijsttafel is basically boiled rice which is served with a lot of different side dishes. I love this concept because it is possible to make it the exact way you like. The only limit is your imagination.
Personally, I normal make some chicken curry sauce and prepare 5-7 side dished, typically only healthy stuff like vegetables, fruit, nuts and similar. Together with boiled rice (white or brown) this is a delicious dinner I bet both you and your family will love.
Read also: How to make a Danish Hotdog
This dish is easy to prepare which is why I use it on a regular basis. I have also served this dinner for guests with great success. I seems that people, and especially kids, find it funny to sit a table and put together their own dish from the many different choices. If you make sure to leave out all the greasy and fried stuff this can both be a very healthy and tasteful dinner.
In this recipe, I have made a Nordic-style chicken curry sauce, which I served with cubed apples, pineapples, red pepper, peanuts, raisins, banana, grated coconut and of course boiled rice.
Ingredients
500

g

chicken fillet

(cut in strips)

1

onion

(chopped)

1

tbsp

chicken stock powder

2-3

tsp

curry

1

can

coconut milk

4

dl

milk

Corn flour

(for thickening)

1

tbsp

Oil

(for frying)

Boiled rice
Ideas for delicious toppings:
Banana

(sliced)

Apple

(diced)

Pineapples

(diced)

Resins

Tangerines

(diced)

Peanuts

Coconut

(grated)

Mango chutney

Peber

(diced)

Peas

Corn

Bamboo shoots

Bean sprouts
Instructions
Heat up a little oil or butter in a saucepan and add the curry paste. Stir well.

Add the diced onions and fry until they are softened.

Add the chicken strips and fry them till they are approximately 90% done.

Add the coconut milk, milk and the chicken stock. Let is simmer for about 10-15 minutes (Use this time to prepare the side dishes).

Use the corn flour to thicken the sauce as you like it and let it simmer for another 5 minutes.
Notes
Serve with boiled rise and some of your favorite side dishes.