Easy to make and mouth watering Nordic Granola Berry Pie. This granola pie is covered with a layer of dark chocolate and topped with delicious Mascarpone cheese and plenty of fresh berries. Full of summer and crisp dark chocolate.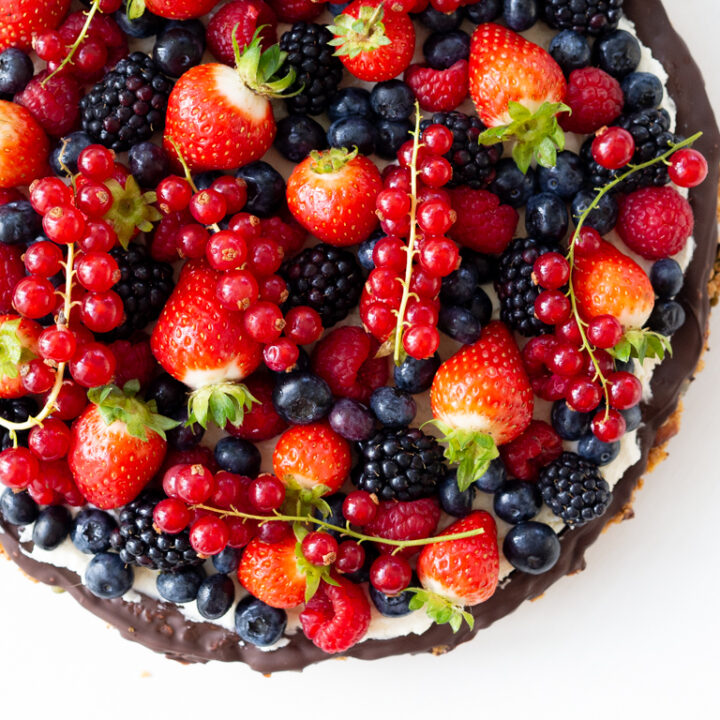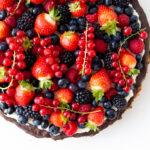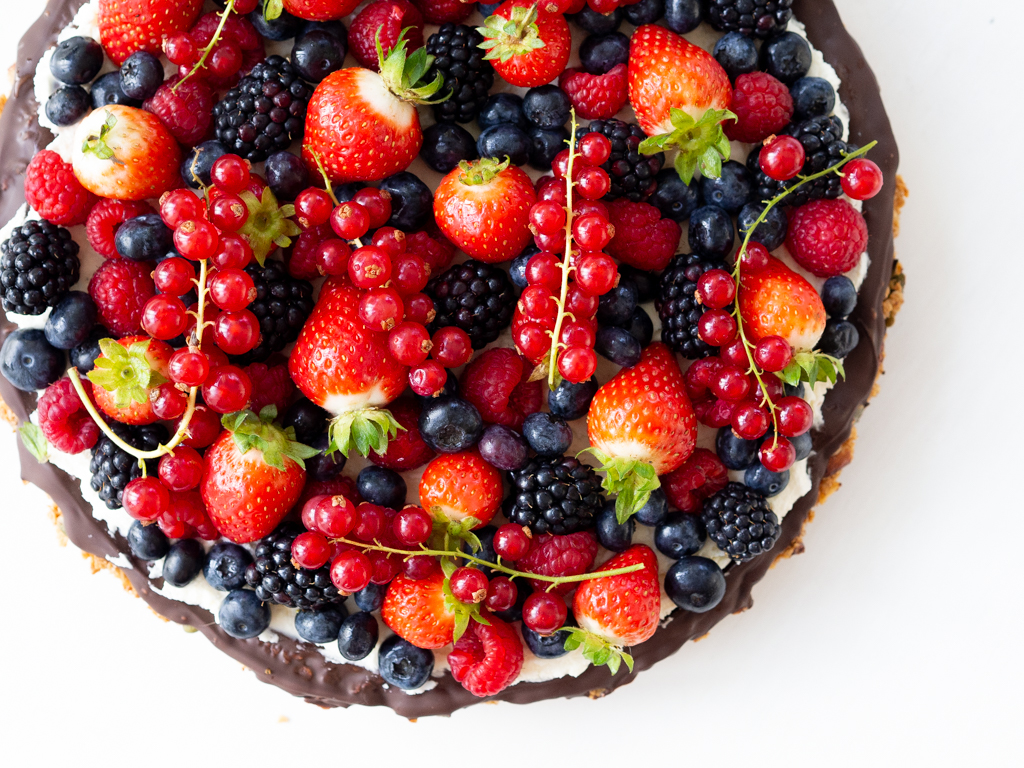 If you want to make something really delicious for yourself or impress your friends and family, then you are landed on the right page. This Nordic Granola Berry Pie is easy to make and the result is nothing but fantastic.
See also: Recipe for delicious Danish Dagmar tart
A crisp granola crust covered with a layer of dark chocolate and topped with creamy Mascarpone cheese and fresh berries - simply delicious and mouthwatering good. Continue reading on and learn how easy it is to make this Nordic Granola Pie.
Granola Berry Pie for brunch or dessert
This granola berry pie is something in-between a brunch pie and a dessert pie. By changing a few ingredients and leaving out a few, then you can easily convert this dessert-like granola pie into a pie which is perfect for the breakfast/brunch.
Read also: Easy recipe for Danish Dream Cake (Drømmekage)
The recipe I have listed further down on this page is a delicious Nordic dessert pie. However, if you leave out the dark chocolate in the bottom of the crust and change the Mascarpone cheese with Greek yoghurt - then you have yourself a fantastic delicious pie for a brunch.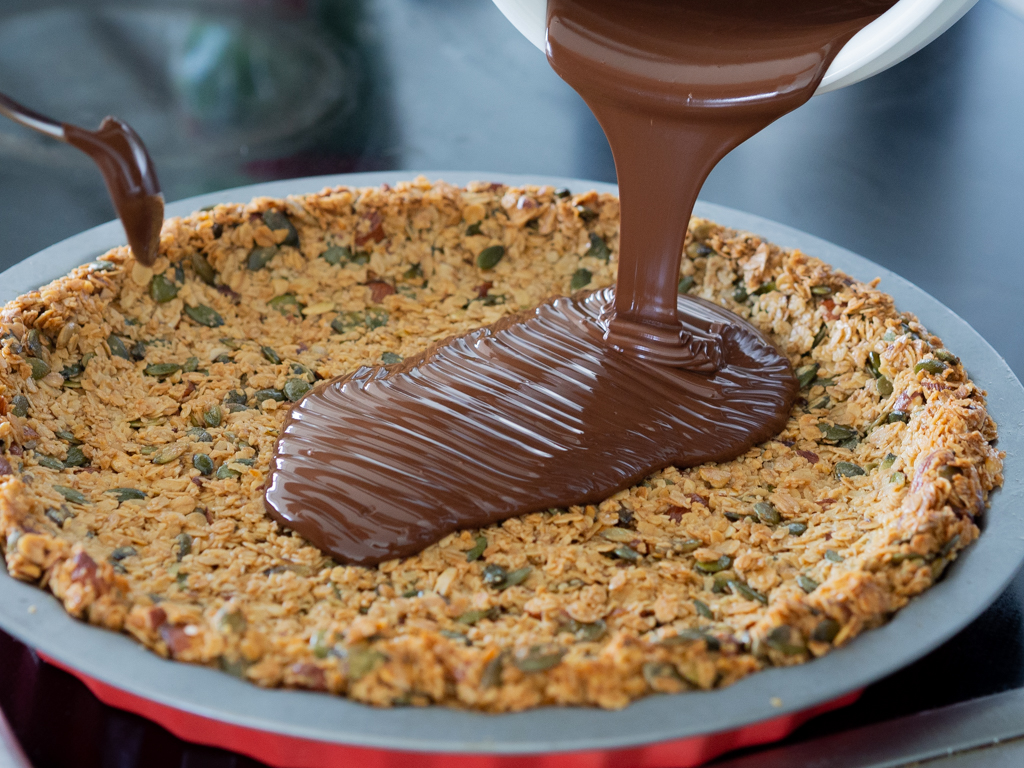 Delicious Mascarpone cream
This recipe calls for a Mascarpone cream which is an Italien cheese which is similar to cream cheese but slightly milder. Mascarpone is often used in desserts where the most famous one is probably Tiramisu. When Mascarpone is whipped together with heavy cream, vanilla and honey then you have the most delicious airy cream.
See also: Recipe for traditional Danish birthday cake (Kagemand)
Mascarpone is a very traditional ingredient in Europe but I am also quite sure it is possible to purchase in bigger supermarkets around the world. Let me know in the comment section if you have problems finding this ingredient at your place.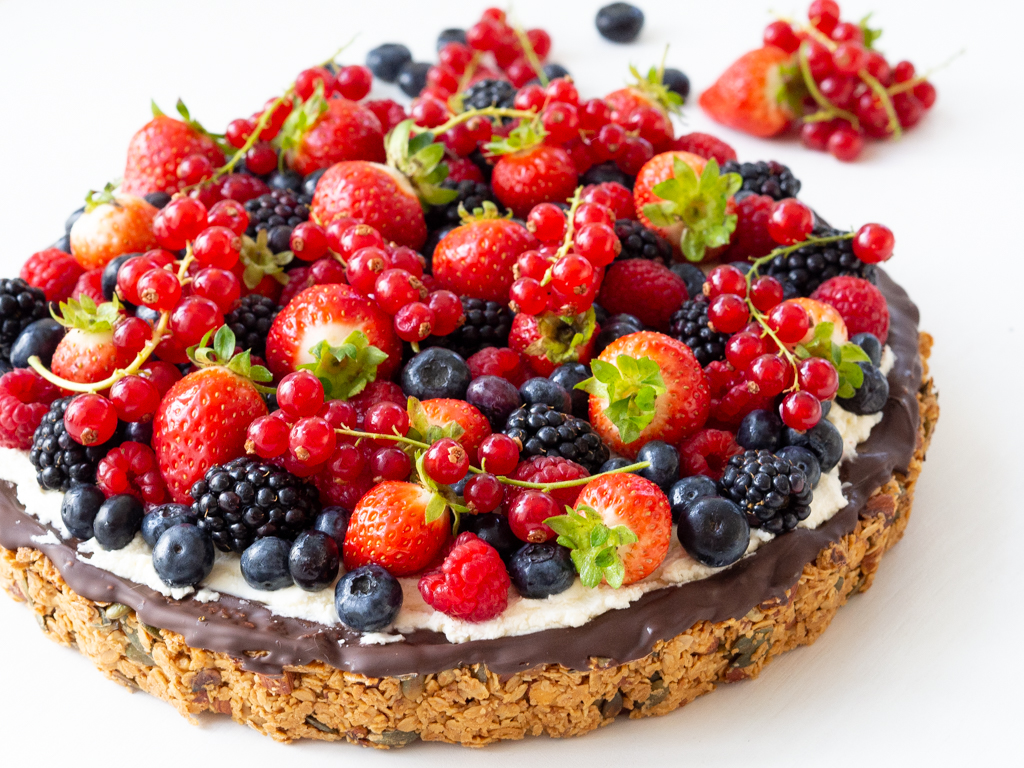 Prepare the Granola crust in advance
Granola Berry Pie is a perfect choice if you are expecting guests. The granola crust can be prepared a couple of days in advance and then kept in an airtight container. This way you can keep the crust crisp until you are going to serve it.
Then you only have to prepare the berries and cream filling on the day. That is easy! And we all know that is what we want, when we are expecting guests and are busy with all kinds of things.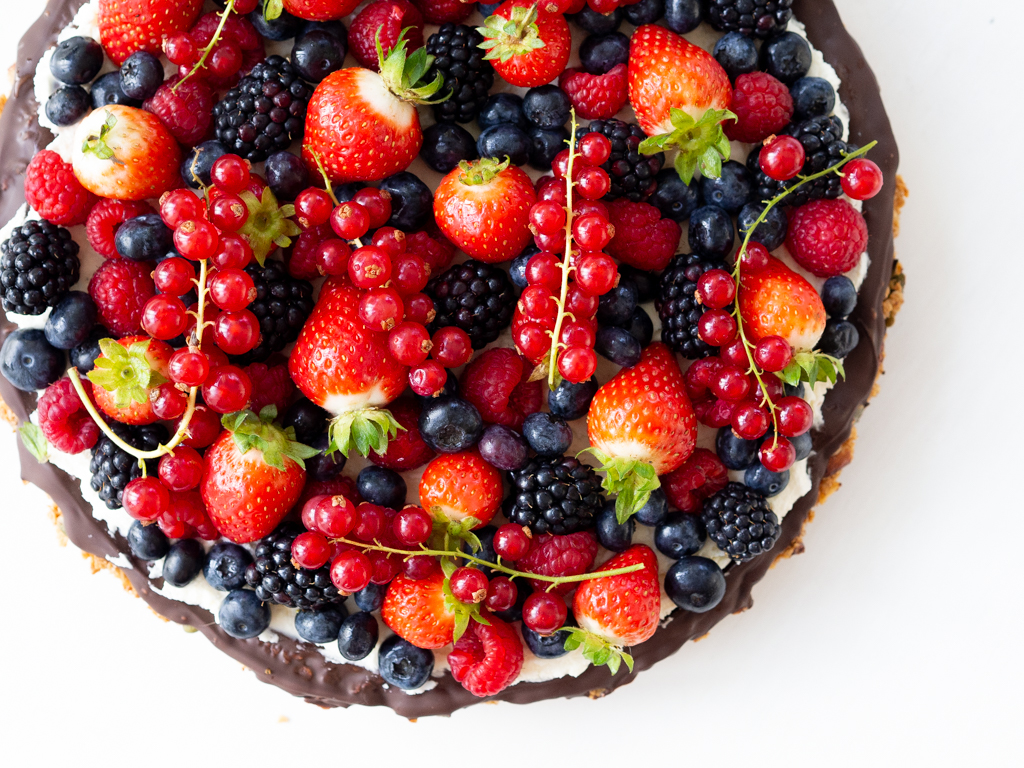 Ingredients
Granola crust
4

dl

oats

(fine or coarse)

1

dl

pumpkin seeds

1

dl

almonds

1

tsp

vanilla powder

(or essence)

1/2

tsp

salt

4

tbsp

honey

50

g

butter

(melted)
Topping
200

g

dark chocolate

250

g

Mascarpone

2

dl

heavy cream

1

tbsp

honey

1

tsp

vanilla powder

(or essence)
Instructions
Granola crust
In a large bowl, mix the oats, pumpkin seeds, coarsely chopped almonds, vanilla powder and salt.

Add the melted butter and honey. Mix it all together.

In a buttered pie pan add the granola mixture. Use the backside of a tablespoon to distribute and compress the granola into an even pie crust.

In a 150 C (300 F) preheated oven, bake the granola crust for about 30 minutes. When done, let it cool off.
Granola Berry Pie
Gently melt the dark chocolate and use it to cover the bottom of the granola crust. Let the chocolate cool off and harden.

In a bowl, whip the Mascarpone, heavy cream, honey and vanilla powder into an airy and wonderful cream.

When you are ready to serve the pie, distribute the Mascarpone mixture on the crust and top it with all kinds of your favorite fresh berries.
Notes
You can prepare the granola pie crust up to two days in advance. Keep it in an airtight container. When ready to be served, add the Mascarpone cream and your favorite berries. You can leave out the dark chocolate and substitute the Mascarpone mixture with pure Greek yogurt to make the pie more suitable for a brunch/breakfast table.