Super delicious snack for the perfect barbecue party or just when you are looking for a great side-dish for dinner. These bacon wrapped green asparagus is just super easy to make and has a fantastic taste.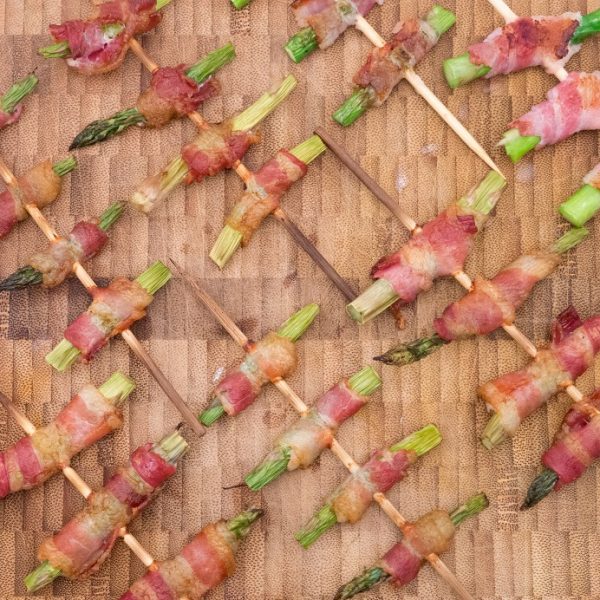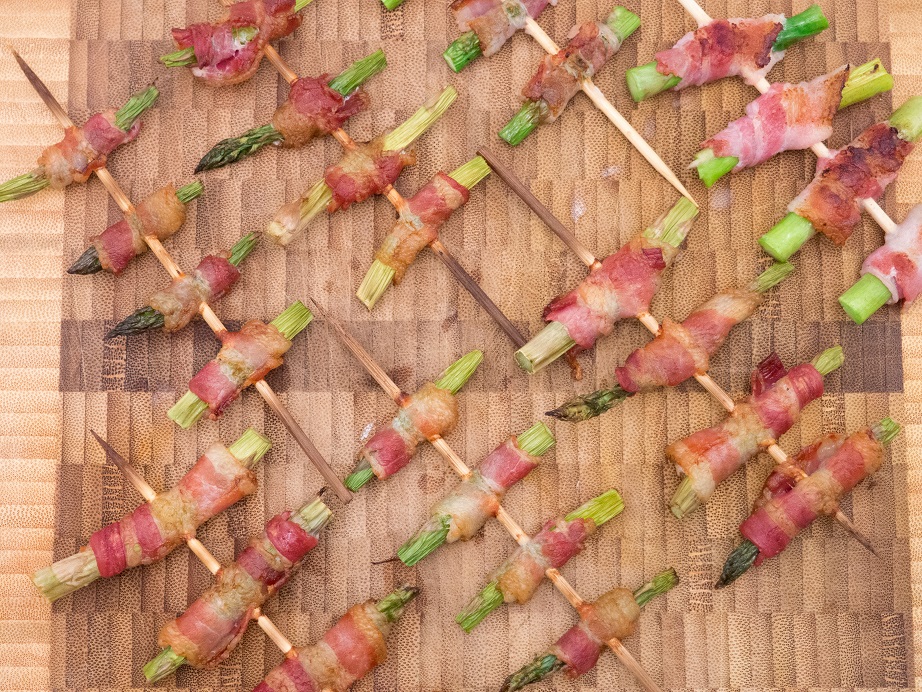 The best recipe for bacon wrapped green asparagus is exactly what you can find here on this page.
Even though, it is many years ago since I graduated as a mechanical engineer from the university in Copenhagen I am still seeing my old friends from the school. Every second week we meet up about 10 people from my school to eat dinner together and to have a good time. It is going on by turn, where we are meeting at each other's homes and then we cook dinner to the rest of the group.
We have a rule that the dinner should be a two-course dinner minimum. I typically always make a two-and-half course dinner; a simple pre-snack when my guests arrive and then a main course and a dessert.
These bacon wrapped green asparagus are one of my all-time favorite pre-snacks when I am having guests over.
The perfect snack for a barbecue party
A long story short, this recipe I have listed below on this page is one of pre-snack I love to make and a snack that I know people love. They are very simple to make and it does not take that long.
You can serve these bacon wrapped asparagus as they are. I personally like to make a simple homemade dressing/dipping out of some sour cream, different herbs, some lime juice, salt and pepper. You can also serve them with a good olive oil or maybe just Ketchup - basically whatever dipping sauce you prefer.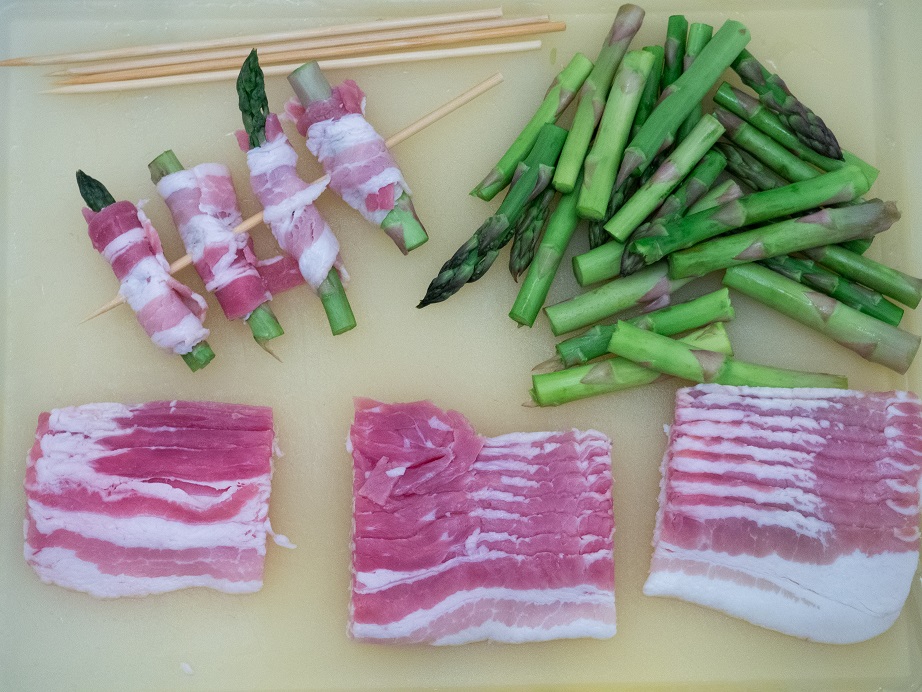 Grill or frying pan
In the summertime, you can make these bacon wrapped asparagus on the grill in the garden. However, you can also just fry them on a frying pan in the kitchen. This is up to you.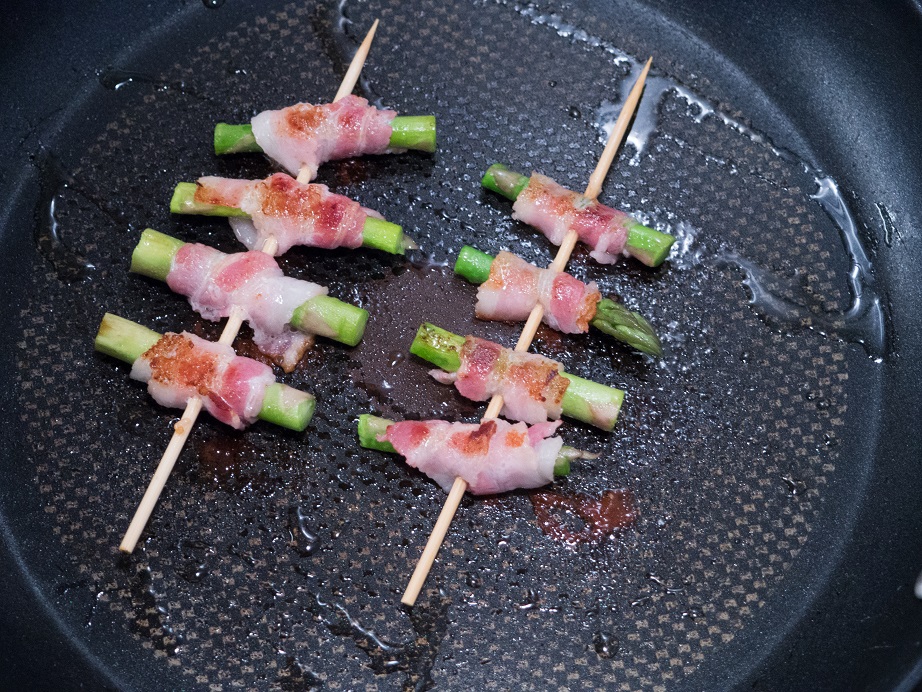 Water soaked wooden sticks
I normally use wooden sticks to secure the bacon around the green asparagus.
You can also use steel meat needles. However, I just think the wooden sticks or toothpick are a better choice. It just looks better somehow.
Basically, it is up to you. If you decide to use wooden sticks, it is a good idea to soak the sticks in water for about 20-30 minutes. This way you reduce the risk that the sticks will burn if you are cooking these bacon asparagus on a charcoal grill in the garden.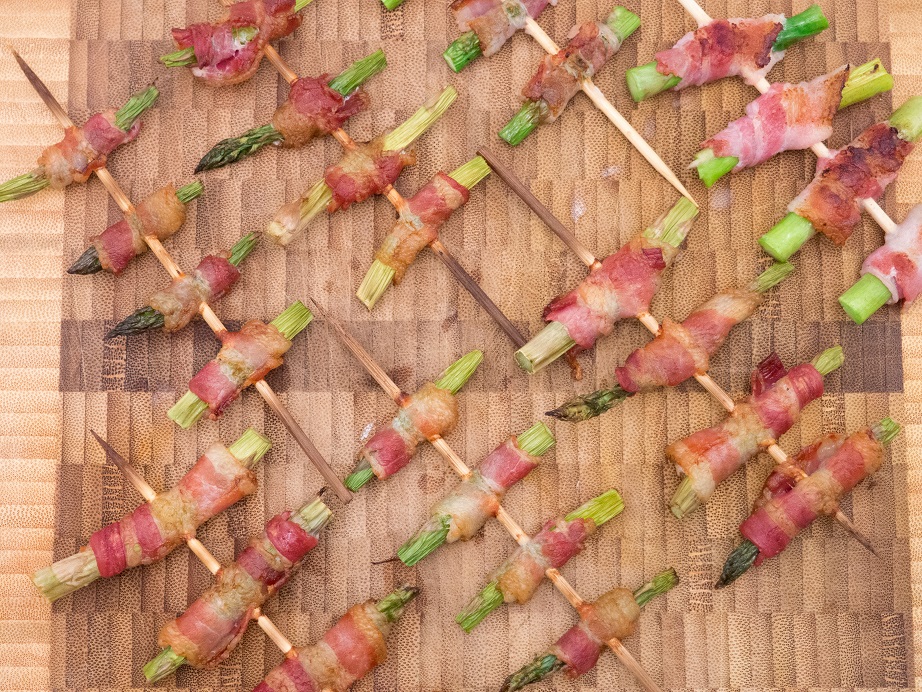 Ingredients
Green asparagus

Strips of bacon
Instructions
Rinse the asparagus under cold water. Dry them a little using some paper towels.

Cut each asparagus into three pieces.

Depending on the size/length of the bacon, cut them into smaller pieces. The bacon should be able to be wrapped around the green asparagus about 1-1.5 times.

Now wrap each asparagus with the bacon. Secure the bacon with a toothpick or other wooden sticks. It is a good idea to soak the wooden sticks in water for about 20 minutes. This prevents the sticks from burning that easily which grilling those on the frying pan or on the grill.