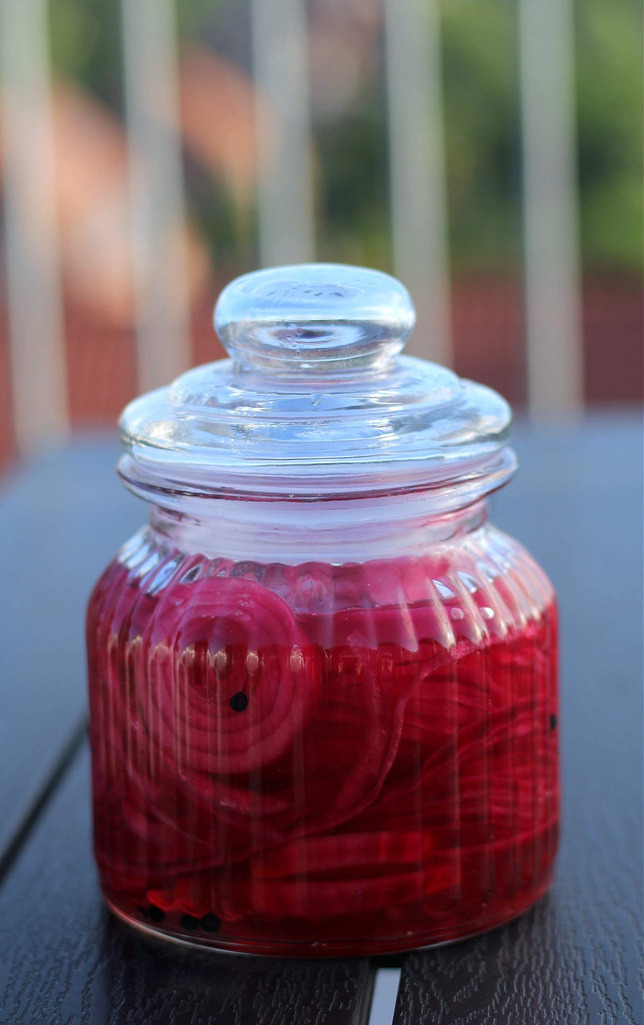 This recipe for pickled red onions is really easy to make and they are super delicious. At first we wasn't sure where to use pickled red onions - but we quickly realized that they can be used everywhere where we use our cucumber salad or just normal pickles. They go perfectly as topping for burgers or hotdogs. We have also used them as a side dish for cooked pork and beef. The recipe only consist of 4 different ingredients, red onions, vinegar, sugar and some pepper, and it's so easy to make - you dissolve the sugar in the vinegar, slice the onions and let them soak in the vinegar/sugar mixture for some time and that's it! Super simple! Besides that great taste, the red onions get a beautiful pink color after some time in the vinegar mixture.
Pickled Red Onions
2 glass jars
Preparation time: 15 minutes
Danish title: Syltede rødløg
Ingredients:
3 red onions
4 dl (1.75 cups) vinegar
1 dl (0.5 cup) sugar
Some pepper grains
Instruction:
Step 1: Pour the sugar and the vinegar into a bowl and stir until all the sugar has dissolved.
Step 2: Clean a glass jar using boiling water. This will kill all bacteria and make sure that the onions stay fresh longer.
Step 3: Slice the onions and put them in the glass jar.
Step 4: Pour the vinegar/sugar mixture in the jar and add some pepper grains.
Step 5: Place the jar in the fridge for some hours and they are done. Keep the jar refrigerated.

Tip: Serve them as topping for burgers, hotdogs or just as a side dish for pork or beef meat.