Super simple recipe for grilled bananas served with your favorite ice cream and some chocolate sauce. Delicious is the best word!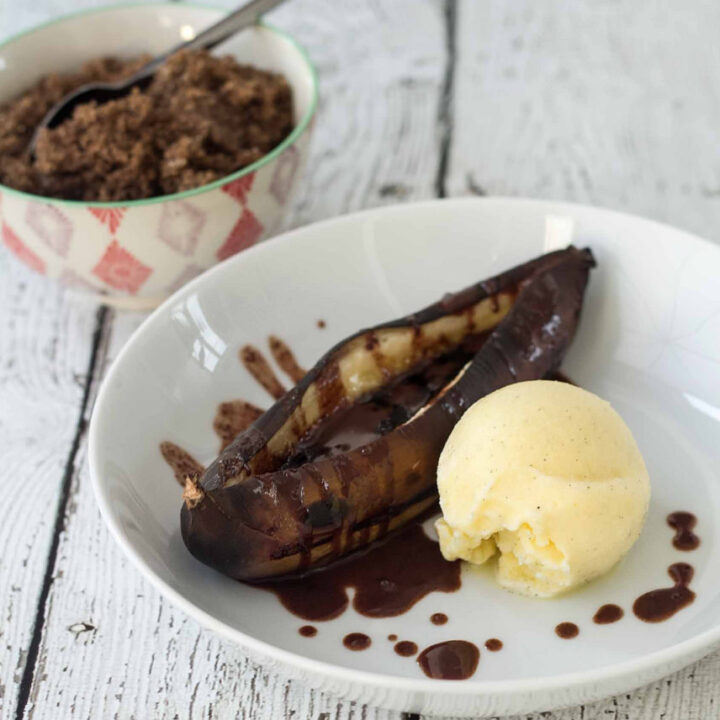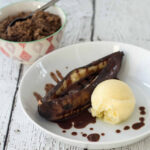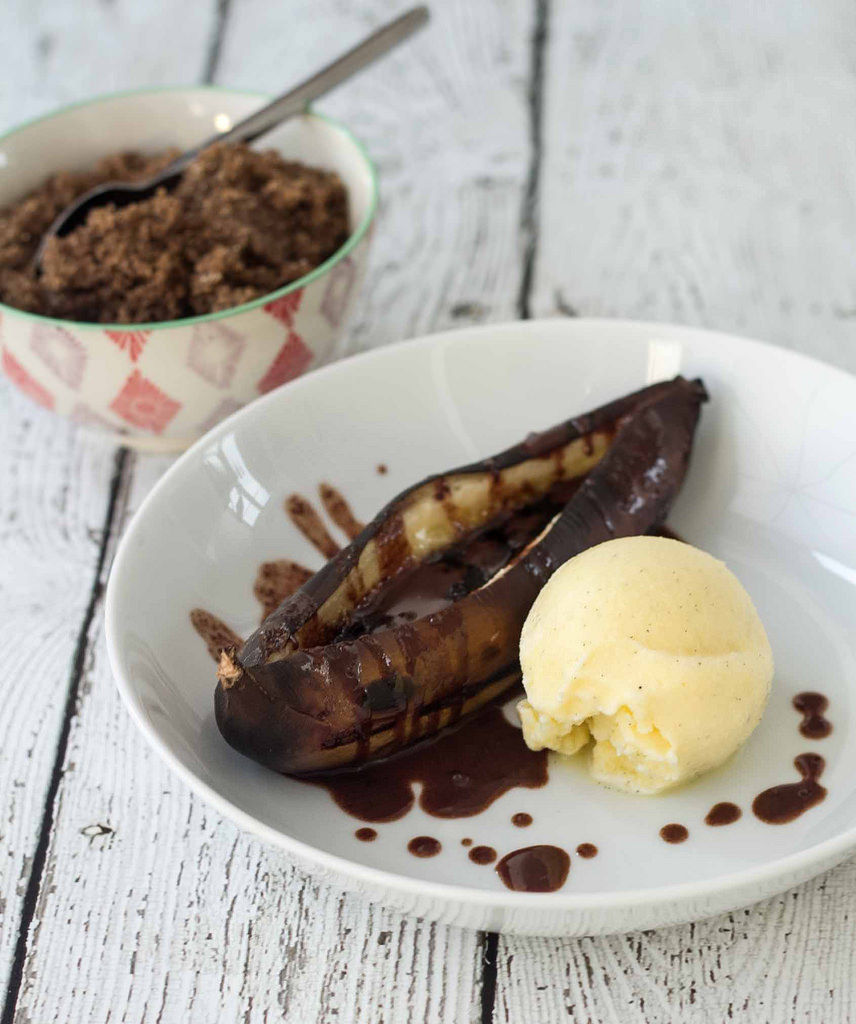 This dessert recipe for grilled banana with vanilla ice cream and chocolate sauce is super easy to make and has a really great taste. The hot bananas get real soft so they can be eaten with a teaspoon, and together with some ice cream and chocolate sauce you have a nice dessert. The recipe for grilled bananas with brown sugar and vanilla ice cream only requires those three ingredients and they are super simple to prepare.
Are grilled Bananas any good?
I have to admit that, the first time I heard about the recipe and about grilled bananas I couldn't imagine that could be any good. However, the first time I tried one of these warm bananas served with brown sugar and a scoop of vanilla ice cream, I instantly changed my mind. I now think this is one of the best desserts you can cook on your grill - and the fact that it is so simple to make just make it even better. These bananas are just the perfect way of ending a nice barbecue party.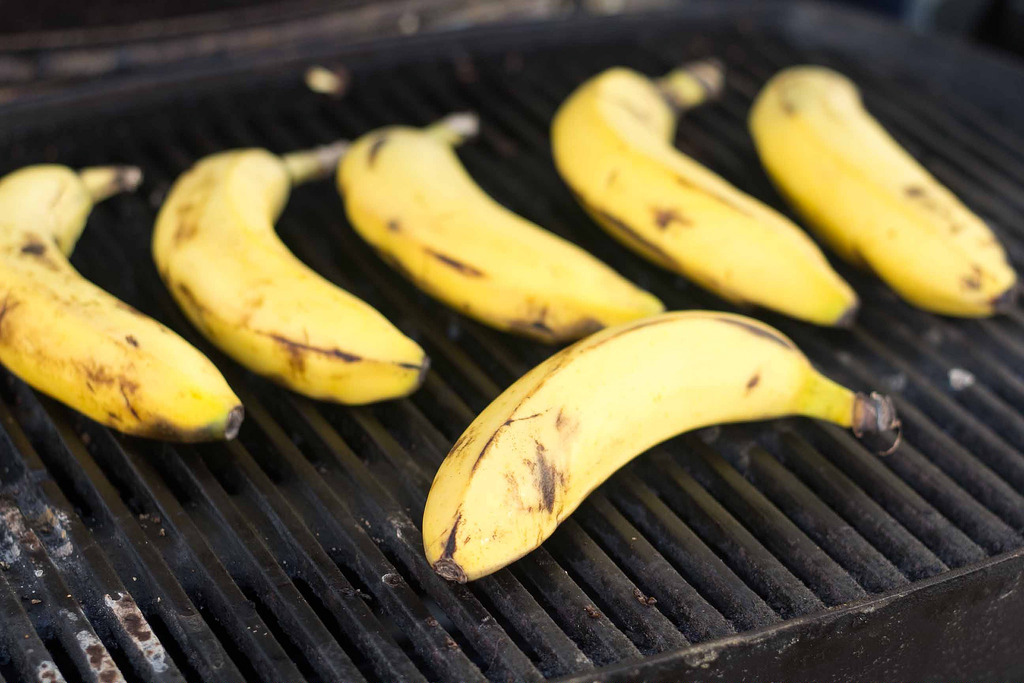 How to make grilled bananas
The instructions are super simple. You simply just put the bananas, with its peel on, on to your grill. The grill should be on low heat or on indirect heat. After about 5 minutes the bananas become completely dark on the outside. Remove them from the grill. Cut them open lengthwise, add some brown sugar in the crack and serve the hot bananas with a scoop of vanilla ice cream and some chocolate sauce. I normally always have some homemade ice cream in the freezer; I simply believe it's way better than the one you buy at the supermarket. If you have the time I think you should try making your own ice cream. I have several great ice cream recipes on this blog, try for instance this
delicious chocolate ice cream
, or this
hazelnut ice cream with chocolate
, or maybe some
coffee ice cream with chocolate pieces
. I normally also make the chocolate sauce my selves; however, this can be bought at the supermarked to make the dessert even easier to make.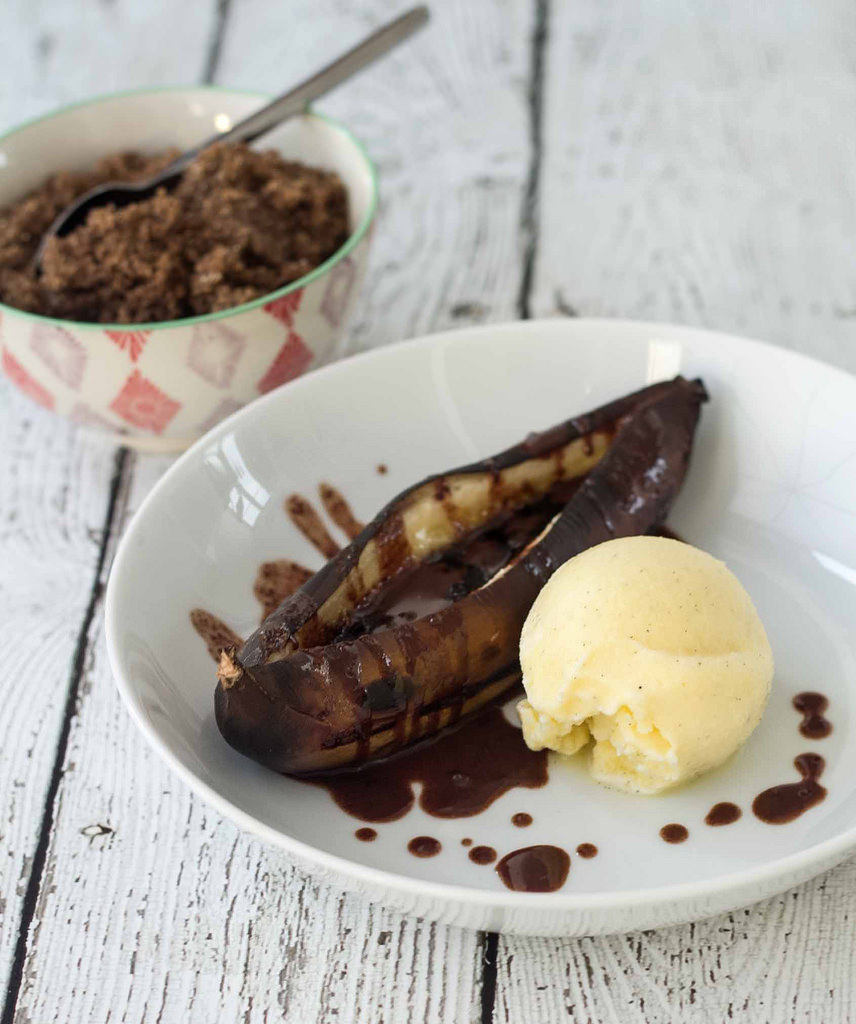 Ingredients
6

bananas

6

tbsp

brown sugar

6

scoops of

vanilla ice cream

chocolate sauce
Instructions
Put the bananas with peel on a hot grill. If you have used charcoal to grill some food then there is normally plenty of extra heat. When the peel is starting to get brown on one side flip it over and grill it some more. Take them off when the entire peel is brown and the bananas are soft.

Use a knife to cut the bananas lengthwise. Pour some brown sugar in the gab.

Serve the hot bananas with some vanilla- or chocolate ice cream and some chocolate sauce.