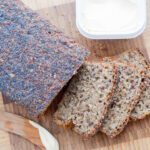 Print Recipe
Danish Rye Bread (easy recipe)
Easy recipe for traditional Nordic rye bread make without sour dough. Because this recipe doesn't contain sour dough it is easy and fast to make. The recipe is a very delicious and healthy bread.
In a large bowl; dissolve the yeast in the lukewarm water.

Add the rest of the ingredients except the all-purpose flour and poppy seeds. Stir to mix everything.

Complete the rye bread dough by adding the all-purpose flour step-by-step. Stir well in-between each step. The consistency of the dough should be like a thick porridge.

Set the dough aside somewhere warm and cover the dough with a clean dishtowel. Let it rise for about 1 hour.

Spray/coat the inside of a bread pan with some butter.

Pour the dough into the bread pan and sprinkle the top with poppy seeds.

Cover the bread pan with a clean dishtowel and set it aside some place warm for about 1 1/2 hours. This will let the rye bread rise.

Bake the bread at 180 C (360 F) for about 1 hour and 20 minutes. It is important to keep an eye on the bread during this time as the baking time might variate a little bit. The bread is done when it sound hollow when 'knocking' on it.

When the bread is done, remove it from the bread pan and let it cool off on an oven rack. It is normally a good idea to wait until the bread is cooled off before cutting it.