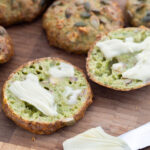 Print Recipe
Healthy Nordic Broccoli Buns
Broccoli buns, which is a perfect and healthy alternative to normal white toast bread. Perfect for breakfast or the lunch sandwich. Packed with great vitamins and dietary fibers. Your body will love you.
1

broccoli

4

eggs

100

g

almonds

(3.5 oz)

100

g

whole wheat flour

(3.5 oz)

200

g

all-purpose flour

(7 oz)

1

tsp

baking powder

1

tsp

salt

pumpkin seeds

for topping
Rinse the broccoli and cut it into smaller pieces. Discard the stalk. Pour it in a food processor or blender and blend everything into a fine texture. Remove the chopped broccoli from the blender and set aside.

Add the almonds to the food processor and blend again until the almonds are chopped into smaller pieces.

Mix the prepared broccoli and almonds with the eggs. Add the two types of flour, the baking powder and salt. Mix well.

On a parchment paper covered oven plate use to tablespoons to set 12 broccoli buns. It is good idea to dip the spoons in cold water.

Decorate the top of the buns with pumpkin seeds.

Bake them in the oven at 200 C (400 F) for 30 minutes.