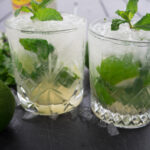 Print Recipe
The Best Mojito
Super easy recipe for the best Mojito you can have. This is the only recipe that you need. It is perfect for parties and other good times.
1/2

lime

sliced in four pieces

1

tbsp

cane sugar

7-8

mint leaves

(preferably the smaller ones)

50

ml

white rum

3/4

of glass filled with crushed ice

Topped up with sparkling water

about 100 ml
Roll the lime on the table, cut away the tip of the fruit and divide it in half. Then slice it in another four pieces. Transfer the sliced lime to a glass.

Pick 7-8 small mint leaves and put them in the glass together with the lime. Try picking the smaller leaves as they have the most flavors.

Add one tablespoon of cane sugar to the glass.

Use a drink muddler or the tip of a wooden spoon to gently press/tap the mint leaves, the lime wedges and the sugar. Make sure not to mash the leaves but only to gently press them. Mashing the leaves will bring out some unwanted flavor - so avoid this. Press the ingredients about 5-7 times.

Now fill the glass 3/4 with crushed ice.

Add the 50 ml white rum.

Fill the rest of the glass with sparkling water.

Use a spoon to gently stir and mix the ingredients.

Finish off by topping up the glass with crushed ice and some mint leaves. Serve right away.