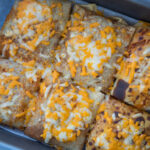 Print Recipe
Chili Beef Pancakes
Super easy recipe for homemade chili beef pancakes. These stuffed beef pancakes are very delicious, tasteful and also healthy. Perfect if you are looking to live a healthier lifestyle.
Pancakes
250

g

all-purpose flour

(9 oz)

2

dl

milk

(1 cup)

3

dl

water

(1 cup)

2

eggs

1

tsp

vegetable oil
Chili beef filling
2

onions

finely diced

3

clove

garlic

finely chopped

500

g

ground beef

low fat (1 lb)

5

carrots

1

red chili

1

can diced tomatoes

1

can tomato paste

1

can corn
Chili beef sauce
In a large saucepan, fry the finely diced onions and garlic in some vegetable oil.

Add the ground beef and fry it until all the meat is done.

Add the rest of the ingredients and let it all simmer while you are preparing the pancakes.
Pancakes
In a large bowl, add all the ingredients for the pancakes and use a hand mixer is mix all the ingredients into a nice pancake batter.

On a hot frying pan, add a little butter or oil and add the right amount of pancake batter so that you get a large and thin pancake. The amount is of course depended on the size of the frying pan.
Stuffed pancakes
When you have made a stack of pancakes then it is time to add some chili beef. Place about 1 dl (1/2 cup) of the chili beef sauce at the center of a pancake and close it by first flipping two sides over the sauce. Gently, flip the pancake over and fold the other two sides. Follow the pictures on www.NordicFoodLiving.com

Now place the folded pancakes side-by-side in an oven proof pan.

Add the grated cheese over the pancakes and bake them at 200 C (400 F) for about 10-15 minutes.