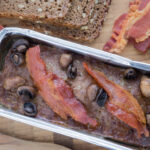 Original and very traditional recipe for Danish Liver Pate. This Liver pate is typically served on a slice of Danish Rye Bread or some white toasted bread. Also, serve with crisp bacon and fried mushrooms.
500

g

raw pork liver

(1 lb)

250

g

pork fat

(1/2 lb)

2

onions

2

eggs

2

dl

milk

(4/5 cup)

2

tbsp

all-purpose flour

1

tsp

salt

1/2

tsp

Pepper
Use a meat grinder to grind the raw pork liver, pork fat and onions into a uniform mixture.

Add the eggs, milk, flour, salt and pepper and mix it well with the lever mixture. The liver mixture is now ready to be cooked in to a delicious liver pate.

Pour the liver pate into two or three foil trays

Place the foil trays in an ovenproof pan and fill the pan with water until the water level reaches the middle of the foil trays.

Bake the liver pate at 175 C (350 F) for about 35 minutes. The core temperature should be around 75 C (176 F) when it is ready to be served. If the liver pate takes too much color on the top, you can cover it with some aluminum foil.
Serve the Danish liver pate with some Danish rye bread, some crisp bacon and fried mushrooms.